Fifth Bishop of Portland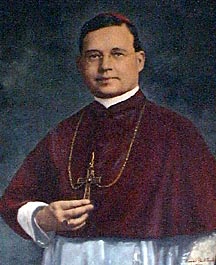 October 12, 1925, marked the installation of John G. Murray, fifth Bishop of Portland. Bishop Murray was welcomed at the Cathedral of the Immaculate Conception at only forty-eight years of age.
He was born in Waterbury, Connecticut in 1877. He graduated from Holy Cross College with the highest honors ever bestowed on a student of the school up to that time. His record at the University of Louvain in Belgium was equally distinguished. He was later appointed Auxiliary Bishop of the Diocese of Hartford in Connecticut where he served for six years before being appointed to the Diocese of Portland.
Like Bishop Walsh before him, Bishop Murray was very interested in increasing Catholic education. He was determined to provide at least a chapel for Catholics in even the most sparsely populated areas. Bishop Murray established thirty new parishes at this time. The number of Mainers receiving Catholic education during his service increased from 20,000 to 25,559.
Bishop Murray's years in Portland coincided with the beginning of the Great Depression. He set up various relief committees to raise money for the homeless and families without job prospects. Meanwhile, ongoing institutions required funding hospitals, orphanages and homes for the aged, at a time when collection monies had decreased. As a consequence, the Bishop had to acquire loans or mortgage church property. Unfortunately, he accumulated debts that future generations would have to repay.
Despite financial difficulties, Bishop Murray continued in his determination to provide what he considered an important facet to Catholic education, a magazine that would keep people informed of church history, but also of current issues. As a result, on July 18, 1930, the "Church World" began publication, which served the diocese until 2005.
After only five years of being the spiritual leader of Maine's Catholics, the Portland Diocese was marking its seventy-fifth year and the Cathedral itself had just passed its sixtieth anniversary. Despite the austerity of the times, a special celebration was planned to commemorate these two anniversaries.
Within the interior of the Cathedral, new Stations of the Cross of Venetian glass mosaic were readied and the organ was rebuilt and modernized. The Cathedral's chapel underwent some changes in preparation as well. Three new marble altars were installed and a new baptistery was built at the entrance to the chapel. The dual celebration of the Diamond Jubilee of the diocese and the Cathedral's sixtieth anniversary was held May 20 and May 21, 1931.
Bishop Murray remained in Portland only until October 29, 1931, where he was transferred to St. Paul where he would serve as Archbishop for the rest of his life.