Ninth Bishop of Portland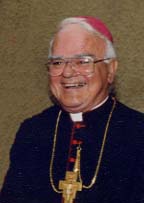 On December 18, 1974, Edward C. O'Leary was formally installed as the Diocese of Portland's ninth bishop. Bishop O'Leary had, four years earlier, been appointed Titular Bishop of Mogleana and Auxiliary Bishop of Portland and was ordained at the Cathedral of the Immaculate Conception, January 25, 1971.
Edward C. O'Leary was born August 21, 1920 in Bangor, Maine. His clerical studies took him to Holy Cross College, Worcester, Massachusetts, where he received his Bachelors Degree. He also attended St. Paul's Seminary, Ottawa, Canada, where he earned a Licentiate in Sacred Theology.
Bishop O'Leary was ordained June 15, 1946, by Most Rev. Joseph E. McCarthy, in Portland, Maine. Although he was a native of Bangor, Bishop O'Leary was no stranger to the Portland area. He served in the Cathedral and Sacred Heart parishes of Portland and at St. Margaret's of Old Orchard Beach and St. Charles Borromeo in Brunswick. At the chancery, he first held the position of vice-chancellor, then chancellor of the Diocese of Portland. In 1959, Bishop O'Leary was also elevated to Domestic Prelate by the Holy Father.
Bishop O'Leary's consecration, as Auxiliary Bishop, in 1971, was planned as a joint celebration with the rededication of the renovated Cathedral. The event took on very special significance with a blending of the old and new practices. The setting was new in accordance with the norms of Vatican II. With recent changes in the liturgy, the Mass was all in English, which was a first in Maine. This allowed the parishioners to follow closely with the celebrants as they carried out the ancient rituals. The newly consecrated bishop put on the episcopal ring that Bishop Feeney had worn.
During the fourteen years that Bishop O'Leary served as spiritual leader of the diocese, he saw the population grow significantly. The diocese had fewer priests to serve, as vocations fell. He was instrumental in involving lay people in church administration and developing a system of church and parish councils that would serve as advisory boards to their pastors and to church hierarchy.
Bishop O'Leary was also an active humanitarian and activist. He endorsed a referendum on pornography and opposed the state Equal Rights Amendment because he feared it would become the tool of abortion proponents and would eventually force taxpayer-funded abortions. He developed a plan of action for those suffering with Aids through the Church's social services program. It was also customary for Bishop O'Leary to visit all the hospitals every Christmas Day.
On September 27, 1988, Bishop Edward O'Leary announced he was retiring because of ill health, but would retain a ceremonial role. He is fondly remembered for his quick wit, ready laugh, unfailing affability, and the special ways in which he has touched the lives of many. He remained Bishop Emeritus of Portland until his death on April 2, 2002.