Third Bishop of Portland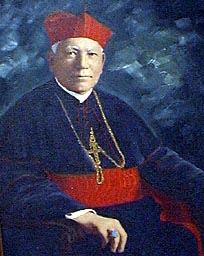 William H. O'Connell, a native New Englander from Lowell, Massachusetts was officially installed as Portland's third bishop, at the Cathedral of the Immaculate Conception on July 4, 1901.
Born and raised in Lowell, Massachusetts, William O'Connell was the youngest of eleven children of John and Bridget O'Connell. He later graduated from Boston College and traveled to Rome for further studies at the American College. After his ordination he remained in Rome for a time during which he developed influential friendships with several clerics who helped shape his career.
After Fr. O'Connell's return to the United States, he served as a curate in the Massachusetts parishes of Medford and Boston's West End. By 1895, he returned to Rome until his appointment as Bishop of the Portland Diocese. He was consecrated at the Lateran Basilica on May 19, 1901, then installed in Portland at the Cathedral some weeks later.
During Bishop O'Connell's years in Portland, the Cathedral (see Cathedral) underwent its first changes. Frescoing in the sanctuary and retouching the continuous frieze under the large windows were some of the minor changes made. The most memorable change was the addition of the beautiful Immaculate Conception signature window that was set behind the altar. This was Bishop O'Connell's gift to the church in addition to the beautiful Sacred Heart altar, immediately in front of it.
Bishop O'Connell's time in the Portland Diocese was brief. In April 1906 he was transferred to Boston as Coadjutor to Archbishop John Joseph Williams. In 1907 he was named Cardinal in the Archdiocese of Boston where he remained until his death in 1944.