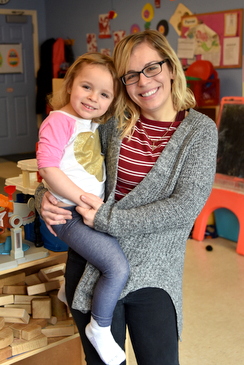 "I love it here. It's great!"
Kaylee Cohen has high praise for the St. Louis Child Development Center in Biddeford, which her two children attend.
"They started coming here, and it was wonderful," she says.
Kaylee says the center, operated by Catholic Charities Maine, was there for her when she was going through a particularly difficult period in her life. A single mom, she was working at a coffee shop and looking for daycare for her children when one of her customers recommended St. Louis.
From the start, Kaylee says the center made her feel welcome.
"I was actually in a really bad place, really bad relationship. I came here, met Rebecca (Toliver, the director), and she was fantastic," says Kaylee. "I came here to check it out and just fell in love with it."
Kaylee says the center helped her in many ways, including giving her a grant to cover the first six weeks of care and helping her apply for a state childcare subsidy.
At Christmas, knowing her needs, they submitted her name for a TD Bank giving tree program. Kaylee says she struggled with what to request because she even needed essentials. She recalls giving her daughters an early gift to open: dinner plates.
"It was a set of plates, and they both cried. They were so happy," she says. "They cried and said, 'Can we eat on them tonight?' They're such good girls."
Thanks to the St. Louis Child Development Center, Kaylee says her daughters are flourishing. Eisley, a first grader, attends before- and after-school care at St. Louis, and Kaylee says it has helped her daughter overcome her shyness.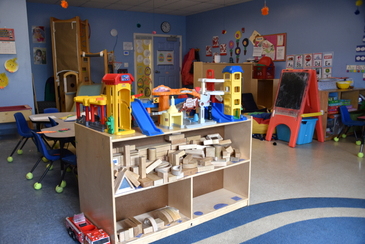 "Being here has opened her up to having friends. She is the kid now who goes up to people at the playground and says, 'Do you want to play with me?' And she would never do that before."
Emery, age 3, is as bright as her older sister.
"My youngest has learned so much here. She came home the other day and said, 'I know what taste buds are!'" shares Kaylee. "They're doing a unit right now on life cycles."
Kaylee credits the teachers for making such a difference.
"This is a center that actually teaches and helps your kids grow and learn," she says. "They try to mold their minds and help them better themselves to be ready for the world."
Established 47 years ago, St. Louis currently serves around 125 children from age six weeks to seven years. Rebecca says, in keeping with the mission of Catholic Charities to serve those in need, about half are private pay and about half receive subsidies.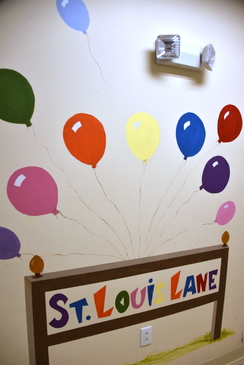 "So, they're getting a boost of high quality education that they normally wouldn't be able to afford," she says.
Rebecca says the center recognizes that a lot of families hit rough spots, and they want to be there to help, for instance with grants for parents like Kaylee who need assistance when they're first starting off at the center.
"I wouldn't have been able to do this without that," Kaylee says.
The quality of care, the friendly atmosphere, and the age range of children served are all among the reasons why parents choose St. Louis, according to Rebecca.
She says she looks for teachers who love children.
"You can tell, when someone comes in, what their passion is and if they have a passion for young kids and education," she says. "I like teachers to come with some experience, either as parents or as teachers or caregivers."
One of those teachers is now Kaylee. Having cared for children most of her life, she was offered a job at the center in October 2016. She started in one of the older grades and now works in the infant room.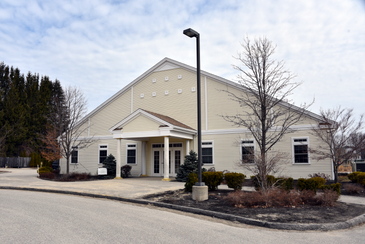 "Kaylee is a wonderful teacher. She is great with infants. She is patient. She is very sweet," says Rebecca. "She is always willing to take on anything that I ask of her pretty much, so she has been awesome to work with and have here."
"It's wonderful," says Kaylee. "There's not a day where I don't want to go to my job."
Kaylee says she doesn't know where she and her daughters would be if it weren't for the support of the St. Louis Child Development Center. She says she can't thank them enough.
"It's life-changing. It really is," she says. "I just can't stress enough that they really did save me."