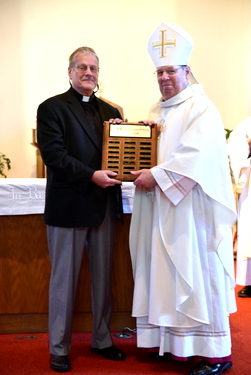 Deacon Dennis Popadak, who serves at the Parish of the Holy Eucharist in Falmouth, has been presented with the 2017 Monsignor Charles M. Murphy Deacon of the Year Award. The award was presented by Bishop Robert Deeley and Deacon Peter Bernier, director of the Office of the Diaconate, during the annual deacon assembly, held Saturday, September 30, at St. Joseph Church in Brewer.
"This year's recipient is a person of deep faith, a person of integrity, a person of prayer, and a person who is passionate in his zeal to live the Gospel way of life in a spirit of humility. The latter is evidenced by the compassion and selfless service that he offers time and again, unconditionally, and to the full extent of his ability, to meet the needs of others," said Deacon Bernier. "His ministry is one that embodies the meaning of charity and self-giving as he strives to make Christ present to all those he encounters through an authentic witness of love, a love that is nurtured through prayer, sacrifice, and joy-filled service."
Named for the Diocese of Portland's former director of the diaconate, the award has been given out annually since 2006 to recognize a deacon's ministry of service. Ordained in 1998, Deacon Popadak was a member of the first class of permanent deacons to be ordained in the diocese, and he is considered a pioneer in helping to define diaconal ministry in the Catholic Church in Maine. He has served in full-time ministry for 19 years, at both the parish and diocesan levels. That has included 13 years as a parish catechetical leader, as well as his current position as a parish leader at St. Gregory Church in Gray, which is among four churches that make up the Parish of the Holy Eucharist.
"I have worked with Deacon Dennis for over five years now, and I am pleased that the diocese has recognized his dedication and love for his vocation and the Church. He is a great example of a deacon who is at the service of the Church by always being willing to do a little more to respond to the needs of God's people. He also has been a big supporter of priests and their vocation by gathering them together in the greater Portland area for support and fraternity," said Father Daniel Greenleaf, pastor of the Parish of the Holy Eucharist, who offered congratulations on behalf of the entire parish. "He tries to be of service in the best way he can by offering himself in many of the quiet, hidden, and humble ways. We, as a parish, have benefited tremendously by his yes to God and the Church, and we only wish him and his wife, Beverly, the greatest of congratulations."
On the diocesan level, Deacon Popadak is currently entering his fourth term on the Deacon Advisory Board. He previously served a one-term on the Diocesan Advisory Board, and he represented the diocese and Monsignor Murphy at meetings of the Region One National Association of Diaconate Directors. He has also served as a mentor for many deacon candidates.
"He and his wife have made many sacrifices over the years for the sake of Christ and his holy people we call the Church," said Deacon Bernier. "Following ordination, they sold the family home in Oakland and never looked back. In hearing God's call to serve, they have moved four times in response to ministry needs. As a colleague of mine, who is both an inspiration and a model for me to follow, I can attest to his genuine goodness, his joyful spirit, his faithfulness, his generosity."
"It's awesome to see this recognition for all the years of hard work and sacrifice that he has put in and the love that he has put in. He's just a wonderful role model for our family," said Beverly. "A friend of mine asked me once why I thought our marriage was so solid and good. I said, 'You know what? Dennis doesn't see where I'm lacking, he sees where my strengths are.' And, as I think about it, that's the way he is with everyone. He sees their strengths, and he doesn't see where they're lacking, and we're all lacking. That's the way he is."
For his part, Deacon Popadak accepted the award with his typical humility.
"It's very humbling, and yet. I feel honored to be in line with the others who have received it previously. I've been blessed with so many things by God, and it's been a privilege and grace to be able to share those with the diaconate community and in the parish, as well as at the diocesan level. But, I'm most grateful in terms of the sacrifices Bev has made to make me the deacon that I am and to help me conform my life to Christ," he said. "It's wonderful to be able to be that bridge between the people and the priests, and the priests and the people in the Church. It's just remarkable in terms of the number of stories of how you touch people and how people touch you. It's great!"