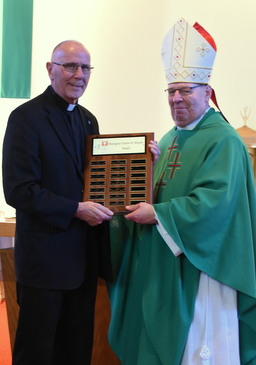 Described as a man of integrity who always put others first, Deacon Donald Clavette has been named the Diocese of Portland's 2019 Deacon of the Year.
The award was presented by Bishop Robert Deeley and Deacon Peter Bernier, director of the diocese's Office of the Diaconate, during the 10th annual Deacon Assembly held Saturday, September 28, at St. Joseph Church in Brewer.
"I have come to know him to be a person of deep faith, a person who embraces a rich prayer life, and a person who always tries to put Jesus first at the center of his life and ministry," said Deacon Bernier. "His diaconal ministry models 'Christ the Servant,' as he always strives to put others first, while putting Gospel values into practice."
From Madawaska, Deacon Clavette was ordained on June 6, 2004. He currently serves at the parishes of Notre Dame du Mont Carmel in Madawaska, Our Lady of the Valley in Saint Agatha, and St. Peter Chanel in Van Buren.
Deacon Clavette said he was humbled to learn he had won the Msgr. Charles Murphy Deacon of the Year Award but said a question quickly came to his mind.
"I keep wondering why me and not some of the other deacons," he said. "I mean, there are folks more deserving."
Those who know Deacon Clavette and the many ways he serves the Lord would disagree. Deacon Bernier and Deacon Al Burleigh of St. Mary of the Visitation Parish in Houlton were both ordained with Deacon Clavette.
"As a classmate of mine, I can attest to his genuine goodness, his faithfulness," said Deacon Bernier. "He is a person of strong moral character who always looks for the good in others."
"He is a totally awesome person. There is no question about that," said Deacon Burleigh, the 2016 winner of the award. "I am so happy and pleased that he has been chosen as Deacon of the Year. He deserves it."
Deacon Clavette was the first deacon to serve in the St. John River Valley. Two years before his ordination, he was asked to take charge of the Christian Life Center in Frenchville, which offers retreats, marriage preparation, and other programs.
When he became director, Deacon Clavette said there was a mere $100 in the center's checking account, with a $50,000 mortgage to pay off. It was a daunting task, but as he had done so often in his life, he turned to the Lord.
"I went into the chapel, and I said, 'Lord, I'm not a finance person. I don't like raising money, so I'm going to put that in your hands. I'll do your work, but you take care of the money,'" he recalled.
By the end of the year, he said, they had raised $20,000 and would eventually pay off their loan.
He led the center for a dozen years but left because of the increasing needs of the parishes where he served, including assisting with baptisms, funerals, and committal services.
"I came into the parish, and I was quite active. I was doing most of the baptisms, baptism prep, marriage prep. I was visiting all the nursing homes and anything else they asked me to do,' he said.
That included championing the formation of faith-sharing groups.
"He developed a training program with materials to help parishes grasp a solid understanding of what they are about – put simply, prayer, formation, community, and fellowship," said Deacon Bernier.
Deacon Clavette has also been generous in his support of the diaconal community, including Deacon Rodney Deschaine who was ordained in 2017 and also serves at the parishes in Madawaska, St. Agatha, and Van Buren.
"I'm ecstatic, ecstatic that he won the well-deserved Deacon of the Year," said Deacon Deschaine. "I probably would not be here serving as a deacon if not for his spiritual direction and encouragement to keep moving forward."
Deacon Deschaine said he has known Deacon Clavette since middle school when, prior to his diaconal ministry, Clavette was coaching basketball there. He was also a teacher for 33 years at Madawaska High School.
Named for the Diocese of Portland's former director of the diaconate, the Msgr. Charles Murphy Deacon of the Year Award has been given out annually since 2006 to recognize a deacon's ministry of service.
From Madawaska to Wells, there are more than 50 permanent deacons in the Diocese of Portland, although not all are in active ministry.