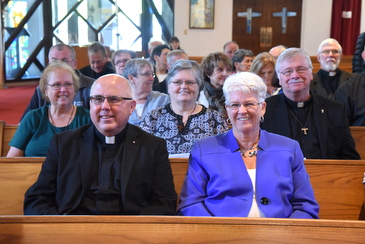 Just two weeks after 11 men were ordained to the permanent diaconate, deacons and their wives from around the Diocese of Portland gathered at St. Joseph Church in Brewer for the annual deacon assembly.
There are now 53 permanent deacons serving at parishes from Fort Kent to Wells, and the deacon assembly is an opportunity for them to come together to grow in faith, knowledge, and community.
"We're so spread out throughout the state that this is one of the few times of the year that we're able to get with each other. We're friends, but we really don't have the time to spend together," said Deacon Robert Curtis from All Saints Parish, Brunswick. "We also learn, while we're here, about what is going on in the diocese, not just in our own parishes but throughout the state. It's important because we're all struggling with some of the same issues, and we get some answers. So, we can go back and say, 'O.k., why don't we try this because they're trying this up in Caribou and it's working.' It's just really an important time of the year for us."
"I think it allows deacon couples to come together to share their individual stories, to share what they're doing in ministry, and to share with each other what the high points are going on in their life," said Deacon Jeffrey Lewis, from St. Michael Parish, Augusta.
"It brings us together," said Regina, his wife. "We really are one body, as Christ's hands and feet in the world, but we need to be together and be solid to present a common front."
Presenters at this year's assembly included Steve and Kathy Beirne, who have worked in family life and marriage ministry for decades. They discussed the importance of supporting the vocation of marriage in parishes, as well as the need for the deacons and their wives to keep their own marriages strong.
"You've been called to a leadership position in your local church," Steve told them. "People will see you and hear you as ministers in your community. In addition to specific areas of ministry, you, as a couple, will be an example of married love to the people you meet. God has called you to this ministry, and now you're a leader. Whatever gifts you have, you contribute those gifts, but, just by being present, you are a gift to the parish as a couple. Every sacramentally married couple is called to be a sign of God's love but especially you as a deacon couple."
The other featured presenter was Deacon Daniel Sheridan, Ph.D., a professor in the theology department at Saint Joseph's College of Maine in Standish. One of Deacon Sheridan's areas of interest is world religions, and he spoke to the deacons and their wives about the importance of understanding Islam.
"Islam is related to Christianity the way Christianity is related to Judaism. We see, in some ways, fulfillment. They see fulfillment of two prior religions. God is telling us something in their belief about themselves," Deacon Sheridan explained. "Jews, Christians, and Muslims are all being authentically addressed by God in different ways, and we all need to discover the truth of what God is telling each group."
In addition to the workshops, the assembly included Mass celebrated by Bishop Robert Deeley, who reflected on the September 16 ordination Mass. The bishop called it a marvelous celebration, saying what made it so special is the gift that the diaconate is in the diocese.
"Together, as deacons active in service in many parts of the diocese, you who are already ordained have shown the way. You have lived the diaconate. The celebration was an appreciation of what good has happened in our diocese through your committed service to God's faithful. The celebration was one of hope and life because the Gospel is hope and life," the bishop said. "The ceremony of ordination is a part of that great mission we all share as ministers – to bring the Gospel to life in the people we serve."
At the conclusion of the Mass, a deacon who epitomizes that life of committed service, Deacon Dennis Popadak, was honored with this year's Monsignor Charles M. Murphy Deacon of the Year Award.
"This year's recipient is a person of deep faith, a person of integrity, a person of prayer, and a person who is passionate in his zeal to live the Gospel way of life in a spirit of humility. The latter is evidenced by the compassion and selfless service that he offers time and again, unconditionally, and to the full extent of his ability, to meet the needs of others," said Deacon Peter Bernier, director of the Office of the Diaconate, in announcing the award.
Ordained in 1998, Deacon Popadak was a member of the diocese's first class of deacons. He has served in full-time ministry for 19 years, both on the parish and diocesan level. At the Parish of the Holy Eucharist in Falmouth, he served for thirteen years as a parish catechetical leader and currently serves as a parish leader at St. Gregory Church in Gray. For the diocese, he is currently serving his fourth term on the Deacon Advisory Board and previously served on the Diocesan Advisory Board. He has also been a mentor to many deacon candidates and created the first deacon cell in the state, a regional gathering of deacons and wives.
"I can attest to his genuine goodness, his joyful spirit, his faithfulness, his generosity, his flexibility and zeal to serve the needs of others," said Deacon Bernier.
"It's very humbling, and yet, I feel honored to be in line with the others who have received it previously," said Deacon Popadak. "I've been blessed by God with so many things, and it's been a privilege and a grace to be able to share those with the diaconate community and in the parish, as well as at the diocesan level."
Named for the diocese's former director of the diaconate, the Monsignor Charles Murphy Award has been presented to a permanent deacon in the Diocese of Portland since 2006.