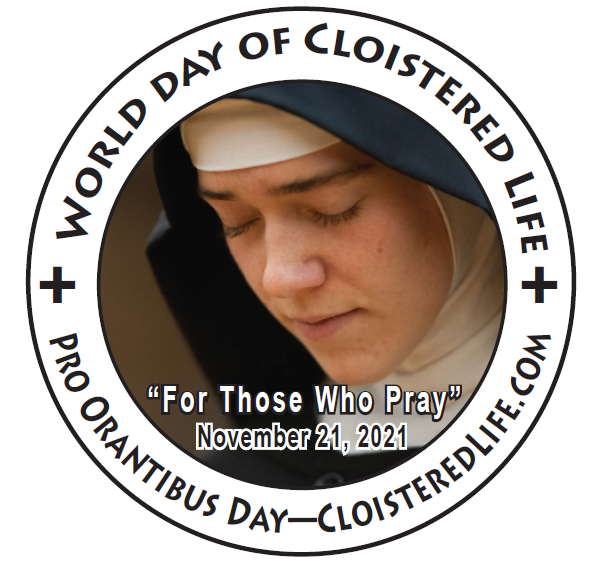 PORTLAND---The World Day of Cloistered Life is set for Sunday, November 21 (the Memorial of the Presentation of the Virgin Mary in the Temple). It is also known as Pro Orantibus Day ("For those who pray").
It is an ecclesial event for all Catholics worldwide to commemorate the hidden lives of contemplative religious in cloisters and monasteries. On this day, the faithful are encouraged to reach out to the cloistered religious in their diocese through prayer, encouragement, and material support.
In 1997 Pope Saint John Paul II recommended that an ecclesial event be observed worldwide on November 21, a day meant to especially remember and thank those in the cloistered and monastic life (who live "in the Temple") for serving as "a leaven of renewal and of the presence of the spirit of Christ in the world."
"May this day spent in fraternity bring light and life to your communities; may the Virgin Mary, model of contemplation, teach you to constantly seek the face of God and to remain faithful to your mission of being the praying heart of the Church," said Pope Francis.
"These brothers and sisters of ours bear a silent witness to the fact that in the midst of the sometimes frenetic pace of daily events, the one support that never topples is God, the indestructible rock of faithfulness and love," Pope Benedict XVI said in 2006. "And in the face of the widespread need to get away from the daily routine of sprawling urban areas in search of places conducive to silence and meditation, monasteries of contemplative life offer themselves as 'oases' in which human beings, pilgrims on earth, can draw more easily from the wellsprings of the Spirit and quench their thirst along the way."
Free, downloadable resources have been assembled to help promote and celebrate this event, including logos, intercessions, Holy Hours, meditations, and more. To access the materials, visit https://religiouslife.com/resource/pro-orantibus-day.