PORTLAND---A scene that evokes warm memories for participants and presents the sight of a well-oiled machine for observers will play out in the hall and kitchen at St. Peter Parish, located on 72 Federal Street in Portland, on Wednesday, August 9, from 9 a.m. to 3 p.m.
The annual "cookie bake" draws over 60 volunteers, from young people all the way to parishioners in their nineties, focused on a shared goal of baking, decorating, and packaging cookies for the 92nd annual St. Peter's Italian Bazaar (August 11-13).
"We are using 75 dozen eggs which will probably yield about 7,300 cookies," said Ellie Fields-Cooper, coordinator of the cookie bake.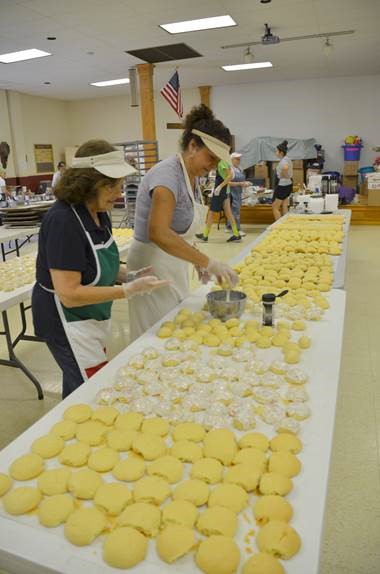 After the cookies are loaded out of large pizza ovens, rows of volunteers sit at tables diligently performing various tasks from frosting to packaging.
"It's a way to give back and help our parish stay strong," said Nancy Taliento-Goodwin, a parishioner at St. Peter Church for over 60 years. "We now have multiple generations working on the cookie bake. It's a way to have the younger generations start to volunteer. If they volunteer with the church, which they are a part of, then they will look beyond that and volunteer in the community."
"We are blessed to have the help and support of the younger people who enjoy participating and working at the festival with the older generation serving as role models and mentors," said Fields-Cooper. "We hope to perpetuate our traditions, the importance of family and faith."
Watching parishioners warmly working side by side is a testament to the beauty of a tradition that has lasted for generations and the special, close-knit parish community that brings it to life year after year.
"Most of us have known each other all of our lives," said Fields-Cooper. "We not only share our Italian heritage, history, and faith, but we have seen each other through many challenges and triumphs. We are so blessed for our community. There is nothing more important in life than the love and good times you share with family and friends. We have that in abundance!"