PORTLAND---It's an event that annually provides the opportunity for hundreds of Maine teens to gather to celebrate their shared Catholic faith and build friendships along the way.
On Sunday, July 26, the Maine Catholic Youth Convention once again offered a chance for teens from York County to Aroostook County to be together, pray together, and grow in appreciation of the importance and beauty of their faith. But like so many traditions, the 2020 edition looked very different as a result of the COVID-19 pandemic.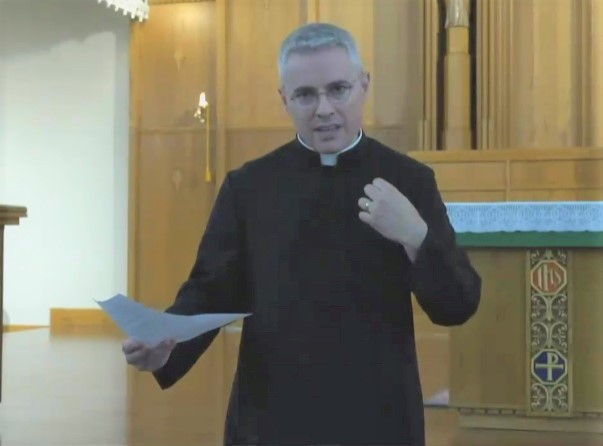 Usually held on a spring weekend and featuring workshops, speakers, and a procession from the Holiday Inn by the Bay to the Cathedral of the Immaculate Conception for a Mass with Bishop Robert Deeley, this year's convention was presented virtually as teens from around the state participated individually from home or in small, socially distanced groups at parishes.
The convention was set up like a virtual newscast, with Brendan Fedrizzi of St. Matthew Parish in Limerick and Belle Castonguay of St. Rose of Lima Parish in Jay serving as the "co-anchors" live from the Chancery building in Portland, delivering segments with special guests that aimed to inspire even more vibrant faith lives among the young people.
"If we have faith in God, we must have faith in ourselves," Fedrizzi told the participants on Sunday morning.
From Fort Kent, Deacon Luis Sanclemente of St. John Vianney Parish in Fort Kent discussed a reading from the Gospel of Matthew in which Jesus walks on water and reassures believers to not be afraid of nature or life but, instead, place their complete trust in God.
"Without faith, nothing can be sustained," said Deacon Luis. "We use faith all of the time. If we have faith in the natural world, that faith calls us to a higher purpose and that faith is the faith of God. We search for it and crave it. It is something that drives us because God created us for himself. So we are invited, like Peter, to walk in faith towards him. That faith is the foundation of our will."
During the weather "segment," small groups at the parishes discussed "positive clouds," meaning what gives them hope and positivity in these trying times. Answers included friends, nature, love, and faith.
From Presque Isle, Kailee Cox, a teen from the Parish of the Precious Blood, spoke about hope.
"Don't worry about whether something seems possible. God gave you a desire and you need to hope and go for it. Hope sees the impossible. Hope achieves the impossible."
Fr. Bill Labbe, pastor of St. Thérèse of Lisieux Parish in Sanford and St. Matthew Parish in Limerick, offered a "public service announcement" about love.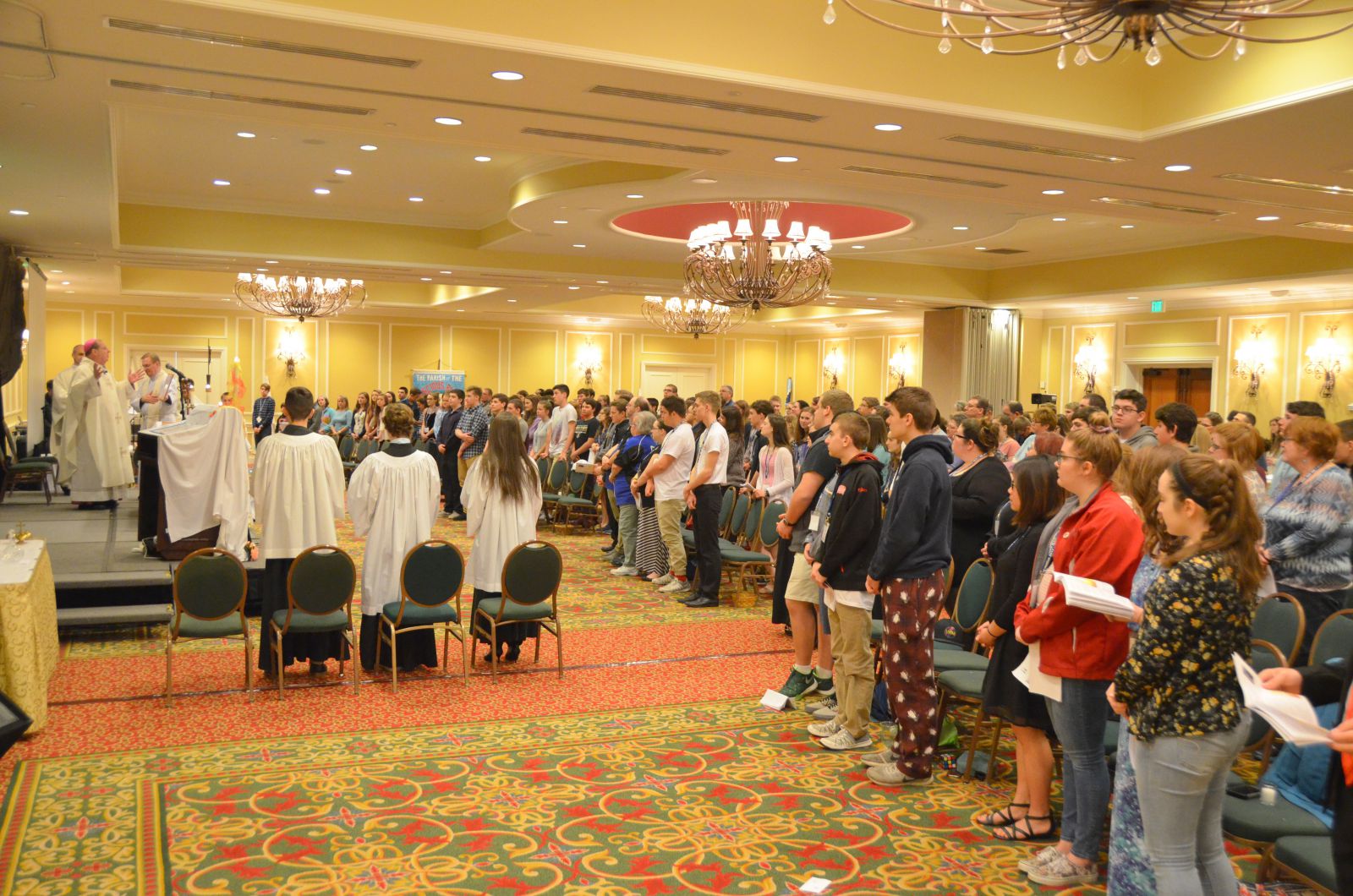 "God sent his Son to save the world. We are brothers and sisters to Jesus, little children to God. We were not adopted to be ordinary. We were created, redeemed, and adopted to be extraordinary. Created in love, redeemed in love, and adopted in love, because He loves us. There is a love that has no limits or boundaries. If we want to see that love, we only need to look at the cross. It is a holy love that we are called to replicate in this world, the willing and working for the good of another."
"I was the sports guy on the newscast," said Paul Bonner of Easton who also attends the Parish of the Precious Blood. "I talked about sports and how faith is not a spectator sport. You have to be all in. I think anyone can just stand on the sidelines and that is what a lot of people are doing. When I mean be all in, it's kind of like sports. You should be giving 100 percent, mind and body, the entire time, so then, even if you fail, you know you gave it all you could. So, that is what faith is. You have to be exercising it. And sure, it's not going to work all time. You're going to feel distant and it's not going to seem like you're being reached by God, but it's one of those things where you have keep going and you have to keep improving."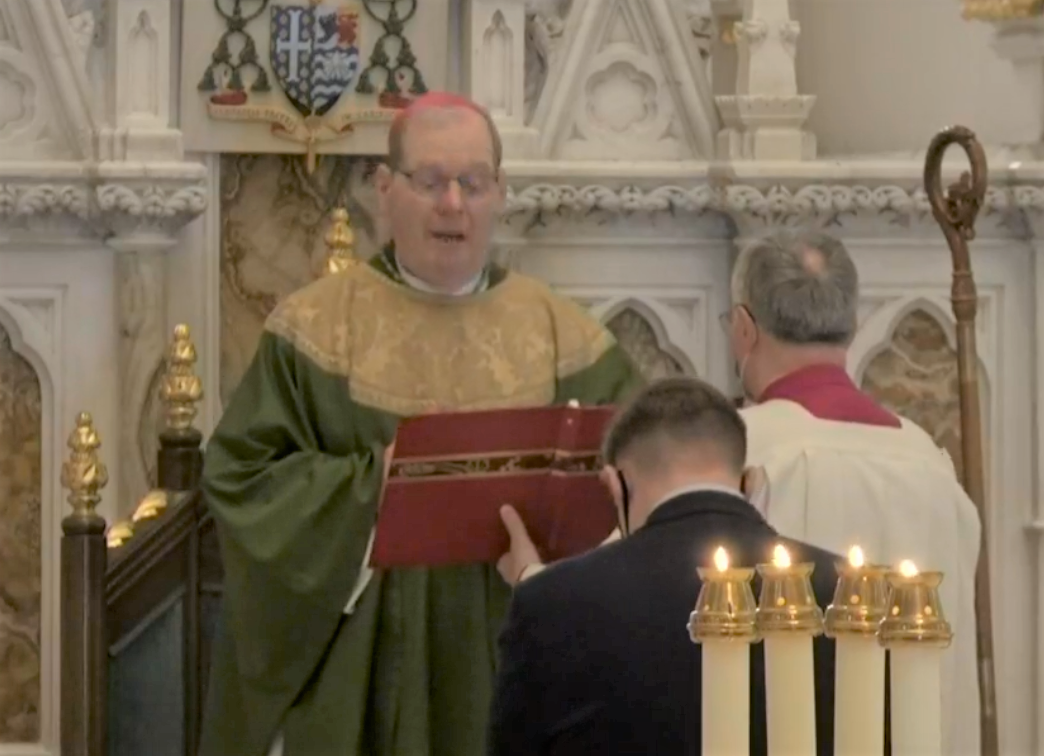 The convention also featured a Saints of the Day segment, prayer, and the offering of well wishes to members of the senior class.
The unique convention was planned and produced by the diocese's Catholic Youth Leadership Team (CYLT). The CYLT serves as Christian leaders among their peers, works with diocesan staff to plan and execute major teen events, and helps his/her parish youth ministry leadership in helping with the ministry at the parish level.
"At the beginning of the year, before we planned it, we had written out goals and things that we wanted people to get out of convention. We looked at how can we have good wholesome fun and also teach something substantial and reinvigorate people in the faith in that shorter time period," said Fedrizzi.
And as part of the gathering, Bishop Deeley celebrated a live-streamed Mass from the Cathedral of the Immaculate Conception.
"The very fact that we gather together is a good thing for all of us. We remind each other that we are Church. We share something very precious and important in common. We believe that Jesus Christ has brought us together. He wants us to be able to draw strength from each other, and to realize that we need each other," said the bishop during his homily. "And because I believe that is true, I am very happy to be with you for this celebration. It is a grace for me, and, I hope, a grace for you. Being together here at Mass brings us closer to Jesus. In fact, he is here in the sacrament of his Body and Blood, and in our presence to each other."
Bishop Deeley told the young people that when they acknowledge that the spirit of Jesus guides them in life, they will find their place in the world.
"Wisdom is the beginning of faith. It connects us with God whom we know as love. Knowing of his love gives us hope, and we know that there is meaning in our world. We, each of us, as well, that we are of eternal value in God's eyes. Our path in life, then, always involves love. As God has loved us, and we know it as we gather today, we know ourselves called to love each other, and work to bring God's love into our world."
During the Mass, the bishop also blessed, virtually, the new members of the Catholic Youth Leadership Team who will serve during the coming year.
As part of the event, youth and adults who provide an exemplary model of living the Gospel life in Maine were recognized. The recipients will be presented with the awards themselves during Masses at their home parishes.
St. Timothy Awards are given to high school students who exhibit Catholic morals and integrity, demonstrate Gospel values through service to others, and display Christian leadership. The eight recipients were Katherine Berube of Houlton, Kailee Cox of Presque Isle, Brendan Fedrizzi of Limerick, Jean-Daniel Liwanga of Portland, Justin Ouellette of Lewiston, William Prescott of Houlton, Robert Sanders of Kennebunk, and Thomas Smith of Pittsfield.
Companions on the Journey Awards are given to adults who demonstrate excellence, leadership, and commitment in service to youth ministry. The five recipients were Jeff Albert of Prince of Peace Parish in Lewiston, Scott Carpenter and Carol Marceau of St. Thérèse of Lisieux Parish in Sanford, Carolyn Houston of Holy Spirit Parish in Kennebunk/Wells, and Julia Sanclemente of St. John Vianney Parish in Fort Kent.
Despite the way in which the convention was presented this year, Fedrizzi hoped the takeaway of past conventions remained the same.
"Definitely that sense of community, that even though we weren't able to be together in person, we're still connected through the Spirit and through the Church. That transcends all personal, physical connection."