Parish scheduled to visit:
St. Joseph Parish, Ellsworth
"We evangelize the poor, and we are evangelized by the poor."
The Vincentian Congregation in India is a religious community founded in Kerala in 1904. Its motto is "He has sent me to proclaim the good news to the poor," words from the Gospel of Luke that also inspired St. Vincent de Paul, the congregation's patron. The congregation is part of the worldwide Vincentian community founded by St. Vincent de Paul in Paris, France, in 1625. It draws its spirit and distinctive character from the life and works of St. Vincent, with a primary goal of evangelization of the poor, especially those who are most abandoned.
An ardent love for those living in poverty inspires the Vincentians to do their best to serve them. Their ministries in India are diverse. St. Vincent's Home in Kerala treats and houses AIDS patients who have been abandoned by their families and ostracized by society. Six De Paul Care Centers in Kerala look after those suffering from cancer and other diseases. Divine Care Centre shelters care for more than 500 patients suffering from mental illness. Sssmile Village provides homes for those living on the streets (Sssmile stands for Sacred Scripture's Social Message in to Living Experience). The congregation also operates boys' homes, where the children receive schooling and job training.
Education is still the basic need of millions of children in India. The Vincentian Congregation has responded by establishing schools primarily aimed at the economically weaker sections of the society. They currently serve 5,500 students. With an aim of helping people to become economically independent, vocational training centers, too, are run by the Vincentian Congregation in different parts of the country.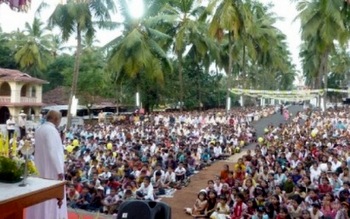 The Vincentians are committed to meeting the spiritual needs of the poor as well. They offer Popular Mission retreats, a specific form of preaching the word of God that is aimed at trying to enkindle faith in the hearts of the people and help them towards personal renewal and the building up of a true Christian community. The retreats are offered in seven different languages at six retreat and prayer centers.
The missions appeal will help the Vincentian Congregation continue to meet the needs of those it serves by supporting those parish retreats, by rebuilding the lives and homes of the flood-stricken poor in Kerala, by helping the Vincentian brothers and priests to provide food and education to those in need, and by supporting the formation of the congregation's 162 seminarians, who, once ordained, will allow the congregation to bring Christ's Gospel message to more people both within India and beyond its borders.
"We missionaries try to bring the 'Joy of the Gospel' to all those whom we serve," says Father Joseph J. Arackal, mission coop coordinator for the Vincentian Congregation.
If you would like to support the work of the Vincentian brothers and priests, visit the online giving page of St. Joseph Parish in Ellsworth.