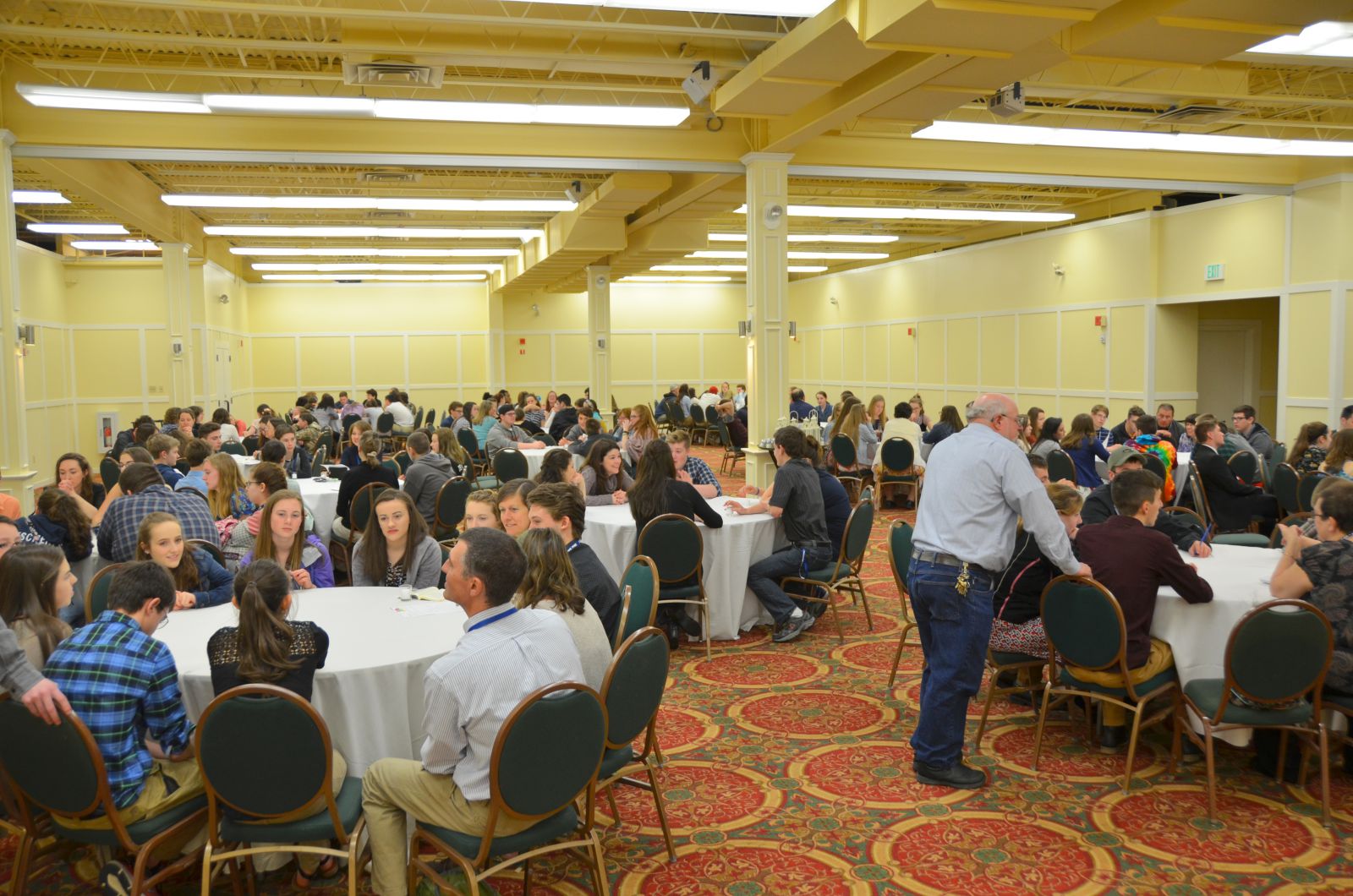 PORTLAND---The 2019 Maine Catholic Youth Convention ended in dramatic fashion on Sunday morning with a procession through Portland that gave nearly 200 Catholic teens and adult chaperones an opportunity to publicly display their faith (many additional pictures of the procession, convention, and Mass below).
The large group smiled and sang hymns as they processed from the Holiday Inn by the Bay, where the convention was held, through the Old Port to the Cathedral of the Immaculate Conception for the convention's closing Mass with Bishop Robert P. Deeley. The procession was led by a large wooden cross and also featured a banner with the convention's theme ("This is the day the Lord has made") and flags representing some of the parishes with representatives in attendance.
"This morning, together, you have all processed through the streets of Portland led by the Cross, the symbol of our Christian faith," the bishop told the teens and other parishioners gathered at the closing Mass. "It is the manifestation of God's love for us, and it is the mandate for all who wish to follow Jesus who tells us to serve one another as he has served us."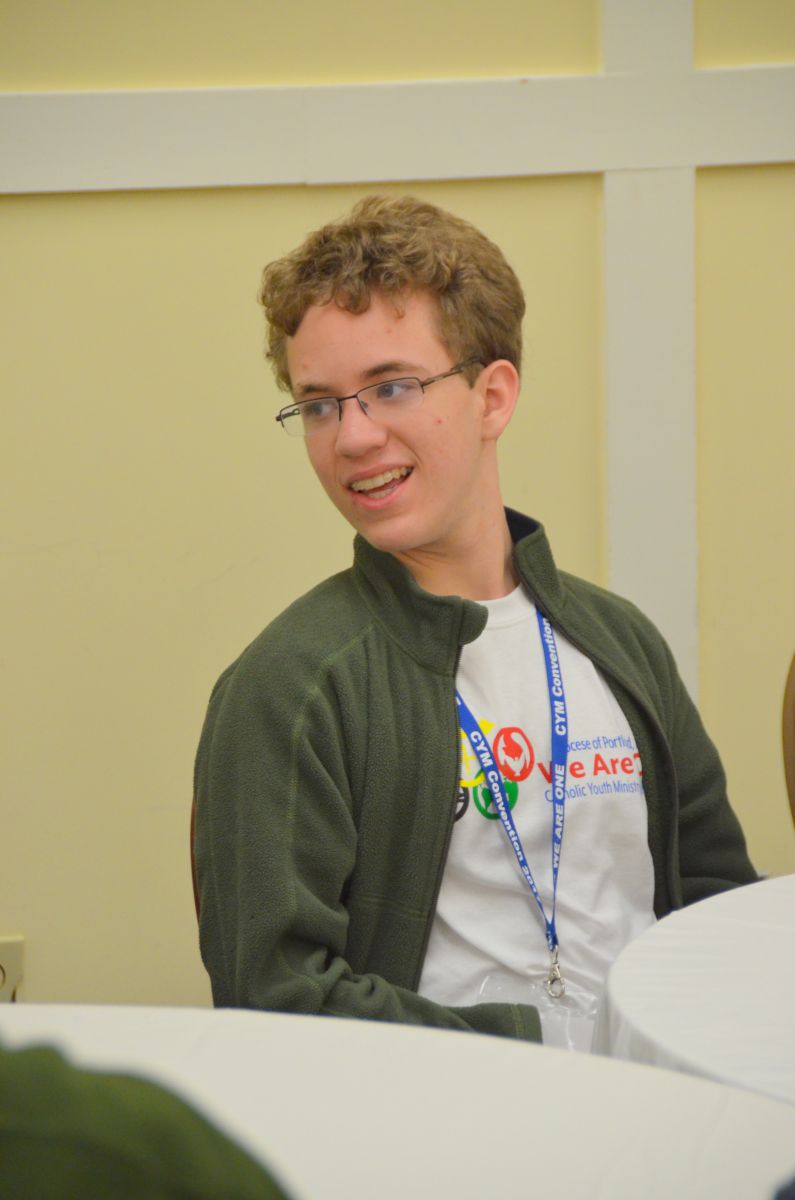 The convention, which began on Friday night before concluding with Sunday's Mass, gathers Maine teens, from Aroostook County to York County, for a weekend of celebrating faith and the gifts young people bring to the life of the Church.
The event featured dynamics speakers, workshops, Masses, prayer, the sacrament of reconciliation (confession), eucharistic adoration, and plenty of time for the teens to socialize and build friendships along the way.
"The convention has gone super well," said Belle Castonguay of St. Rose of Lima Parish in Jay. "Being an emcee this weekend has been an incredible honor because I want to spread my faith to other kids. It's been amazing."
"The weekend has been great," said Brendan Fedrizzi, a student at
Cheverus High School and parishioner at St. Matthew Parish in Limerick. "It's great to celebrate our Catholic life, celebrating what makes us Catholic in Maine, and learning about different ways to grow our faith and put it into practice."
"Being here has been a blessing. Everyone is so close. It's been a spiritually-fulfilling and eye-opening weekend," said Guillemette. "The speakers and people who hold the workshops don't treat us as kids. They present the truth, and everyone can decide for themselves to ignore the truth or follow it and come closer to God."
The youth keynote address was delivered on Sunday morning by Hallie Pike from St. Rose of Lima Parish in Jay, where she serves in a variety of ministries. She is also a member of the National Honor Society, participates in countless service projects in the community, and is one of the best young clarinet players in Maine.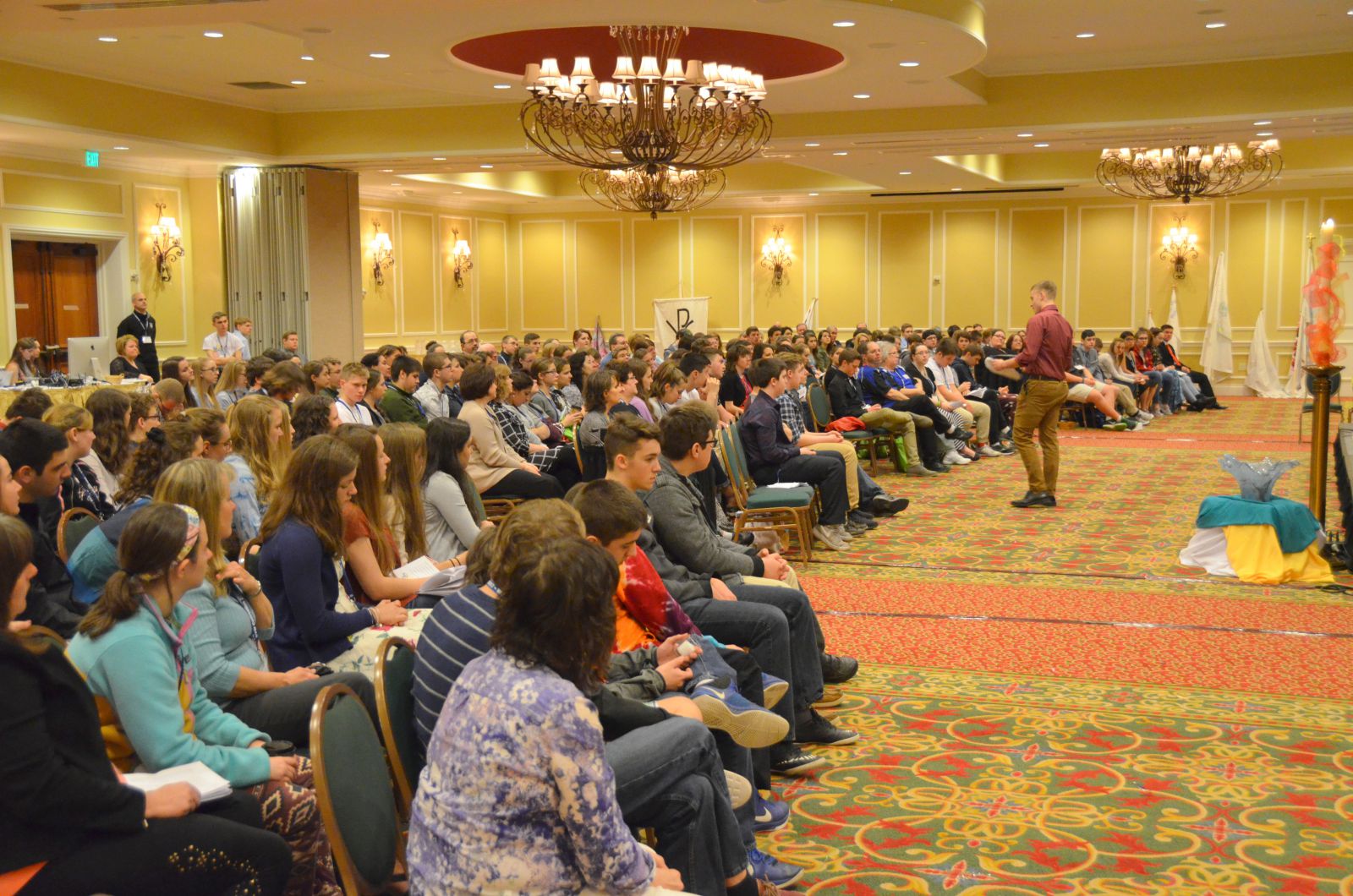 She shared a personal story with her fellow teens about having her eyes "opened by God" when one of her dreams didn't come true.
"God has a plan for my life and it may not be what my plan is. I may have a different idea, but I know his plan is the right one for me. He has a unique plan for every one of you here. Our human instinct is to build our own plans alone according to maybe what we love, what would make us the most money, or what would be easiest to have, but we can't do that without God," said Hallie, who will attend Saint Anselm College in Manchester, New Hampshire, next year. "Our mission as Catholics is to live a life in the image of God, walking the path he gives us that will then lead us to our ultimate vocation of sainthood. Every one of you here should be striving for that."
The keynote speaker at this year's convention was Katie Prejean McGrady,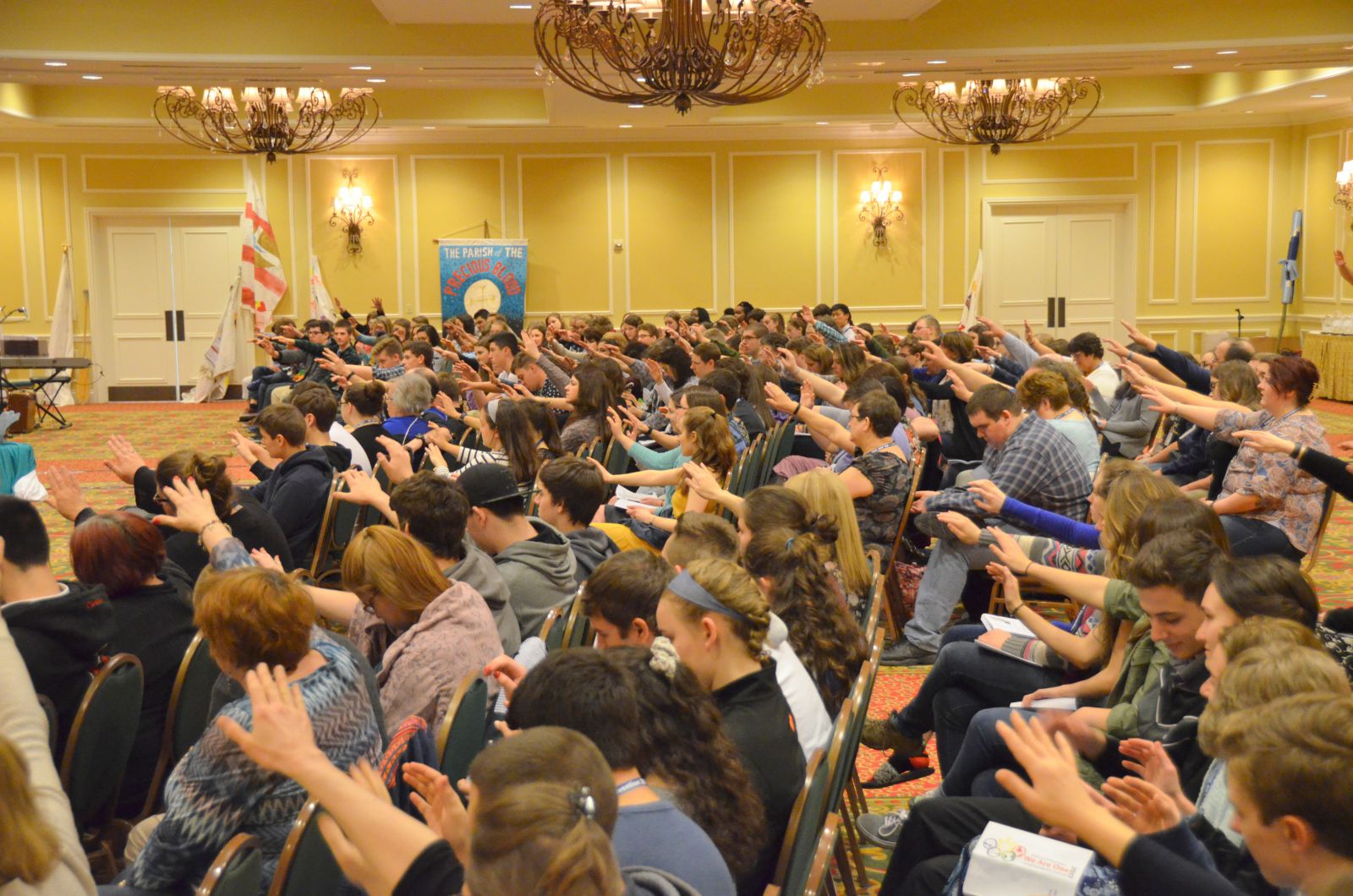 an author, educator, and U.S. delegate to the pre-Synod youth gathering in Rome in 2018. Following years of teaching high school theology and working as a youth minister, she became a full-time speaker after her daughter was born. McGrady has spent the last 12 years helping teens understand their value and gifts and showing them how they can use their talent to bring glory to God.
"Don't tell me you aren't capable of witnessing to the Gospel. Hearts can be changed by young people who go back and talk to their families, their peers, their friends, their enemies, perfect strangers, about what the Lord has done for you and about how this is the day the Lord has made," McGrady told the teens. "You don't have to have a degree to be someone who can testify to the goodness of the Lord. You get to tell people what the Lord has done for you."
A series of workshops, offered by clergy and laypeople, were also held during the convention, including: "Eucharist: Source and Summit," presented by Fr. Matthew Gregory, parochial vicar of Prince of Peace Parish in Lewiston;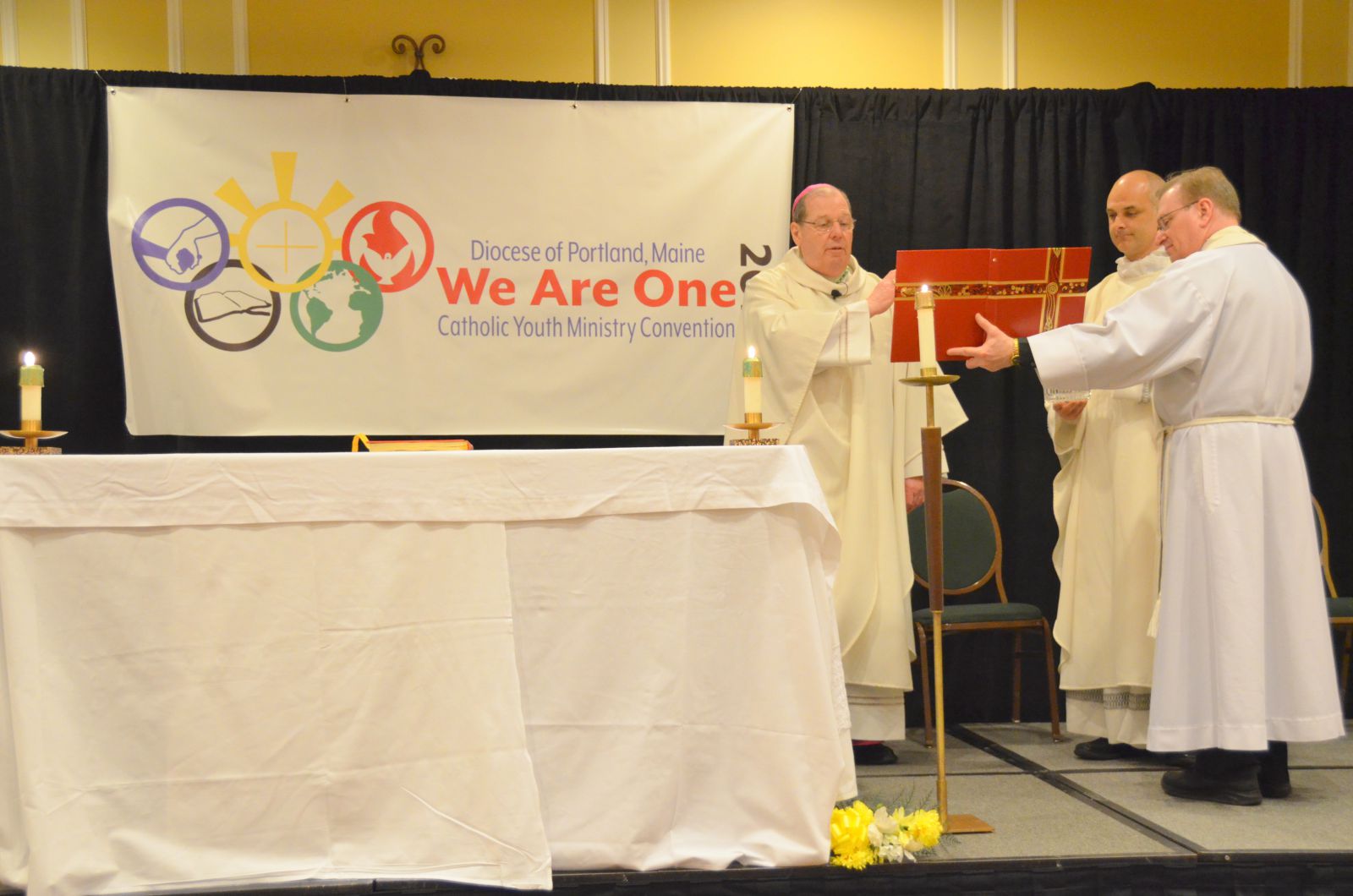 "Day One of My Secular Life," presented by Annie Iacono, faith formation coordinator at Parish of the Holy Eucharist in Falmouth; "Catholic Masculinity: Be a Man!" and "Catholicism: Difficult Questions, Truthful Answers," by Deacon Luis Sanclemente of St. John Vianney Parish in Fort Kent; "Joy, Suffering, and Christian Life: A Catholic Approach," by Sean Haggerty, SJ; "The Blessed Mother," by Louise Fecteau; and "Made for a Purpose: The Feminine Genius," by Michelle Valcourt. In addition, McGrady offered a presentation for adult leaders entitled "Authentically Accompanying Our Youth."
On Saturday night, youth and adults who provide an exemplary model of living the Gospel life were recognized during the convention banquet. St. Timothy Awards are given to high schoolers who exhibit Catholic morals and integrity, demonstrate Gospel values through service to others, and display Christian leadership. The 12 recipients this year were: Isabel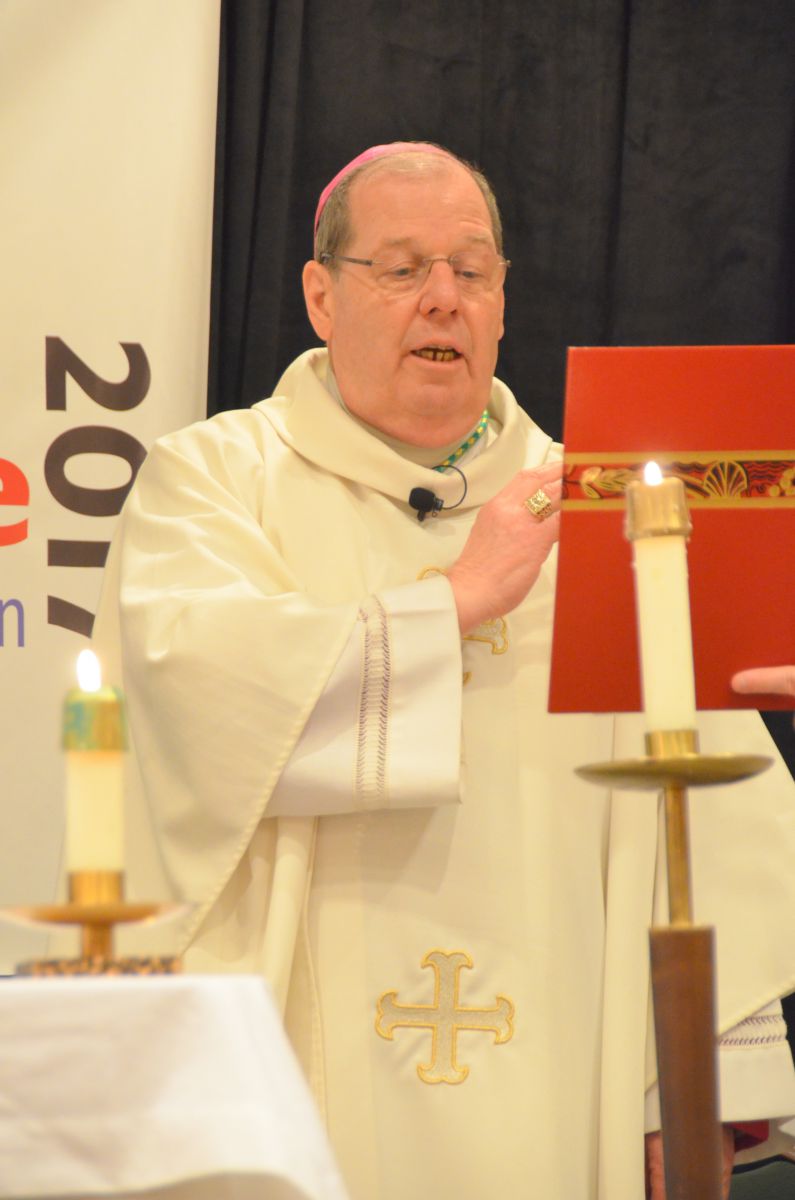 Sanclemente of St. John Vianney Parish in Fort Kent; Olivia Benson and David Wilson of Christ the King Parish in Skowhegan; Patrick Carter and Genevieve Gray of St. Michael Parish in Augusta; Jonathan Dube, Trisha Hebert, and Sara Philbrick of Good Shepherd Parish in Saco; Isabella Gould of St. Paul the Apostle Parish in Bangor; Jacob Guillemette of St. Thérèse of Lisieux Parish in Sanford; Alan Hewitt of Parish of the Precious Blood in Caribou; Henry Kindler of Holy Spirit Parish in Wells; and Dominique Lagasse of Notre Dame du Mont Carmel Parish in Madawaska.
Companions on the Journey Awards are given to adults who demonstrate excellence, leadership, and commitment in service to youth ministry. The four recipients this year were Bob and Michelle Guillemette of St. Thérèse of Lisieux Parish in Sanford, and Katie Shellene and Lisa White of Holy Spirit Parish in Wells.
During the Mass on Sunday, Bishop Deeley blessed and installed new and returning members of the Catholic Youth Leadership Team (CYLT). The CYLT serves as Christian leaders among their peers, works with diocesan staff to plan and execute major teen events, and helps his/her parish youth ministry leadership in helping with the ministry at the parish level. The new members are: Isabelle Castonguay of St. Rose of Lima Parish in Jay; Elizabeth and Thomas Smith of St. Agnes Parish in Pittsfield;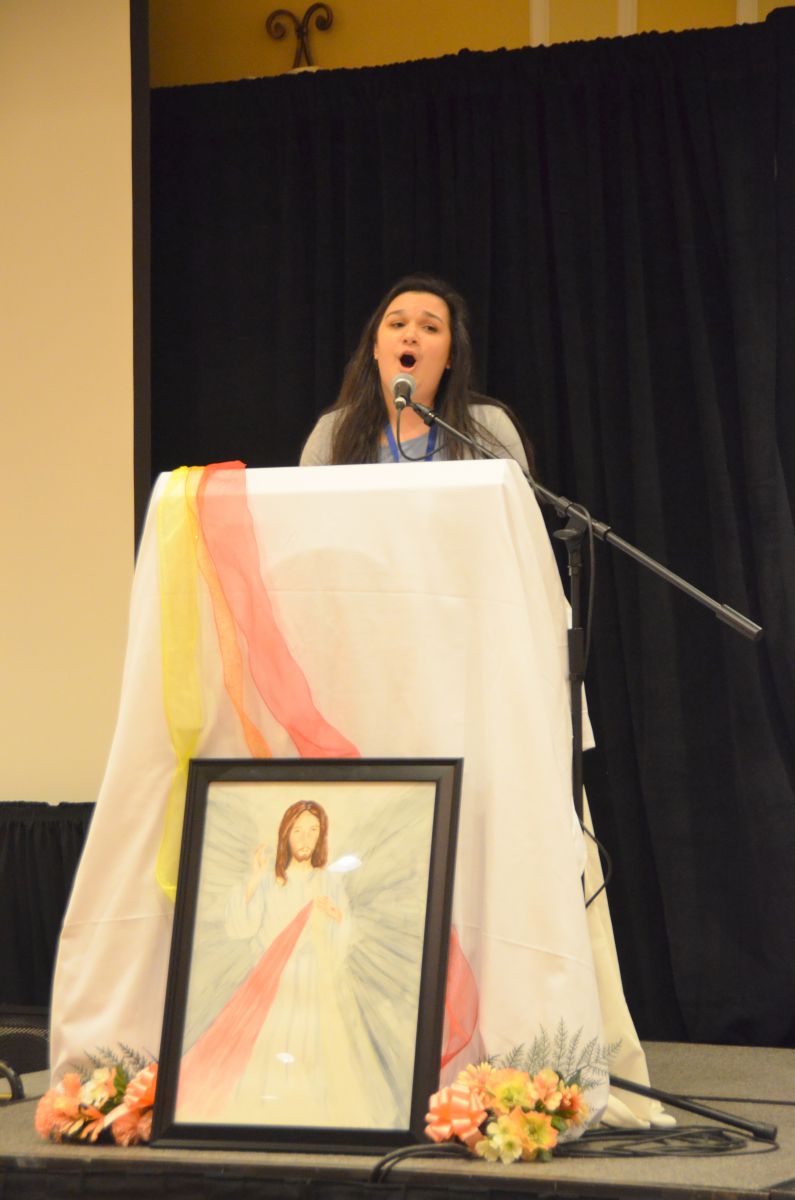 Ingrid Halvorsen of Our Lady of the Snows Parish in Dover-Foxcroft; Emma and Joseph Perreault and Thomas Guillemette of St. Thérèse of Lisieux Parish in Sanford; Brendan Fedrizzi of St. Matthew Parish in Limerick; Kathleen Donlon of Good Shepherd Parish in Saco; and Paul Bonner of Parish of the Precious Blood in Caribou. The two adult members of the CYLT were also blessed and installed: Bob Guillemette of St. Thérèse of Lisieux Parish in Sanford and Lynette Sirois of St. John Vianney Parish in Fort Kent.
In his homily on Sunday, the bishop told the teens that he was inspired by watching them "dance joyfully" when he visited the convention on Saturday night.
"Every so often, the music would be such that you would form a circle, and then a larger circle, and finally one which included you all, one huge circle, and follow the same gestures and steps as you circled the floor," said Bishop Deeley. "I pray that your faith has been strengthened this weekend in a way that you will leave here knowing that the music of your hearts is the love of Jesus helping you to move together in bringing what you have experienced in your coming together to the world in which you live."