Bishop Deeley's Complete Homily
PORTLAND---It was yet another astonishing sight in a week full of them.
All the pews of the Cathedral of the Immaculate Conception in Portland were empty as Bishop Robert P. Deeley entered the sanctuary for the celebration of 10 a.m. Mass
It was a scenario inconceivable just a month ago, but the temporary norm as the country, and the world, battle the Covid-19 virus outbreak through social distancing and the avoidance of large gatherings. Many Maine priests across the diocese are similarly celebrating live Masses online and on social media for their parishioners and all who wish to participate (www.portlanddiocese.org/live-streamed-masses).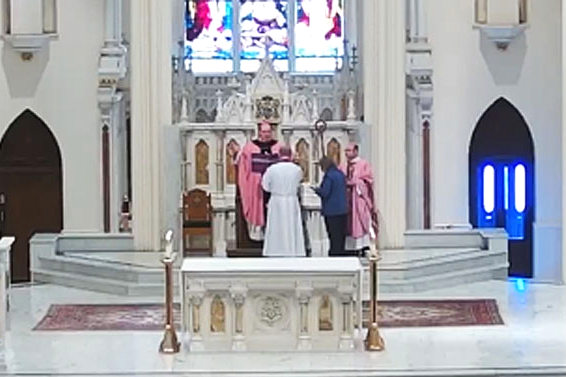 Joining the bishop at the cathedral on Sunday morning were Fr. Kevin Upham and Monsignor Andrew Dubois, Chris Pelonzi accompanying on the organ, a reader, a cantor, and a handful of altar servers. Nine people in a worship space that routinely numbers in the high hundreds.
"It is good to be with you this morning," the bishop told his online audience during his homily. "I am so grateful for the possibility of gathering us together for this Mass. Though we would certainly prefer to be in a full church, I appreciate that this technology does allow us to draw together in community and raise our minds and hearts to God in praise and supplication. We ask Him in this Mass to watch over us and keep us safe. We remind ourselves in our gathering that God is with us. He will never abandon us. We are in a time of crisis, but we firmly believe this. God is with us."
It is a time of grave difficulty in which faith communities are unable to gather together in person, yet, the bishop told the participants that praying together will strengthen us.
"Though we cannot see one another through this livestream, we know we are present to each other and strengthened by the conviction that the love of God in Jesus binds us together and calls us to care for each other."
The bishop said that it is important to keep those heroes caring for us in special prayer.
"Our health and medical workers, doctors and nurses, and those who assist them in our hospitals, nursing homes and medical offices. We pray for their safety and wellbeing. We are also mindful of the great service given by our first responders in police and fire and all those watching over our public safety. Our elected officials and those who assist them in carrying out their duty to the public are also serving us as they work to deal with this pandemic. We pray that the Spirt of God will guide them in their decisions and help them to keep the good of all before them in giving their guidance."
Lent, a time traditionally reserved for beautiful devotion and prayer, has instead been filled with uncertainty and concern.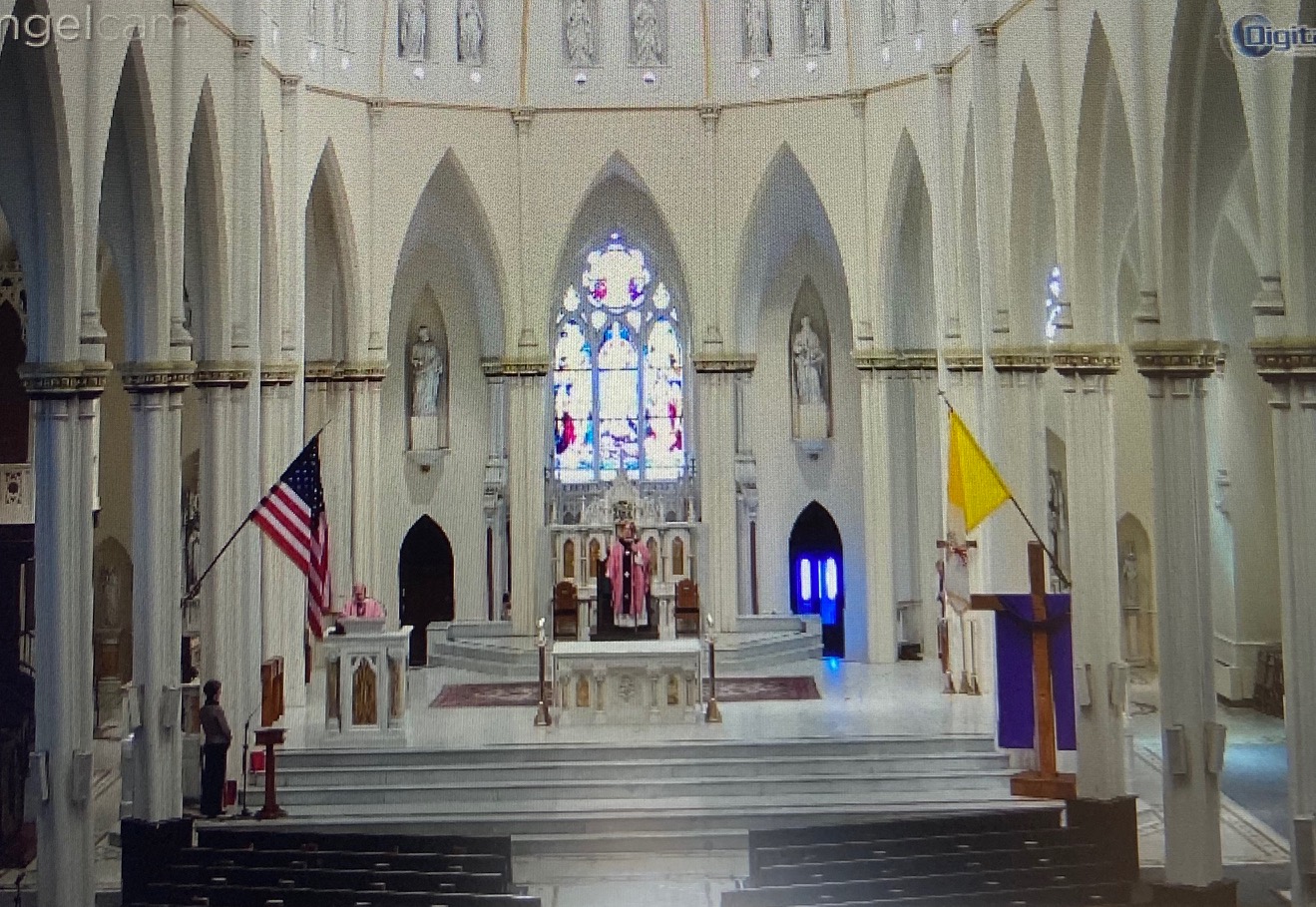 "In these last ten days, our lives and our ministries have become upended," said Bishop Deeley. "Happily, though, each day, I see the dedication of those who serve us. Priests are seeking ways of remaining connected with their people online and on the telephone, hearing confessions in parking lots, leading prayers online, and offering courses in the same way. School principals are gathering the children for prayer at the beginning of the school day through the technology that is available to them. The prayer begins the lessons of the day trying to keep the education of the children moving forward. Our diocesan staff is seeking ways to help with employment issues and the challenging financial situation in which we find ourselves. Faith formation leaders are posting opportunities for families to pray, learn, and connect with God and one another in this time. There is much that is good that is happening. We pray that God will continue to guide us and help us to strengthen each other."
Bishop Deeley also spoke about the importance of continuing to support our parishes, especially now that their doors are temporarily closed due to precautions and guidance from the state.
"Without a Sunday Mass, they do not have the weekly collection which is the major support of our parishes. These are difficult times, and many are finding themselves challenged financially. Jobs have been lost and businesses closed. COVID-19 has created a major financial challenge around the world. Some of us, however, are able to continue to help our parishes to remain open and do the work of God that is theirs. I invite you to check the online site of your parish (www.portlanddiocese.org/OnlineGiving) to see the ways in which you can help. It will be much appreciated."
Sunday is Laetare ("rejoice") Sunday, a moment to rejoice as we head toward Easter, its promise, and its new life.
"It may be a bit difficult for us to find the hope that the celebration promises but I think it is there if we are attentive to what God speaks to us in His word today," said the bishop, who referenced the Gospel story of a blind man who was healed by Jesus after He saw a need and responded to the man who made no request for help.
"It is, in its own way, God's way with us," explained the bishop. "Why did he send Jesus into the world? To be the revelation of the Father's love. In this instance, Jesus re-creates this poor, needy human being with the gift of light. When Jesus comes into our world he calls himself 'light for the world.' He comes to show us the love God has for us, and the way we might respond to the Father's love."
The bishop said the healed blind man, through his actions after being healed, is a model of growth in faith.
"He teaches us. As he passes on the story of his own personal healing by Jesus, he comes to a deeper faith himself in Jesus. He learns by sharing his own experience of faith. Even though he encounters difficulty and rejection, he also comes to know a new peace in his healing and acceptance by Jesus. In the truth of the blind man's experience is our hope, my friends. To the degree that I speak what I believe in my words and actions, I will come to know the loving presence of the Lord Jesus more deeply in my own life."
Bishop Deeley added that in these days of social distancing and sheltering at home, we can still live out our faith by the care we give to each other.
"Who needs help? Who can I call who might be lonely? Who am I protecting by maintaining this social distancing when I would rather be moving about? Who can I offer this rosary for? In all these ways, we speak our faith in our actions. When we do, I pray that our own experience is that of the healed blind man. May we know in faith that, despite our difficulties, God is with us in Jesus' presence with us."
During Sunday's Mass, prayers were offered that public officials, healthcare workers, and military personnel serve the common good with wisdom, prudence and calm; that church leaders may manifest the merciful presence and ever-watchful care of the Good Shepherd to their flock; that Christians may live the virtues of faith, hope, and charity in the face of doubt, despair, and self-centeredness; that all who have the coronavirus may receive compassionate care and healing, including immigrants, refugees, asylees, and those without insurance; that those who are vulnerable, especially the sick, the elderly, and those with chronic health issues, may be enveloped in Mary's maternal mantle of protection; that all who experience fear, anxiety, and isolation in these days of uncertainty may know peace of mind, heart, and spirit; and that communities, institutions, and families who must make difficult choices about food, work, education, health care, and public safety may find support from those they serve.
A special Lent section is available on the Diocese of Portland's website with resources to assist you during your Lenten journey. To visit the site, go to www.portlanddiocese.org/lent-resources.
The Diocese of Portland has also created a Coronavirus Response page that lists way to participate in Maine Masses from home through livestreams, television, and radio; "drive-thru" confessions and other faith opportunities; prayer resources; announcements and much more. To access the section, visit www.portlanddiocese.org/content/response-coronavirus. The section will be continually updated.