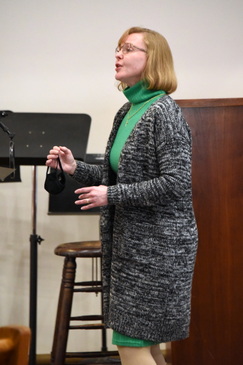 They have been present at Mass since the early weeks of the COVID-19 pandemic. Even when pews were empty, they remained committed to their ministry, leading unseen congregations in song. They are parish cantors who have steadfastly carried on, lifting spirits during the past year's difficult days.
"The music, for me, it brings you that hope. It touches you in a different way than the readings do or father's homily does," says Randa Veilleux, a cantor at Corpus Christi Parish in Waterville. "I think music is such a good way for anyone to feel connected, to feel like God is listening to us."
"I really just felt a desire to contribute what I could to provide music that would hopefully lift people's hearts to God in prayer," says Clare Desrosiers, a cantor at St. Mary of the Visitation Parish in Houlton.
Cantors play a vital role in inviting the faithful to active participation in the Mass, and that has remained true whether they have had a congregation seated in the pews in front of them or on living room chairs watching via livestream.
"I think my role, then, was to engage the people who were sitting at home, who could sing along when they were at home, to give them that way of participating in the Mass," says Anne Olivo, a cantor for All Saints Parish, who has been singing at St. John the Baptist Church in Brunswick throughout the pandemic.
Anne says leading people via livestream took a little getting used to, but she says she still sought to connect with them, especially during the psalm when she knew the camera was focused on her.
"I visualized that there are people there, and I was singing the psalm to them. That is the best way I can explain it: to visualize that and to know that what I was there to do was to translate the psalm or the hymns into the music for the people so that they could participate in the Mass more fully," she says.
Even when parishioners started returning to Mass, cantors were still primarily singing solo due to attendance limits, face coverings, and the absence of choirs.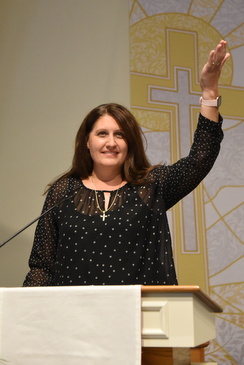 "It didn't feel right. It was just so quiet, because all I could hear was myself," says Lisa White, a cantor at Holy Spirit Parish, who sings at both St. Martha Church in Kennebunk and St. Mary Church in Wells. "It was just so different, because this parish here is just a lively, musical parish."
Still, these cantors never doubted the importance of their ministry.
"Once we started having a congregation, for the people who would come to the church, it was a way of more fully engaging in the Mass, because even if you can't sing along, you know the words to the music. You know the music. You can hum," says Anne.
"There is something about the music that, for me, and for certain people, just lifts you up that much more," says Randa.
Randa says she remembers how important the music was to her when she was watching Masses from home early on during the pandemic.
"I would find that would really be the highlight of my day, hearing my fellow cantors singing at Mass. I would text them and thank them for doing it," says Randa.
The music of the Mass, these cantors emphasize, is always intended to enhance the liturgy.
"You're not getting up there to be in the spotlight. You're there because you have to share that music," says Anne. "The words of the songs, of the hymns, are related to the readings of the Mass, and so, even if people are not listening to the readings, they're sort of teaching themselves about the readings by singing the music."
"There is so much richness in the words that we sing," says Randa. "It's not just a song; it's a prayer. I just hope that when I sing it, I'm gathering them into that prayer, getting them to pray it with me, not just sing it, but pray it."
"Music done right can really lift our minds to where they ought to be in Mass, which is on the Lord," says Clare.
"You have to find that balance," says Lisa. "You don't want to overpower the Mass."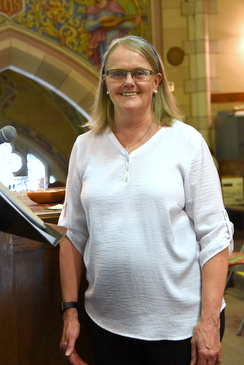 These four cantors have been serving the Church for years. Anne started 38 years ago at St. Charles Borromeo Church in Brunswick. She says when her children were young, she sat in the front row during Mass, and one day, the pastor, who heard her singing, approached her about becoming a cantor.
"When I started, I really didn't think of it as a ministry. I've just always loved to sing," she says. "It was just something that I was good at and I could do at church. It's been a growth process through all these years of coming to see it as the ministry that it is."
In addition to being a cantor, Anne is a hospice volunteer who sings to patients.
"The vibration of the music is very healing," she says. "It's kind of like you're a channel for the Spirit to help people to heal, to give them whatever consolation or healing they need in that particular moment."
Anne visits patients in nursing homes as well as in private residences.
"I go wherever the need is," she says. "I love doing that. That has just been so rewarding."
Lisa says what brings her joy is working for the Church. She says 10 years ago, she realized she didn't know enough about her faith, so, asking God for help, she set out to learn more.
"Now, I really feel like I get it, and I just love it. I love our faith. I love talking to other people about the faith," she says.
Lisa has been a cantor for 19 years and has taught high school faith formation for eight. She also helped to start the free Matthew 25:35 meals served monthly by teens from Holy Spirit Parish and St. Thérèse of Lisieux Parish in Sanford.
Lisa comes from a musical family. She says her great grandmother was an organist at St. Ignatius Church in Sanford for 30 years. Her grandmother also played the organ at church, and her mother was a talented singer.
Lisa sang in a children's choir while growing up in Framingham, Mass., and became a cantor when she was still a teenager. When she moved to Maine in 2002, she offered to share her gift here.
"It's the only thing in my life that I feel like I know that that's what God wants me be do," she says. "I love it."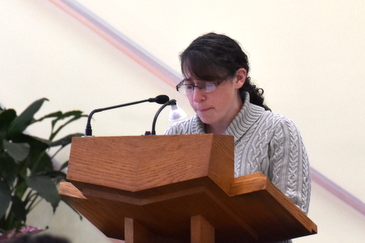 Like Lisa, Clare has been singing in church most of her life. She grew up in Connecticut, where she was in the choir at an Orthodox church, something she says gave her a strong foundation in liturgical music.
"I grew up with beautiful music. Every Mass was a four-part choir, singing hymns by Russian composers," she says.
After studying theology at Providence College in Rhode Island and marrying a man who is Catholic, Clare says she became convinced of the fullness of truth in the Catholic faith and decided to become Catholic. When she moved to northern Maine in 2002, she says there was a need for people to lead music at St. Mary of the Visitation Church, so she volunteered.
"It's a profound way to serve and a profound experience of prayer," Clare says.
That is something Randa finds to be true for her as well.
"They say when you sing, you pray twice, and I really believe that," she says. "It's hard to explain, but it makes me feel that much closer to God."
Randa credits music with bringing her to the Catholic faith. Raised in a Protestant church, she says her introduction to Catholicism came at the University of Maine in Orono. While serving as an intern at the multifaith Wilson Center there, she learned of the Catholic Newman Center. She says she only visited once, but it happened to be during a baptism, and the experience stuck with her.
Randa later married and moved across the street from St. John the Baptist Church in Winslow. Feeling drawn to it, she began attending Masses. Then, her family asked her to sing at her great uncle's funeral, which was being celebrated at the church. It was there that the music director told her about the Rite of Christian Initiation of Adults (RCIA). A couple of years later, Randa decided to participate, joining the choir at the same time.
Now an RCIA team leader as well as a cantor, she shares with those in her class the joy that she found as a result.
"It was really one of the best decisions that I ever made in my life. I couldn't imagine singing anywhere else or praising God anywhere else," she says.
These cantors say they know that they were given a gift from God that was meant to be shared.
"He gives each of us a gift, and for me, it is a voice, the ability to sing," says Randa. "It's a gift I have to give back to the Church."
"One Corinthians 12 is a very special passage in my family. Everyone has their own gift," says Lisa. "People will come up and say, 'Oh, I wish I could sing,' and I'm like, 'OK, maybe you can't sing, but you probably have another gift you're supposed to share.' We all have to search that out."