Saint John Baptist de La Salle - Feast Day: April 7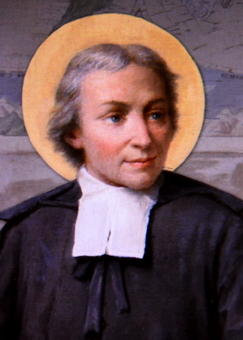 Born in 1651, the oldest of 11 children of a wealthy French family, John cut his studies short when his parents died to take care of his brothers and sisters. He eventually finished school and was ordained a priest at age 27.
Coming from a noble family, John was named a canon of the Reims Cathedral. As canon, he was challenged by a layman who had established free schools for the poor in Rouen to do the same in Reims. Saint John Baptist de La Salle slowly became more and more involved with the poor children of Reims and felt so called to help those who couldn't afford to send their children to school that it led him to give up his family fortune, as well as his position in the Church, to form a community known as the Brothers of the Christian Schools, commonly known as the Christian Brothers. The order was dedicated to serving boys from poor families.
When describing his vocation, Saint John Baptist de La Salle said that God led him "in an imperceptible way and over a long period of time so that one commitment led to another in a way that I did not foresee in the beginning."
Saint John Baptist de La Salle was known for his innovative teaching methods, including grouping students by their levels of ability. He was also a pioneer in founding training colleges for teachers. He was named the patron of schoolteachers by Pope Pius XII in 1950.