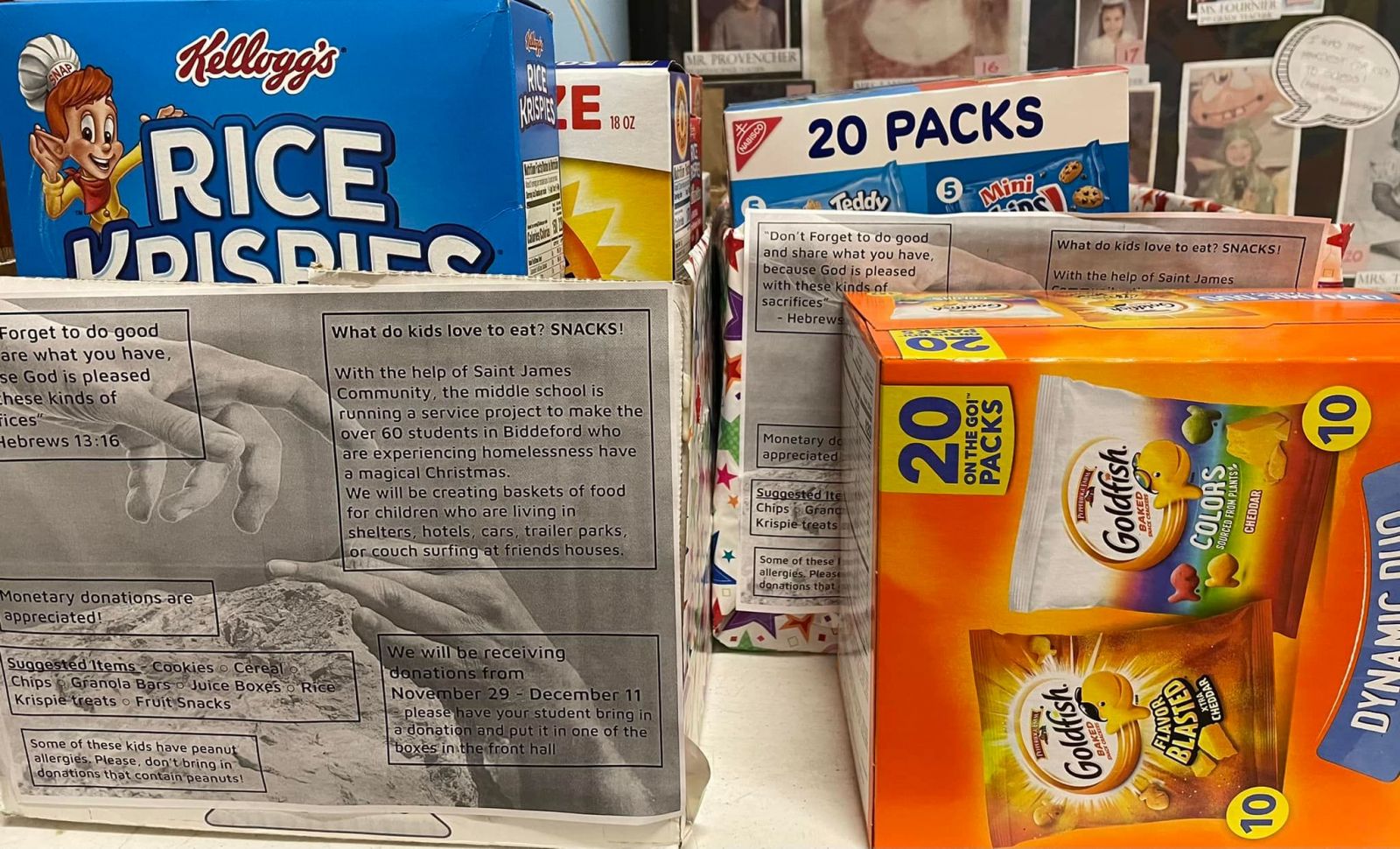 BIDDEFORD---"Students are experiencing homelessness in Biddeford. I, Igor Bitencourt, want to assemble a project to make their lives easier."
And with that, a written proposal by an eighth grader at St. James School inspired a schoolwide Advent initiative to help over 60 students in Biddeford who are experiencing homelessness to have a magical Christmas.
"When a student comes to me with an idea, I usually ask them to write it out. This way I know it is well thought out," said Nancy Naimey, principal of St. James. "This certainly is."
Over the next few weeks, students, staff, and community members are being asked to bring in food items like cereal, cookies, chips, granola bars, juice boxes, and fruit snacks to be assembled by the eighth graders into baskets of food for children living in shelters, hotels, and houses of their friends.
"Soup kitchens provide meals once a day to people living in the hotels. However, not everyone enjoys what they are providing," wrote Igor. "Fortunately, kids love snacks. We can pack snacks for these kids so they can have something else to eat throughout the day when they are hungry or if they don't like the meal the center provided."
In 2020, his sister, Adriana, received a great deal of attention in the community and from the media thanks to her successful initiative collecting food, toys, and grocery money to donate to the refugee community living in Maine.
Adriana, now a student at Cheverus High School in Portland, is running a similar campaign this year at Cheverus to benefit the homeless in Portland.
"She is doing it for the Portland homeless population, and I was hoping to run it for the Biddeford population," said Igor. "We are definitely working together to make the projects work."
The school will be accepting donations, including monetary gifts, for the project through Friday, September 10. Big boxes in the front hall are already filling up with snacks.
"This may be a tedious process, but it is for a good cause," said Igor. "These kids could use an easier lifestyle and we, St. James families, can provide that for them."
"The children feel the need to help others, particularly these kids and their families," said Naimey. "It makes us proud."
For more information, contact the school at (207) 282-4084.