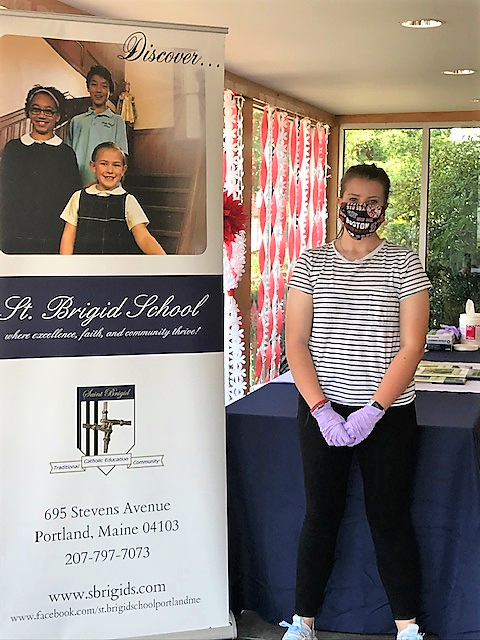 PORTLAND---After kicking off its "Summer of Service" with a food drive that collected nearly 1,400 pounds of donations for the Wayside Food Programs, St. Brigid School in Portland followed up with a student-led blood drive that collected enough blood to potentially save 35 people's lives.
On Tuesday, June 23, donors visited the school's Father Hayes Center for the blood drive hosted by Ella Couture, a St. Brigid school alum and student at Casco Bay High School as well as St. Brigid staff and students.
"The blood drive was a huge success," said Ellen Couture, an executive assistant at St. Brigid and proud mom of Ella. "The American Red Cross was in need of a location and asked Ella if she could pull this together in a little less than two weeks. She took on the challenge and had all 38 appointment slots booked in a week! Of those who signed up, only four didn't attend."
"I wanted to host this blood drive so that I could feel like I'm making a difference during a difficult time," said Ella. "It is important for these events to happen because donating blood saves so many lives and has a positive impact on many people and families."
The blood drive featured safe distancing guidelines, temperature screening, and even a bag of St. Brigid goodies for each donor as a thank you gift.
"Due to the success of this drive, Ella will host another American Red Cross Student Leader Drive on August 5 at St. Brigid," said Ellen.
The "Summer of Service" at St. Brigid features weekly activities for students, families, and staff to better themselves, the school, and the community. Later in the summer, programs planned include lemonade stands that will assist non-profits, initiatives that will help local restaurants and businesses, and a project to deliver smiles to residents at assisted-living facilities and homebound parishioners.