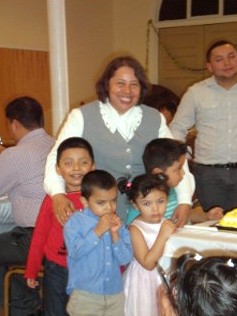 Scheduled to Visit:
Our Lady of the Eucharist Parish, Lincoln; Christ the King Parish, Millinocket; and St. Benedict, Benedicta
My name is Mirian Maradiaga. I am a Sister of Our Lady of the Holy Rosary from Honduras. We were founded in Rimouski, Quebec, in 1875, by Blessed Elisabeth Turgeon who expressed tenderness and great love for children. She was concerned about their education especially their religious instruction and preparation for the sacraments. We were first known as the Sisters of Little Schools because we went out to the small rural villages to minister among the people. In this sense, we were always a missionary community.
In 1899, the sisters crossed the Canadian border to teach in Frenchville, Maine. In 1939, more sisters came to Millinocket, later to Old Orchard Beach, Kittery, Portland, Biddeford, Lewiston, Augusta, Sanford, and Alfred. They were also missioned to Rhode Island and New York. In 1964, sisters came from Canada to open the missions in Honduras and followed with Guatemala and Nicaragua.
Our pastoral work is Christian education, especially for very poor children and young adults. In Central America, we teach in peoples' homes on weekends for the young ones who are unable to study during the week. The people are very poor and are forgotten by the government. They have few resources. Honduras is the second poorest country after Haiti.
During my 28 years as a member of our congregation, I have worked in the three countries of Central America, in Canada, and in the United States. My passion has been to organize youth groups in all these countries and to accompany young people on their journey to adulthood. It is my mission to reach those who are most marginalized and those who suffer most from poverty, teaching human and Christian values so that they can be builders of a new society.
I would like to share with you an example of my work in the Central American region with the young people. I organized 10 youth groups in Our Lady of Perpetual Help Parish. The purpose of each group was to form leaders. We met every 15 days, and it encouraged me to see the enthusiasm, the dynamism of these young people. All this motivated me to continue to work with them. Then, I realized that some were interested in discerning their vocation. We decided to hold vocational discernment meetings. After personal discernment, four of the young people decided to enter a religious congregation, three men are now priests and a young girl is now a member of our congregation. Others from the group are committed lay members serving our Church.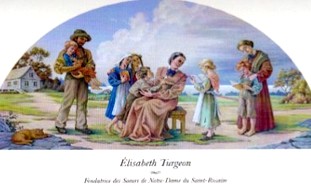 I believe in young people. I believe that they need the motivation and example of adults to build a more human and fraternal world. This experience helps me to continue accompanying young people and believing in them. Seeing these young people encourages me to continue with enthusiasm in my mission.
Presently, I am ministering in Portland at Sacred Heart Church with the Diocesan Hispanic Ministry. Here, we support and accompany the Hispanics, listening to their pain, fear, uncertainty, and anguish, helping them wherever possible. We get to know their reality having left home, family, and poverty in which they live.
Thank you for your attention and prayer for our missions in the different countries, especially those in Central America. We appreciate any financial donations you are able to make in support of our missions in Central America. In the words of Blessed Elisabeth Turgeon, "May the heavenly dew of the Heart of Jesus' divine blessing be poured out upon you. May it enlighten guide and lead you on the way that will most exquisitely and most certainly bring you to Him!" Thank you, Mirian Maradiaga, RSR.
To support the work of the Sisters of Our Lady of the Holy Rosary, visit the Our Lady of the Eucharist online giving page.
To learn more about the Sisters of Our Lady of the Holy Rosary, visit their website.