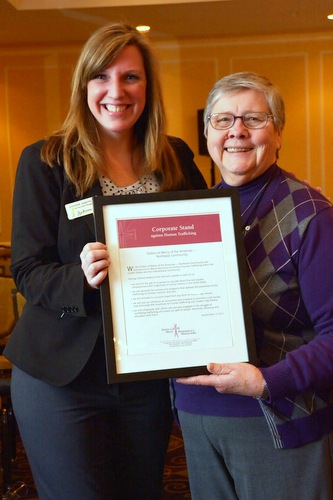 The Sisters of Mercy presented the Radisson Hotel in Nashua, NH, with a copy of the Sisters of Mercy – Northeast Community's corporate stand against human trafficking in recognition of the hotel's efforts to combat trafficking.
Carlson Hotels, parent company of the Radisson and the Country Inn and Suites chains, was the first U.S. travel and hospitality company to sign the international Code of Conduct to fight child sex trafficking. Among other things, Carlson trains employees for signs of what trafficking situations might look like inside hotels and reports incidents to a special, non-government organization.
The award was presented by Sister Mary Alice Synkewecz (pictured right) to Jennifer Sabatella, manager of sales for the Nashua Radisson Hotel.
The Radisson was the site of the Northeast Community's recent assembly.
Photo by Catherine Walsh/Northeast Communications