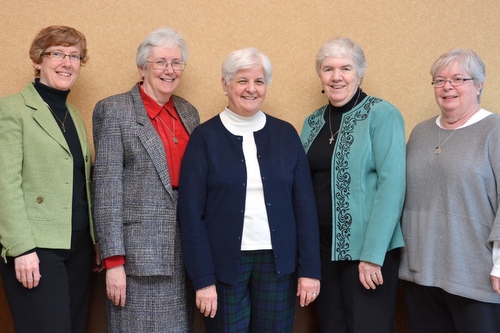 Nearly 275 Sisters of Mercy, Mercy Associates and Companions in Mercy from New Hampshire, Maine, Rhode Island, Vermont, Connecticut and Albany, New York, gathered at the Radisson Hotel in Nashua, New Hampshire, from April 3-7 to pray and discern a direction for the community for the next four years. This meeting was the third Assembly of the Northeast Community of the Sisters of Mercy of the Americas, the largest order of women religious in the United States.
During the gathering, the sisters elected a new leadership team for the Sisters of Mercy - Northeast Community: Jacqueline Marie Kieslich, RSM, president; Maureen Mitchell, RSM, vice president; Donna Conroy, RSM; Patricia Flynn, RSM; and Patricia Moriarty, RSM. Their four-year term begins July 1.
The Sisters of Mercy have been in Maine since 1865, founding numerous local institutions, including Mercy Hospital, Saint Joseph's College of Maine, and Catherine McAuley High School.
The Northeast Community, comprised of over 600 Sisters of Mercy, 400 Mercy Associates and two Companions in Mercy, serves throughout the Northeast region of the U.S. in ministries related to healthcare, education, social services, and pastoral care. Sisters, associates and companions of the Northeast Community are active social justice advocates on all issues relating to women and children, and have most recently focused on immigration reform, climate change, and healthcare. The Northeast Community has taken corporate stands calling for the recognition of the fundamental human right to water, for action in response to climate change, for the repeal of the death penalty and, in March 2014, for the abolition of human trafficking.
Pictured: Patricia Moriarty, RSM; Patricia Flynn, RSM; Jacqueline Marie Kieslich, RSM, president; Maureen Mitchell, RSM, vice president; and Donna Conroy, RSM. (Photo by Catherine Walsh/Northeast Communications)