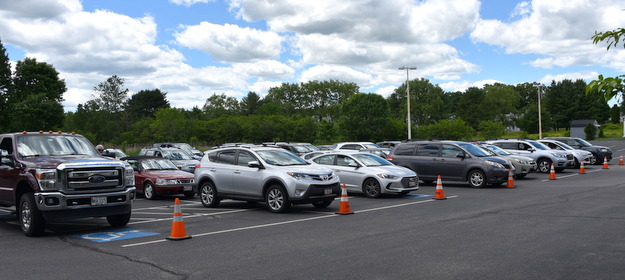 All are invited to participate in a drive-in rosary rally on Saturday, July 11, at noon in the parking lot of St. Anne Church, located at 299 Main Street in Gorham. Participants will remain in their cars, while joining together to pray the rosary, the Angelus, the Litany of the Blessed Virgin Mary, and other prayers.
The rally is organized by the group Maine Needs Fatima, which has been holding public rosary rallies for four years now. They began in 2017 in commemoration of the 100th anniversary of the Blessed Mother's appearances to three shepherd children in Fatima, Portugal, and have continued ever since, although they had to switch to a drive-in format due to the coronavirus pandemic.
Despite the change, dozens still drove to St. Anne Church to participate in the rally held in June.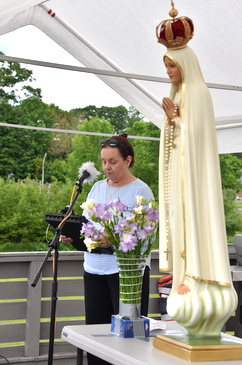 "It honors the Blessed Virgin Mary, and it honors our Lord," said Andy Levesque, a member of the Knights of Columbus, who helped direct vehicles at the June rally. "A lot of people who come to these rallies are moved by the experience. "
"The Blessed Mother has said many, many times, 'Pray the rosary every day.' It is one of the strongest spiritual weapons that we have," said Ellen Kasprzyk, co-founder of Maine Needs Fatima. "It has never been more important to draw closer to Jesus, with his mother as our guide and tutor."
The rosary allies are held monthly from May to October on the Saturday closest to the 13th of the month, the dates on which the Fatima apparitions took place. They last approximately one hour.
Prior to the COVID-19 pandemic, the rallies were held under a tent and often also included processions from the University of Southern Maine in Gorham to St. Anne Church. Now, Ellen and other prayer leaders stand on a two-story platform in the back of the church, using microphones so everyone can easily hear.
While it is particularly moving to participate in person, even when seated in a vehicle, for those who cannot attend, the rallies are livestreamed at www.maineneedsfatima.org.