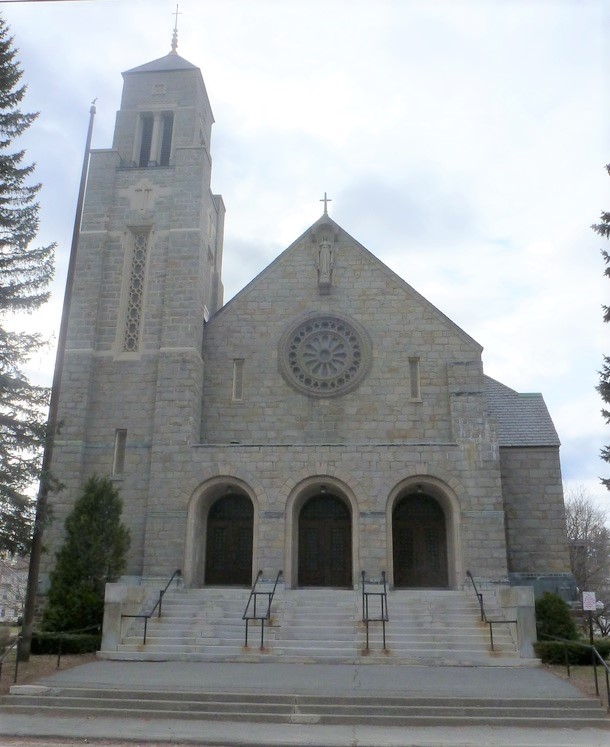 2WATERVILLE---Corpus Christi Parish has announced that it will place the Sacred Heart property, located on Pleasant Street, up for sale. The property includes a rectory, parish office building, and Sacred Heart Church, which has not hosted a weekend Mass since July of 2006. The decision to place the property up for sale was made prior to the COVID-19 outbreak.
"Placing this property on the market is the shared opinion of our parish's finance and pastoral councils," said Fr. Daniel Baillargeon, pastor of Corpus Christi Parish.
Sacred Heart Church needs major structural work as does the rectory, which hasn't been used in over eight years. The church was dedicated on Easter Sunday in 1930. Prior to its opening, the church's basement served as a place of worship for 21 years.
Though Masses are temporarily suspended right now due to the COVID-19 outbreak, Corpus Christi Parish traditionally offers Masses at Notre Dame Church on 116 Silver Street in Waterville (Saturday at 4 p.m. and 6 p.m.; Sunday at 9 a.m., 10:30 a.m., and 12:15 p.m.; Tuesday and Thursday at 12:15 p.m.) and St. John the Baptist Church on 26 Monument Street in Winslow (Saturday at 4 p.m.; Sunday at 7:30 a.m. and 10 a.m.; and Monday, Wednesday, and Friday at 8 a.m.). In addition, the parish operates St. Helena Church on Route 27 in Belgrade Lakes from June 30 to Labor Day. During the academic year, a Mass is celebrated at Colby College in Waterville on Sunday at 4:30 p.m.
"Notre Dame Church in Waterville and St. John Church in Winslow have been completely renovated and both feature ample room for parish liturgies and celebrations," said Fr. Baillargeon. "As we live in the present and look toward the future, putting this property up for sale seems the most prudent thing to do."
The parish administration is currently working with organizers of the soup kitchen that operates out of the church's basement and will support their efforts in finding a new location to continue this important ministry.