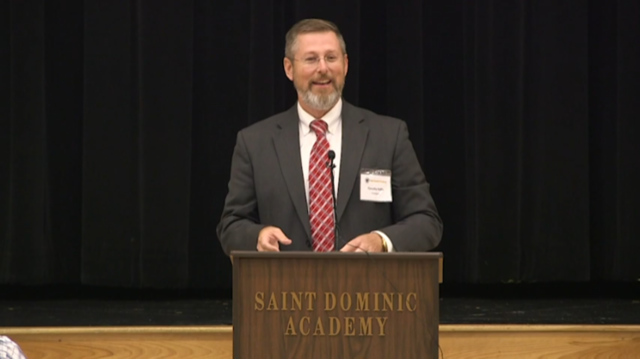 To view full address, click on the picture above.
AUBURN---"The tradition, the essence, and the spirit of St. Dom's must never be left behind. The family that we are, the Christian charity we express toward each other, and the fierceness of competition must ever be kept alive."
The words of Tim Gallic, president of Saint Dominic Academy, fell upon a large gathering of students, parents, faculty, and community members assembled at the school's Auburn campus on October 2 as he delivered the academy's first ever "State of the School" address.
"As people of faith and hope, we can all agree that the possibilities at St. Dom's may well be limitless," said Gallic. "If, as Jesus says, 'Where your heart is, there your treasure will be,' the heart of St. Dom's can most definitely be found in its people—its faculty, its students, its parents, its benefactors and supporters. That is where we find our treasure. From them come love and compassion, stability, and welcome. These are the qualities of a successful school."
Gallic said that the entirety of the St. Dom's experience, from pre-k through twelfth grade, prepares each student for college, the work force, or the discernment of vocation.
"But at St. Dom's, our focus doesn't stop there," he continued. "It is paramount that we teach our students, by word and example, about the love of God and their responsibility to share that love with those around them. In the cultivation of the faith lives of our students, St. Dom's proudly stands in stark contrast to our competitors. Through our service, faith, and community, we spread the Gospel, and that commitment must always be what guides us."
Gallic said that expansion and improvement across the board are the priorities at the academy, including a new app to improve communication with parents, an enhanced art program, and new placement tests for incoming students to ensure that they are appropriately challenged.
"Parents do not want to enroll their one-of-a-kind, irreplaceable child in a replaceable school. 100% of our 2019 graduating class were admitted to college. But quality is sustainable only when one has the necessary resources," he said. "We need to look at our tuition, development, and fundraising in ways that will make the school more affordable. We need to look at our course offerings to improve what we already have and to offer even more as our teachers are provided the best enrichment and training. We know that the road to success is paved by continuing to build a premier, faith-based educational system, first in Lewiston/Auburn, then in Maine and beyond. We are going to find ways to make it more affordable, more effective, and filled with the joy of the Lord."
Guided by faith, the embrace of new ideas and technology, and a renewed dedication to making the St. Dom's experience second to none, the future remains bright 78 years after the doors of the academy first opened.
"In order to be successful, Saint Dominic Academy must be a fully functioning school, from quality care for our youngest students to challenging course work for our upper grades. A school filled with joy is a mark of good things happening," said Gallic. "Gone are the days of doing things because we always did them that way or not doing things because we never did them that way. St. Dom's is a survivor. It must become much more than that. After all, genuine Saints are in it for the ultimate long haul—they are in it for eternity!"
For more information about the academy or to schedule a tour of either the Auburn or Lewiston campus, visit www.stdomsmaine.org.