PORTLAND---Sacred Heart/St. Dominic Parish in Portland will host a Spanish Mass and live presentation on Sunday, December 10, in honor of the Feast of Our Lady of Guadalupe which is commemorated on December 12.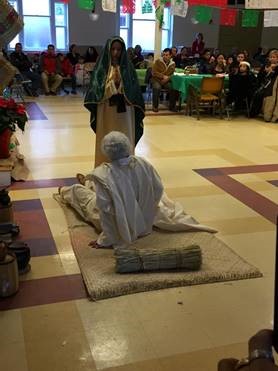 The celebration will begin with Spanish Mass at the parish, located on 65 Mellen Street, at 12:30 p.m. A gathering will follow in the parish hall that will include prayer, songs, food, and a presentation highlighting the Our Lady of Guadalupe apparitions. All are welcome at the event.
Our Lady of Guadalupe was declared the "Queen of Mexico and Empress of the Americas" by Pope Pius XII in the 1940s. In 1531, the apparition of the Virgin Mary appeared to Juan Diego, an Aztec Indian, in the hill of Tepayac outside Mexico City. She asked him to tell the Bishop of Mexico City to build a church on the hill to assist in the conversion of the nation and to be a source of consolation for those in need. Roses appeared on the hill in the middle of the winter and were arranged by Our Lady on Juan Diego's tilma, or cloak. A miraculous image of Our Lady also imprinted itself on the tilma. When he observed the tilma, the bishop fell to his knees and believed the message. Each year, thousands of people make a pilgrimage to the Basilica of Our Lady of Guadalupe in Mexico City for the feast day.
Sacred Heart/St. Dominic Parish is the home of Diocesan Hispanic Ministry for the Greater Portland Area, and serves people from 12 Spanish-speaking countries, offering a variety of events like Spanish Bible Study, retreats, and Mass in Spanish each Sunday. The parish is also home to countless community programs and social justice presentations and workshops for local residents, including Catholic Charities Refugee and Immigration Services.