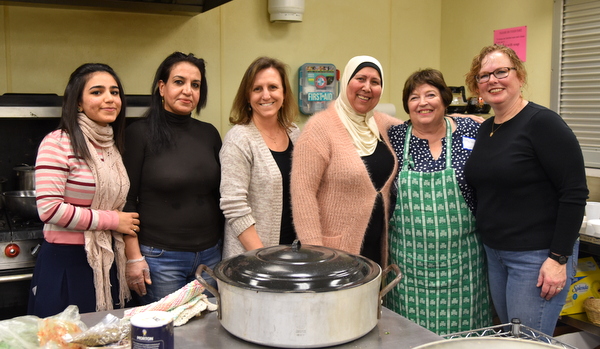 With the unknown, there is sometimes fear. But with knowledge, comes the opportunity for friendship. It was with that belief in mind that Catholics and Muslims sat down together to share supper and stories at Saint Maximilian Kolbe Church in Scarborough.
"It's just a basic way to get to know your brothers and sisters," says Elizabeth Campbell, co-chair of the parish's Social Justice and Catholic Service Committee.
"There is this kind of fear in the hearts of people about the other, and by having them come over and talk to each other and then express their views freely, I think that will ease the tension a little bit," says Walid Moumneh, originally from Lebanon, who helped in planning the event, along with his wife Zoe Sahloul, executive director of the New England Arab American Organization in Westbrook.
"It's very important because it's not only what you watch or hear about people," Sahloul says. "It's the best way to get together, over food, and then you'll be making your own judgment. Are they really worthy of our trust?"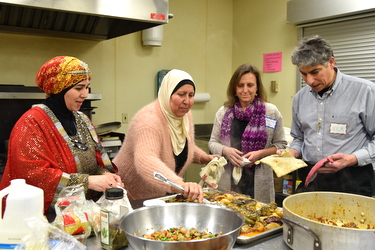 More than 250 people attended the Building Bridges Dinner, held February 26, and many more expressed interest but couldn't be accommodated because of the size of the hall. The attendees represented all generations, from infants being carried in their mothers' arms to those using the assistance of walkers. In addition to the United States, countries of origin included Iraq, Somalia, Kenya, and the Democratic Republic of the Congo, among others.
"It's important to gather and to feel the respect of other communities and to show them our respect, too," says Layla Alnwaisrawi, originally from Baghdad, Iraq.
"We just want to be welcoming to our neighbors. I think hospitality is a basic form that we all share," says Maurissa Guibord, a parishioner.
Although there has been much concern voiced about United States immigration policy, including by the U.S. bishops, peace not politics was the motivation for the event. The dinner was proposed more than a year ago by Monsignor Michael Henchal, pastor of Saint Maximilian Kolbe Parish, Saint John and Holy Cross Parish in South Portland, and Saint Bartholomew Parish in Cape Elizabeth. Monsignor Henchal says the idea came to him after he heard a story on the radio about the anxiety and fear that many Americans have about Muslims arriving in this country.
"Then, it went on to say that only a tiny percentage of Americans know even a single Muslim. So there's the problem, I said to myself. We don't know each other. And I began to work with some folks here to hold a dinner to bring Muslims and Catholics together. When that happens, we begin to see each other as real people and not as stereotypes," he says.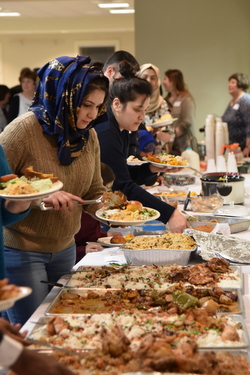 Abdullahi Ali, a native of Somalia who was raised in Kenya, was among those who helped the parish organize the dinner. Ali, who has been in Maine since 2009, says there are a lot of generalizations made about refugees and immigrants, but it's important or remember that they are individuals, many of whom came to this country because they were fleeing persecution or violence.
"They are all different. They all have their own unique histories," he says. "People think of people who are violent, which is not the case. They are here in Maine, especially, because it's a beautiful place. It's a nice place. It is safe. They want to raise their kids. They want to become part of the society, contribute the best they can, and live normal lives like anyone else."
"There are good people, and there are not-so-good people everywhere – here, outside of here, in all religions," says Moumneh. "To only focus on the not-so-good people and have it kind of be portrayed as the image for either that region or country or religion or race is not something which is healthy."
He says that is why events like the Building Bridges Dinner are beneficial.
"The whole thing about this is to get the two together," he says. "Eventually, the good will overcome the evil, but it takes time, and we need events like this that will bring people together."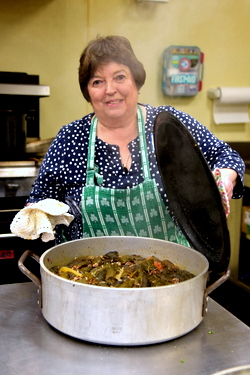 "If we know each other and if we see each other more often, we can break down the barriers that exist between us," says Monsignor Henchal.
Members of both the Catholic and Muslim communities shared in shopping for and preparing the main dishes for the dinner, while others brought in potluck dishes and desserts to share.
"We couldn't understand each other through talking, but we could cook together, and we laughed a lot," says Michelle Sirois, a parishioner.
"Me and my mom like to help other people, and we are interested in helping you," says Jumana Al-Hanfy, age 19, who recently arrived from Iraq and was assisting her mother and the other women in the kitchen.
Guests enjoyed everything from biryani and dulma to Caesar salad and macaroni & cheese.
"I think one of the best ways to show support is sharing a meal because, as they say, sharing is caring," says Ali. "Dinner shows us a sense of family. That's what families do. They sit together, share a meal, talk about their issues, and that is what this is about."
"We all just want to live in peace and provide for our families, so we have that in common," says Guibord. "Peace, love, and potluck!"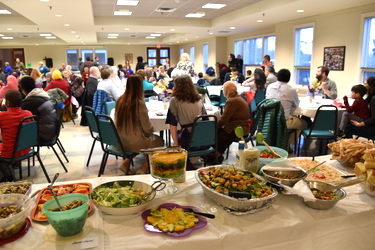 Throughout the dinner, people asked questions, told stories, and shared words of welcome. Children could have their faces painted or head to a play area where there were toys and coloring books to share.
"I love the community building aspect, the unifying part of all this in our broader Portland community and a chance to meet new people," says Mark Tuttle, a candidate for the permanent diaconate, who is serving at the parish.
"I've met a lot of nice people," says Khadro Adow, who is originally from Kenya and traveled from Auburn to attend the dinner. "It's a good opportunity to meet new people."
"It brings religions together and breaks all the barriers between the people, so it's good," says Al-Hanfy. "It's a very good idea. Thank you for this idea."
Although there were some communication barriers, they were overcome with smiles, perseverance, and the assistance of those who spoke multiple languages.
Two hours after the dinner began, the buffet and dessert tables were empty, but the room remained full, with people lingering to enjoy Middle Eastern music and the company of the new friends.
"We are feeling very, very relaxed, mentally and psychologically," says Alnwaisrawi.
"People are hanging around because they're enjoying themselves. They're enjoying talking with one another," says Monsignor Henchal. "It's a wonderful thing."