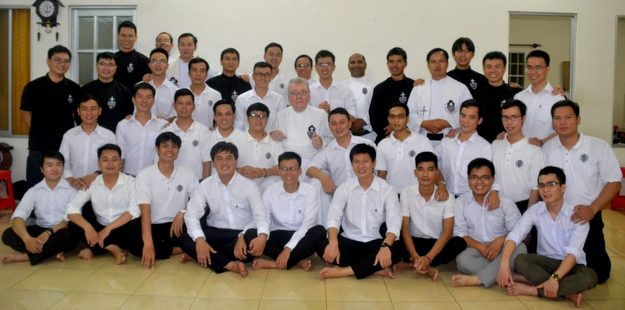 Scheduled to visit:
Corpus Christi Parish, Waterville
The Passionist Mission of Our Lady of Lavang is a small branch of the Congregation of the Passion, commonly known as the Passionists. Founded in 2005, the congregation's mission is to rebuild the Church in Vietnam by training indigenous missionaries to serve, especially the neglected and those living in remote areas. Since its founding, five priests have been ordained, and there are currently 34 seminarians in three student houses in Ho Chi Minh city.
Passionists take a vow to live and promote 'the living memory' of the Passion. They seek to live daily life with the same openness to God that Jesus displayed in his Passion and death and to lead others to discover this same openness in their lives.
Passionists believe that remembering the cross means remembering those in the world who bear the cross today: the disabled, the sick, the dying, the grieving, those isolated and alone – all who share the burden of pain.
"Every Passionist religious always looks deeply, deeply to find the great meaning that the Passion brings, so then, find the image of the poor, the image of those who are suffering through the image of Jesus' pain on the cross," writes Passionist novice Joseph Hồ Sỹ Đoàn.
Including the Passionists of Vietnam, there are more than 2,000 Passionists in 59 nations in the five continents. While the Vietnam Passionist Mission is just 15 years old, the Passionists themselves were founded by St. Paul of the Cross in the late 18th century.
If you would like to support the work of the Passionists of Vietnam, visit the online giving page of Corpus Christi Parish in Waterville.
If you would like to learn more about the Passionists and the Passionists of Vietnam, visit their website.