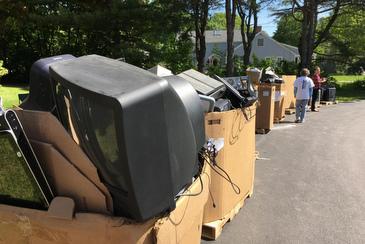 Perhaps, you or someone you know has attended an Aging 101 workshop. Maybe, you were able to finally rid yourself of that old TV taking space in your basement during an E-Waste Day. Or possibly, you've submitted a favorite recipe to the St. Hildegard Recipe Contest, held each year to showcase the work of parish food pantries. If you have, then you have seen firsthand the work of Catholic Charities Maine Parish Social Ministry.
"We touch parishes in many ways. We partner in many ways," says Bill Wood, a Parish Social Ministry outreach coordinator. "The mission of Parish Social Ministry is to have parishioners experience Jesus through working with others. Just like faith formation is important and catechizing is important, it is important for people to experience Jesus through their work with others."
Catholic Charities Parish Social Ministry has four outreach coordinators, each serving a different region of the state. The outreach coordinators work in partnership with the parishes in their area to identify needs and ways to address them.
"We don't necessarily come in with a plan. We listen. Like a good steward should, we listen to what the needs of that community are. In some places, we've done TV collections. In other parishes, we've assisted with their food programs. In other communities, we've helped with their ministries for seniors," says Wood.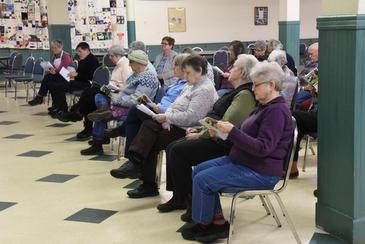 In Rumford, for instance, Wood played a key role in the establishment of monthly senior gatherings held in the hall of St. Athanasius & St. John Church, part of Holy Savior Parish.
"Bill helped us get going," says Peter Cox, parish advocate. "He is the one who helped with some of the grants to begin with. He is a very big part of it."
"It's partnering with parishes to help the community, and in doing that, people enrich their faith. They reflect the love of Christ and experience Jesus in the people whom they meet," says Wood.
According to Michael Smith, director of the Office of Mission for Catholic Charities, 14 new ministries were started by parishes last year and another 17 ministries grew. Understanding that funding is sometimes needed to make that happen, Parish Social Ministry provides Matthew 25 grants. This year, one parish will receive $5,000 and three others $2,000.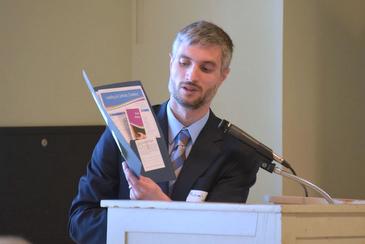 Parish Social Ministry also offers educational programs, for instance its Aging 101 workshops and presentations on the work of Refugee and Immigration Services It also presented a retreat at St. John Church in Bangor on the spirituality of loving your neighbor, paired with parishes in Waterville and Auburn for a Jolly Gifts collection during Advent, and held a prison ministry conference, bringing together jail and prison ministers from around the state.
Catholic Charities Parish Social Ministry touches communities in many ways, work that wouldn't happen without your gifts to the annual Catholic Appeal.