BANGOR---When it comes to appreciating the beauty and grace of love, marriage, and family, and the way to fill the journey with happiness, few people can speak with more authority than Arthur and Alphena Babineau of Brewer, who are celebrating their 73th wedding anniversary this year.
"Respect and love," said 95-year-old Arthur.
"Always talk things out," said 92-year-old Alphena.
"And stay away from the luxury stores!" added Arthur with a chuckle.
The Babineaus, wearing contented smiles, sat in the front pews of St. John Church in Bangor with over 70 other married couples for the Silver & Gold Mass, a celebration of the gift, importance, and fullness of Christian marriage on Saturday, June 24 (additional pictures below).
The couples in attendance represented 3,156 combined years of marriage. Forty of the couples have been married for over 50 years, and eight have been married for 65 years or more.
"Our celebration, however, is not just a gathering to honor the years of marriage that you have passed," said Bishop Robert P. Deeley, who celebrated the Mass on Saturday. "It is also a reminder of the importance of marriage, that relationship of man and woman, husband and wife, which gives rise through its generous love, to new life. It is, as such, the place where family is born, where life is nourished, where love is taught. It is, in addition, the place where God becomes known. In the experience of love, we come to know there is a source of all love, and that is God."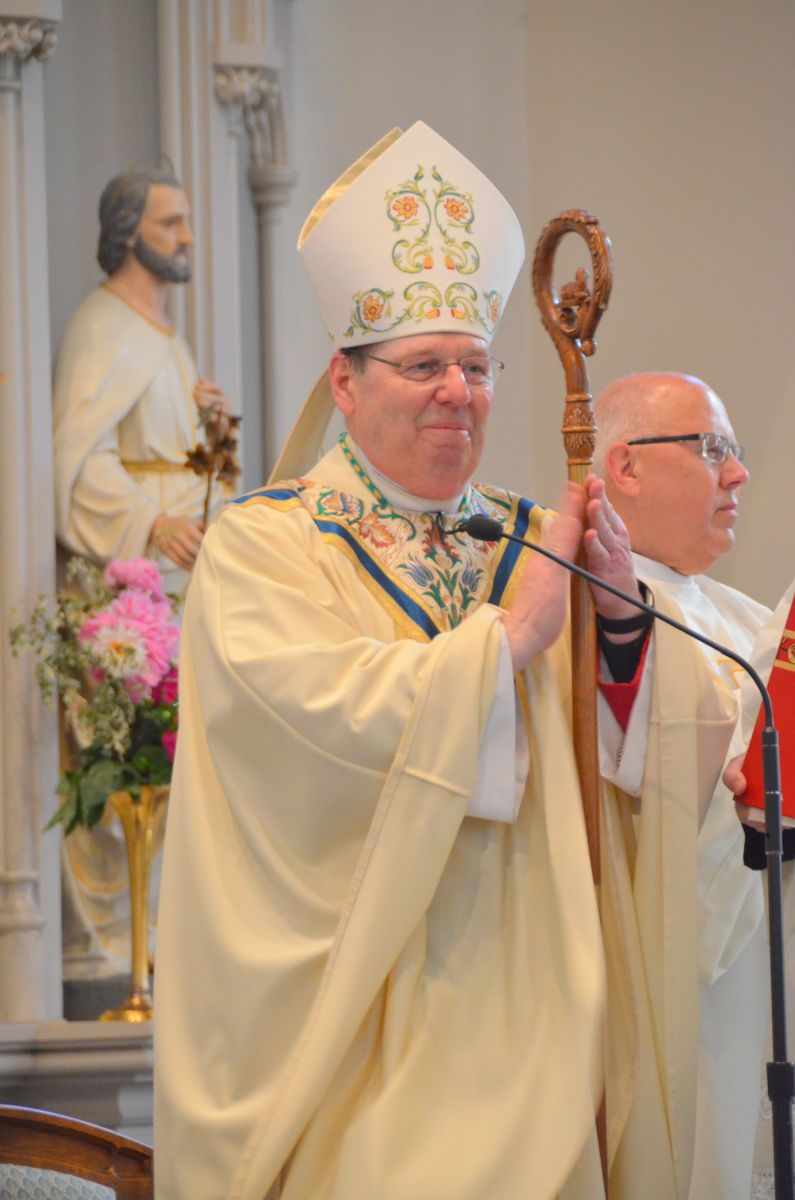 While each couple traveled on its own unique path to married life, the love on display between the husbands and wives gathered can be traced to values that have played prominent roles in all of their journeys, specifically, a selfless dedication to each other and a commitment to placing faith at the center of their family life.
"A family that prays together, stays together," said Nancy King, a parishioner at St. Joseph in Bridgton who has been married to her husband, Richard, for 50 years. "God has taught us to love and forgive as nobody is perfect."
Neil and Patricia Michaud, who attend St. Matthew Parish in Limerick, have been married for 65 years. Their home was filled with the love of their own six children as well as three orphaned nephews who lived with them. Their faith has been the glue that has helped their marriage endure, even during times of tragedy.
"Losing our third son to cancer four years ago was by far the greatest test of faith, but reliance on God for strength and knowing that Jesus was and is there for us only enriched our marriage," said Neil.
"We continue to live our faith in all ways possible by attending daily Mass, adoration, and getting involved with parish duties," said Neil MacDonald of Hermon,
who has been married to his wife, Jeanne, for 55 years. "We're good to each other and we made a solemn promise before God and to each other when we got married and we both intend to keep it."
"Going to Mass reinforces and reminds us of the values we share as Catholics," said Liz Vickery, who attends St. Joseph Parish in Ellsworth with her husband of 53 years, John. "The family gathering to celebrate milestones of our faith for each member has been a precious part of our lives."
Darlene Hallee of Waterville grew up going to a Baptist church before becoming engaged.
"When we became engaged, I converted," said Darlene, who was married to her husband Francis in November of 1957. "Faith has always been important in our lives. We raised our four children in the Catholic faith."
Claire and Bill Deptula attend Our Lady of Good Hope Church in Camden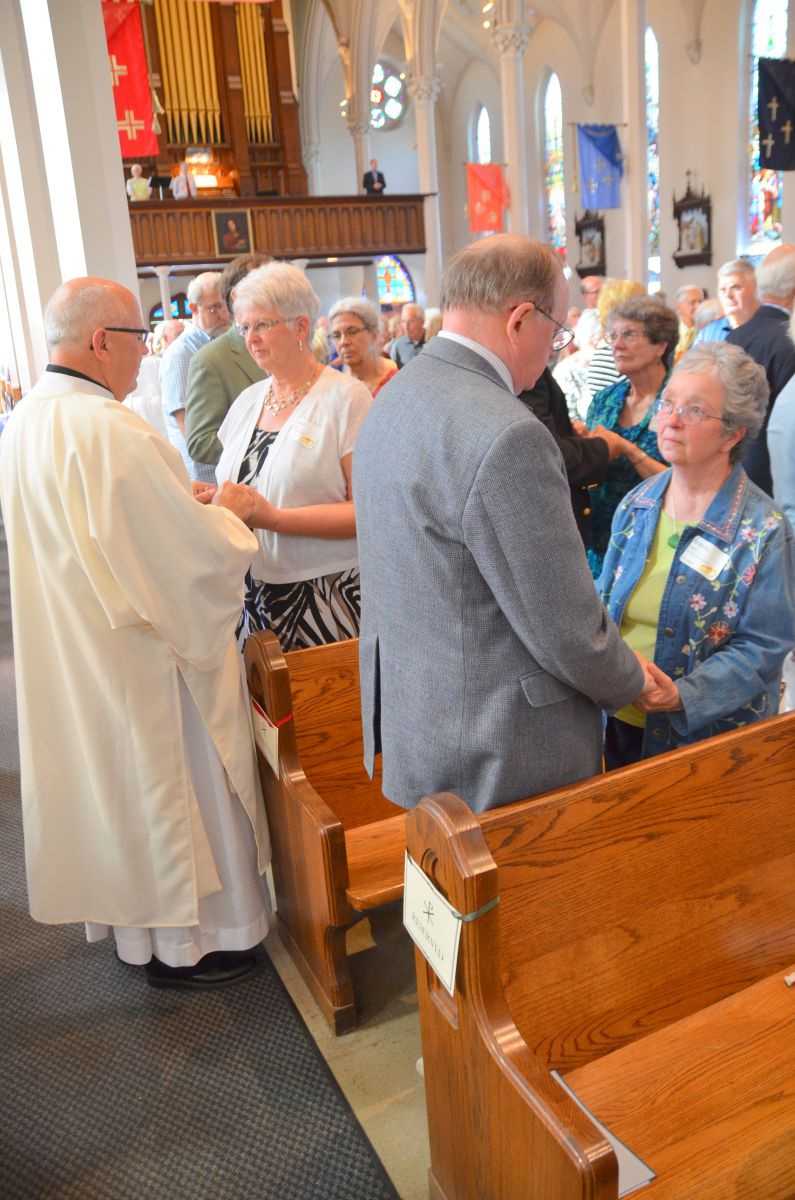 and have raised five children over their 65 years of marriage. They say their faith has kept them together, as well as never going to bed upset with each other.
"Bill and I pray together every evening before bedtime," said Claire. "We also say we are sorry if either one of us has said something that made one of us mad or angry."
Deacon Fred Harrigan of Blue Hill and his wife of 55 years, Lillian, pray together every day. He said that asking for God's help "resolves many issues" and that a total commitment to each other is another key to having a long and happy marriage.
"An important factor we both keep in mind is some advice given to us by a Jesuit friend before our wedding," said Deacon Harrigan. "That is, 'Marriage is not a 50-50 proposition, each one has to give 100%.'"
Joyce Lessard and her husband, Paul, attend
Holy Family Parish in Greenville and credit the Church with helping them greatly in the raising of their six children. Joyce says the ability to compromise has been important over the course of their 50 years of marriage.
"If you want a truly happy marriage, Paul says it helps to learn to say 'Yes, Dear' early on in marriage and mean it!"
Deacon Timothy Daugherty met his wife of 35 years, Lisa, at a wedding where he was serving as best man and she was the maid of honor. Together, they have discovered that self-giving to each other and family is not only crucial, but a gift from God.
"We always try to ask ourselves, 'What can I do for my spouse and my family?' We try to be self-giving, not self-serving. Every morning I thank God for the gift of our family. We have been blessed with the gift of love, not the love of this world, but the love that is elevated to the grace of God."
"Self-giving and compromise are essential to marriage because that is how two people become one unit," said Alma Ouellette, who is a parishioner at Immaculate Heart of Mary in Auburn and will celebrate her 50th anniversary with husband, Paul, in September.
During the Mass, each husband and wife turned to each other and held each other's hands while the bishop prayed over them and invoked the Lord's blessing on their marriages.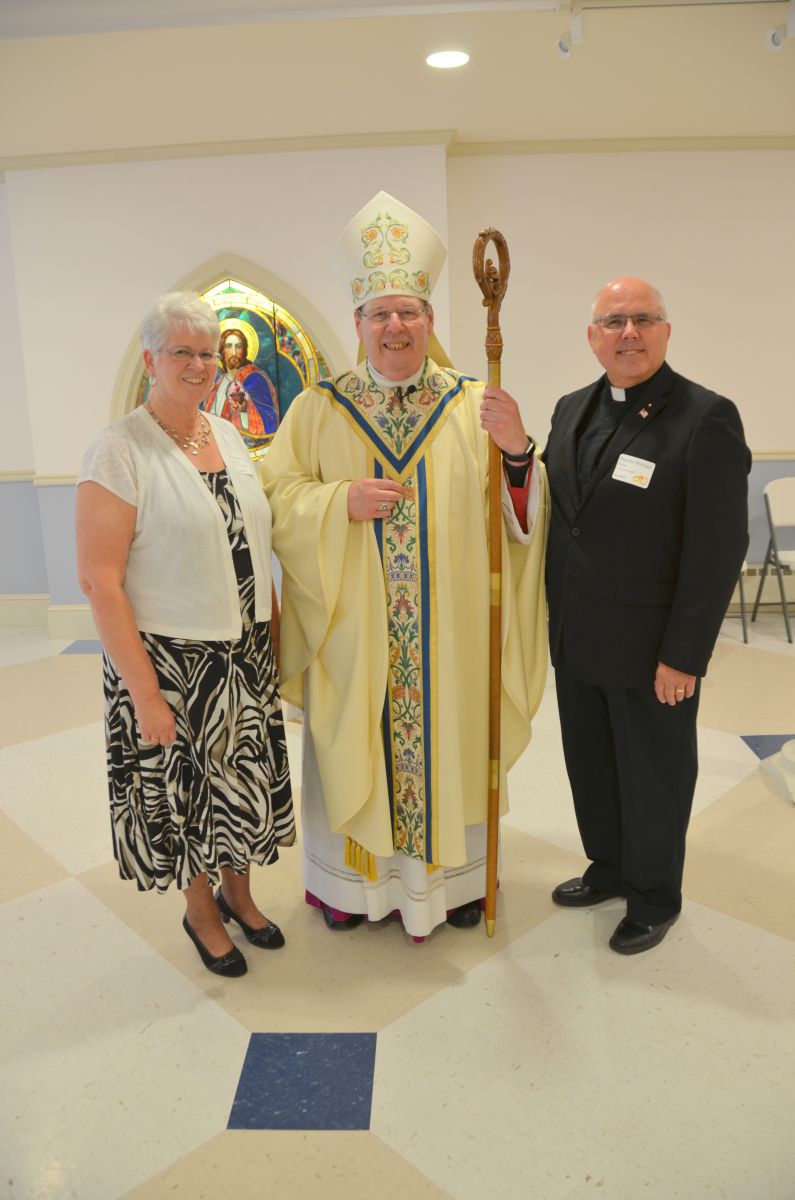 "May God the Father give you His joy and peace. May God the Son have mercy on you and help you in sickness and in health, in good times and in bad. May God the Holy Spirit always fill your hearts with His love."
The Diocese of Portland has launched the "Joy of the Family" initiative to help protect, promote, and strengthen marriage and families in our world. A special "Joy of the Family" section has been created on the Diocese of Portland's website. The section includes a wide range of resources and will be continually updated.
"Our need for love is met in the Christian family," the bishop told the assembly on Saturday. "Marriage and family fulfill our human needs. When families are seen striving to live generously for each other, the young learn that there is more to life than personal accomplishments and satisfaction. Marriage and family, lived in the light of the Gospel, show us that relationship and care for one another is the way to live a full life."