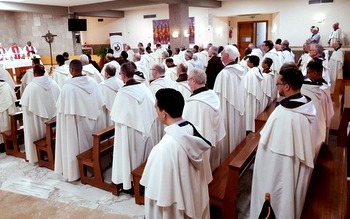 Scheduled to visit:
Our Lady of the Snows, Dexter
and St. Agnes, Pittsfield
Contemplation is at the heart of the way of life for Carmelities. However, they view being contemplative and active as complimentary. Carmelites speak of contemplation as a gift of God which can be nurtured by a life of prayer, community, and service. Through their core values of prayer, fraternity, and service to the Church, the Carmelites work in a variety of ministries in the Church, including as parish priests, spiritual directors, hospital chaplains, teachers, jail ministers, and campus ministers. They draw their inspiration from the Blessed Mother and the Prophet Elijah.
Your donations to the Mission Cooperative Appeal will be dedicated to the Carmelites' work in the Philippines to help victims of recent floods and earthquakes. In Zimbabwe, money raised will be used to purchase seed and fertilizer for families so that they might gain some independence from reliance on the collapsed economy. And in Trinidad-Tobago and Vietnam, resources will be used to continue to develop formatin programs so as to encourage indigenous clergy.
If you would like to support the work of the Carmelites, visit the online giving pages of Our Lady of the Snows and St. Agnes Parishes.
To learn more about the work of the Carmelites, visit their website.