PORTLAND---"It's our time, ladies, in the Catholic Church, to be courageous. This is a time of great saints."
The words of Kitty Cleveland were just one of many moments that inspired and invigorated the nearly 400 women in attendance at the Maine Catholic Women's Conference in South Portland on Saturday, April 6 (additional pictures below).
With a theme of "God Will Provide," a range of emotions were on display during the conference that was held at the Portland Marriott at Sable Oaks. From witness stories that drew tears to calls to action that brought cheers, the conference was a memorable gathering for speakers, participants, and attendees alike.
Cleveland, who served as the keynote speaker, shared her incredible story that led her from being a lawyer to a music missionary,
a journey that played out as her father, who was also a deacon, was wrongfully convicted and imprisoned in 1997 on bribery charges in relation to a scheme to protect Louisiana's video poker industry from a public referendum.
"He was given ten years in federal prison for crimes he didn't commit," said Cleveland. "I put my face in my hands, and in the moment, I saw the image of the Divine Mercy of Jesus. I kept saying 'Jesus, I trust in you,' and I remembered a verse from Saint Faustina's diary that said 'where God allows great suffering to come to a soul, he upholds it with an even greater grace. Although we are not aware.' The one act of trust in such moments is greater glory to God."
She detailed the many ways in which she drew closer to her Catholic faith during her life, particularly when her father was going through his ordeal. Cleveland talked about her commitment to eucharistic adoration; her call to be a music missionary, even singing at prison Masses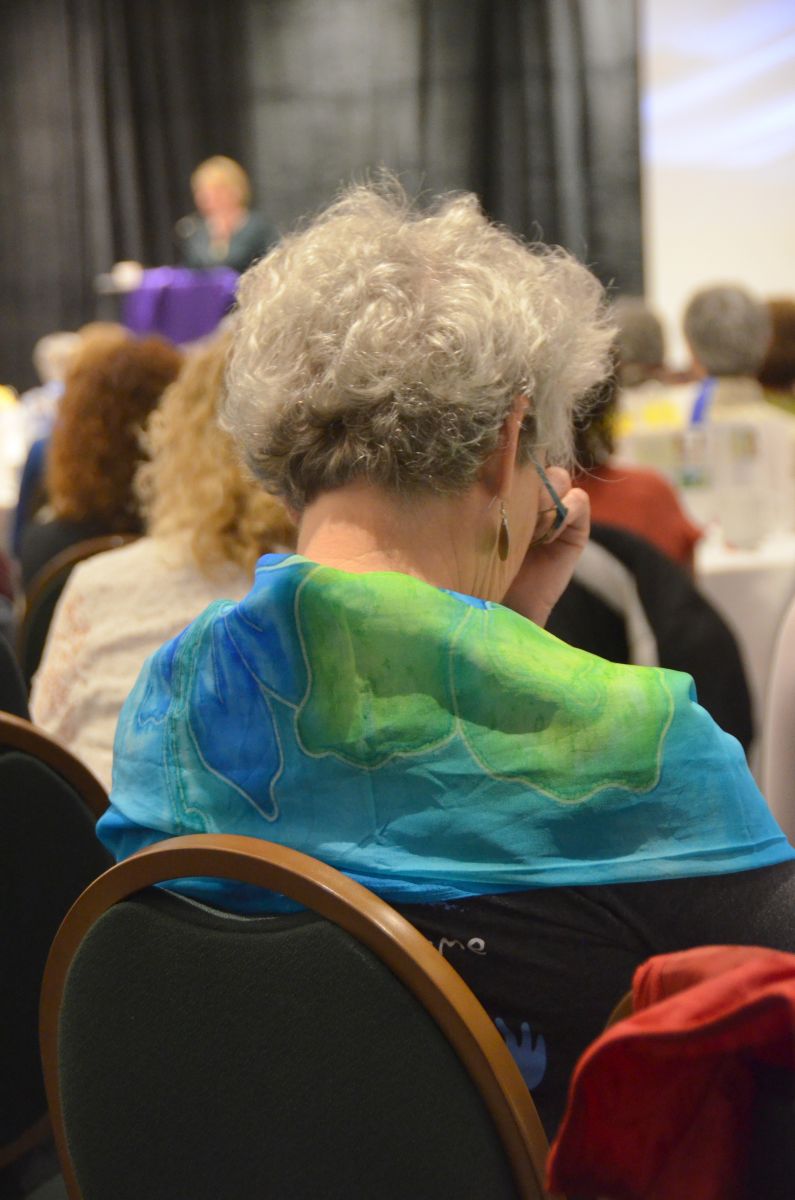 where her father was imprisoned; and the inspiring letters from her father about his faith that brought her closer to God.
"From the depths of my father's heart, he said 'Okay, I surrender, but please just give me peace.' In that instant, a grace fell from Heaven and enveloped him. He experienced the spirit of Jesus living inside of him. He lived with peace with the Lord."
Cleveland, who has released 12 albums of music and prayer, interspersed songs into her story, singing the first song she ever wrote, "Surrender," which is based on her father's experiences.
"I reached my greatest heights down on my knees," she sang prior to receiving a standing ovation.
It was her father's conviction that finally gave Cleveland the courage
to pursue her music career, which began taking off right around the time the conviction was overturned by the United States Supreme Court in 2000.
"God is real. His graces are real. What a gift we have!" she said.
Cleveland also presented on how the Lord delivered her from decades of body loathing to live in peace and joy with who she is.
"We have been given the authority to be evangelists, to preach the Good News, but we can't do that if we don't believe it. Spend time with God. Remember how much and how personally you are loved by God. Let him remind you of who you are and stir up those gifts in you that the world is hungry for."
The featured presenter at the conference was Suzanne Lafreniere, the director of public policy for the Diocese of Portland, who discussed her work as a lobbyist and faithful citizenship,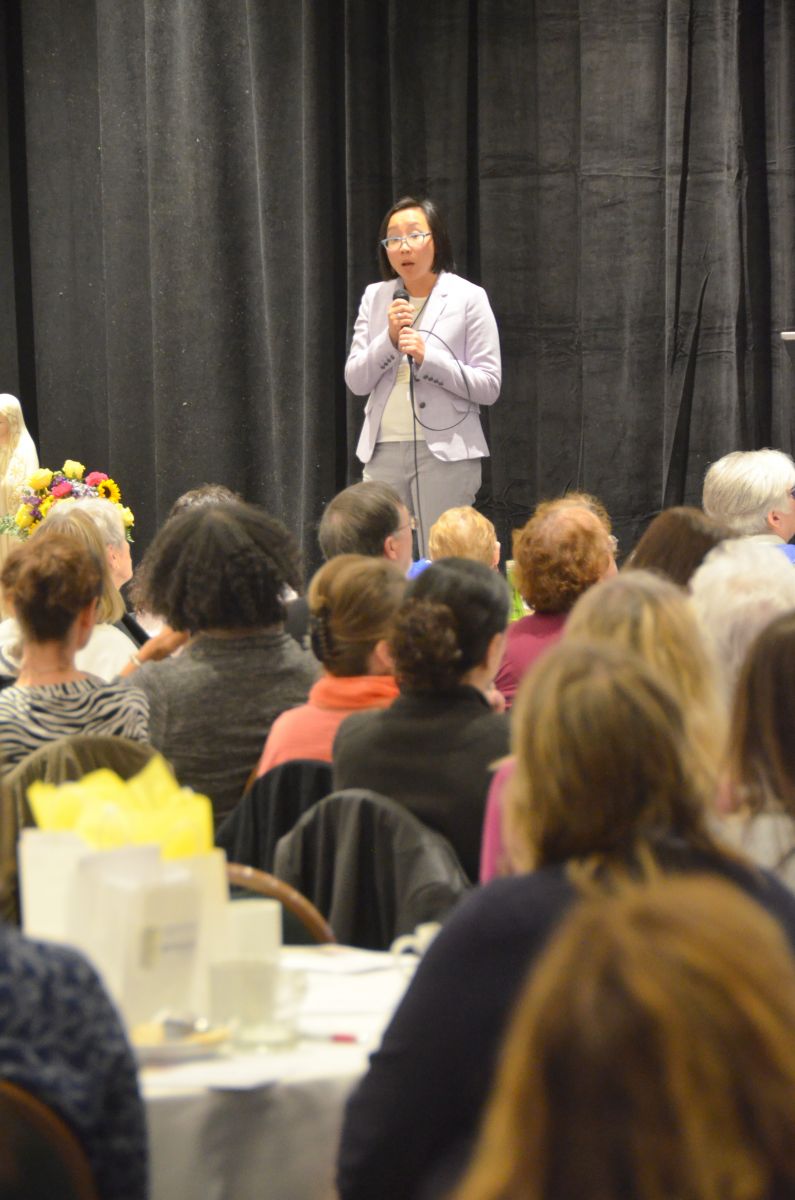 asking the women to put aside their fear of being evangelists in the political spectrum.
"Pope Francis has told us that politics is a form of charity, it's one of the highest forms of charity because it serves the common good," she said. "Talking politics within a religious aspect is totally acceptable and it's also the highest form of charity according to the Holy Father."
Lafreniere added that every woman in the room can make a difference.
"When politicians hear from women that oppose or support a bill, it does make a difference. Having people reach out to politicians is very important. We do it with prayer, we do it with love, and we do it with conviction. It's important for you to realize that you need to make your voice heard."
The conference began with a special Mass celebrated in the hotel ballroom by Bishop Robert P. Deeley.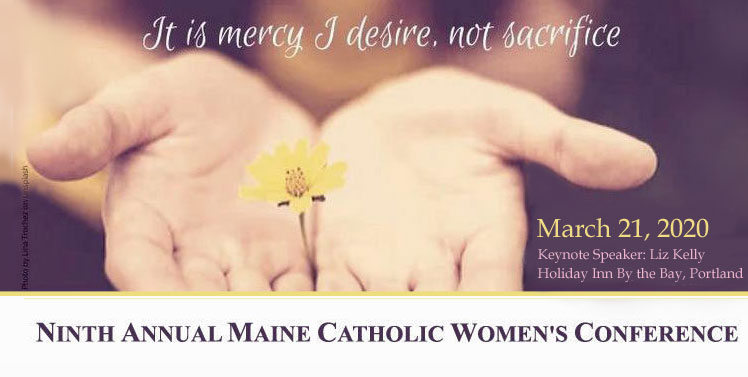 "Jesus is truth. We want to be with those who listen to him and find in him the truth of life," the bishop told the women. "Spending time together today is a good way to do that. Together, you will encounter Jesus in this Eucharist and in what you hear. Together, you will strengthen each other in the beauty of his message. Together, you will be Church and will share the joy of what you have heard with others."
Attendees spanned from infants to seniors and the closeness and community between those gathered was palpable.
"Everyone getting together, it's always great. The Women's Conference reenergizes me," said Rosanne Smith, who works in faith formation at Holy Spirit Parish in Wells and Kennebunk. "Year in and year out, you walk away saying 'Okay, I can go back and do everything with new energy,' and you need that. It's very powerful to have this sold out."
"It allows us to come together as women of faith, not necessarily Catholics, just women of faith to share our ministries, our parishes, and to share our faith," said Sister Terry Gauvin, SCIM, the provincial of the Good Shepherd Sisters of Quebec who is also the executive director of St. Andre Home in Biddeford. "It's powerful."
"We want to be together as sisters, as friends, as women of faith to hear people with inspiring stories like Kitty Cleveland. It's empowering," said Judy Ouellette of East Millinocket.
"We've made it an annual event and now it spans generations of our family," said Claire Moss of Fort Kent, who is Judy's sister and was joined at her table by two of her other sisters as well as additional family members. "It's just wonderful."
Throughout the conference, the women also had the opportunity to browse through booths from over 25 organizations, including the National Council of Catholic Women; Northeast Catholic College; Safe Families for Children; and Campus Ministry.
The women also joined together to pray the rosary, and there was the opportunity throughout the day for adoration of the Blessed Sacrament. The conference concluded with a eucharistic Holy Hour, a recitation of the Chaplet of Divine Mercy, and benediction of the Blessed Sacrament.
"Be an evangelist," Cleveland told the women. "The world needs you. The Church needs you."