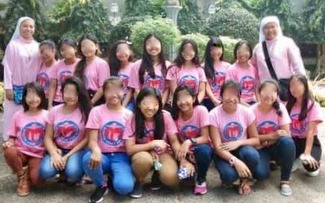 Scheduled to Visit:
Holy Spirit Parish, Wells
The letter below is from Sr. Gliceria Cruz, MQHM
The Mary Queen of Heaven Missionaries is a religious community established by His Eminence the late Ricardo J. Cardinal Vidal of the Archdiocese of Cebu, Philippines, and Sr. Ma. Corazon Salazar, MQHM, as Mother Foundress in the Archdiocese of Cebu. Archbishop Jose S. Palma, DD, the present archbishop of Cebu, is our bishop protector
Our mission is rescue women and children victims of human trafficking (sexually trafficked) regardless of age and children victims of sexual abuse. We take care of them in our Rehabilitation and Livelihood Training Center, called the Home of Love and My Bonita Home for Girls. Home of Love has an accommodation of 50 women and children. And My Bonita Home for Girls has an accommodation of 100 children. We have a holistic rehabilitation program as a curative effort which consists of sheltering, food and nutrition, maternity and child care, medical and dental assistance, psychological treatment and counseling, educational assistance, livelihood and skills training, spiritual formation, and a reintegration program. These programs enable women and children survivors of sex trafficking and sexual abuse to return to productive mainstream living, alleviate them from poverty - which is the major backdrop that makes trafficking possible. (The programs) empower women and children survivors by widening the range of choices they have on matters that affect their lives.
Our community of sisters, the Mary Queen of Heaven Missionaries (MQHM) has been working intimately with rural poor for educational assistance under the Regina Coeli Educational Assistance program in the Philippines as a preventive measure against traffickers who exploit and abuse women and children especially in the sex trade. We are currently providing scholarships and educational assistance to 5,000 high school students from the different poor regions in the Philippines.
I would like to encourage you all to be one with us helping these women and children. Your help will make them feel the love of God by giving them hope (and) will help them see the face of God on our faces. The second collection will support the programs of rehabilitation through the Mission Cooperative Plan of the Diocese of Portland.
May you be one with us in this quest in fighting human trafficking and poverty through perfect love and charity!
Thank you and God bless you all !!!!
Sr. Gliceria Cruz, MQHM
Mary Queen of Heaven Missionaries
To support the work of the Mary Queen of Heaven Missionaries, visit the online giving page of Holy Spirit Parish.
To learn more about their ministry, visit their website.