"Make someone's day."
Those are familiar words to students at Saint Dominic Academy's elementary school campus. It is a message delivered daily, if not more than once a day, by Assistant Principal Don Bilodeau.
"I promise them that if they make someone else's day, they will feel so much better inside, and it will also make their own day."
Bilodeau has been assistant principal at Saint Dominic Academy since 2010 when Saint Dominic High School in Auburn and Trinity Catholic School in Lewiston merged to form a pre-kindergarten through Grade 12 school with two campuses. He came to Saint Dominic Academy after having worked in education for almost 40 years, just about all of it in public schools. He says when he heard about the St. Dom's assistant principal position, he knew it was the job for him.
"All my years as a Catholic, I would go to church on Sunday, and I would say, when I retire, I would like to do something for the Church, be a deacon or something like that. And this is as close as a dream come true," he says.
The job brings together two of Bilodeau's passions: his faith and education. It is also somewhat of a homecoming. Bilodeau attended Catholic school growing up and then, when he was in eighth grade, went to study with the Brothers of the Sacred Heart, a teaching congregation. While discerning a vocation with them, the brothers asked him to teach for a year at Saint Dominic High School. That was back in 1971, and it marked the start of his long career in education.
Although he did not become a brother, Bilodeau says the call to serve the Church has always been with him. For 20 years, he led the choir at Our Lady of Ransom Church in Mechanic Falls.
"It was part of the fabric of my life," he says.
Now, he is happy to be able to share both his faith and his love of learning with the students, faculty, and staff of Saint Dominic Academy. Bilodeau starts every day at the school with prayer and a Scripture reading. He says, no matter what the Scripture passage is, he always ties it back to Jesus' call to love one another.
"That sort of creates the envelope that I try to have children think about every day," he says.
Faith, Bilodeau says, is ever present in the school, not only in the morning prayer, Tuesday Mass, or grace prayed before lunch, but in those who work and study there.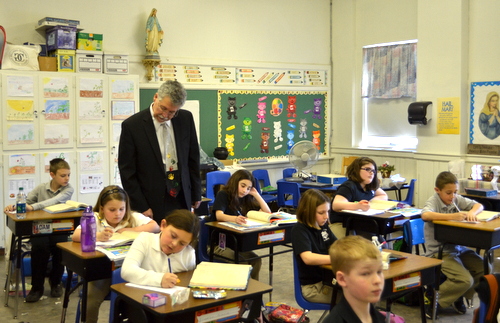 "The teachers in a school like this have a sense of ministry. There is a greater purpose as to why they are teachers, and that sense of purpose is Jesus. They're helping children not just do the academics but to come closer to God."
But, he stresses, that doesn't mean academics are not important.
"We strive for excellence, and when we strive for excellence, God is pleased. That is our mantra, so we're striving for excellence in every way," he says.
He credits families for the school's high academic achievement.
"The major difference is that families want their children to learn. You would say that all families want their children to learn, but the families here want them to be challenged. They want a work ethic to be developed. They have an expectation that they're going to work hard. So that support, that family support, is a major reason why we can be as successful as we are," he says.
The school has a policy that every grade level adds ten minutes of homework. So students in first grade are assigned ten minutes, students in the second grade twenty minutes, etc.
"That work ethic is probably the most important thing that we can really develop," he says.
Bilodeau brought with him some of the methods he used when he was working in the gifted and talented program in SAD 52 (Turner, Leeds, and Greene), for instance, something he calls "Sunshine Math," a set of ten varied math problems given to students to work on in their free time. Students who solve half the problems during the week attend a special class with Bilodeau on Friday afternoons.

"They have taken the challenge. Some students I've seen every single week for the past 20 weeks. Some students I see some weeks. I'll say, 'Oh, I have some new students today.' And I always celebrate the fact that they felt challenged."
Bilodeau also advocated for the school to start using the Northwest Evaluation Association (NWEA) method of student assessment, which he also used in the gifted and talented program.
"It is a continuum of skills that the company produced. They put all the skills in 10-point ranges. Everyone who scores this, these are the things they have mastered, and these are the next things they should learn," Bilodeau explains.
The computerized testing produces instant results, allowing teachers to identify the areas in which students need work. The first test showed the students were already above the national norms in reading and language usage and were at the national norm for math. Looking to improve the latter, Bilodeau initiated Monday afternoon sessions during which the students are assigned to classrooms based on their skills level.
"So we have first graders with second graders, third graders, fourth, sometimes even with fifth graders in their class," says Bilodeau, who teaches the highest skills group.
Bilodeau says they have already seen results.
"At the beginning, we had five grades at national norms. Now, three years later, we have two at the national norms and the others above it," he says.
Because the students are doing so well in English and math, it also allows more time for subjects such as science and social studies. He says those can sometimes take a backseat in public elementary schools, which are rated on English and math test results.
As a Catholic school, there is also an emphasis on service at Saint Dominic Academy. In October, fifth graders lead the entire student body in a food drive. First graders adopt a family from the Christmas giving tree. And this year, kindergarten students, with the guidance of their sixth-grade buddies, have started creating greeting cards for shut-ins.
"We're providing greeting cards, little messages of love, little messages of cheer, or little messages at Easter or Christmas to be delivered with the Meals on Wheels program," he says. "It can bring tears to think that our little children can be bringing consolation and messages that we care about you to people who may be lonely."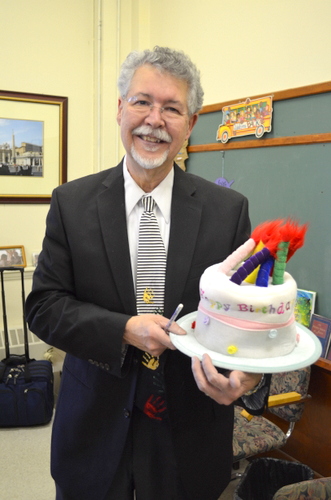 Also new this year is a pen pal program between sixth graders and the veterans at the Togus Veterans' Administration Medical Center.
"Some of the students had not had contact with anyone who is a veteran, and they're now understanding the gratitude we should have for their service."
Bilodeau says the St. Dom's community is like a family. Students in older grades are paired with buddies in the lower ones and serve as mentors, as they would for younger brothers and sisters.
"We have buddy activities every week."
Bilodeau never misses a chance to celebrate a student's birthday or to take the opportunity to congratulate students on their accomplishments. His colorful collection of playful ties also reflects his warm personality.
"He's just so caring," says Cecile Langlois, the administrative assistant. "He's always willing to give of himself, all the time.
Bilodeau says it comes back to Jesus' message of love. "Love others, and it will be the way God gets into our own being and our own spirit."