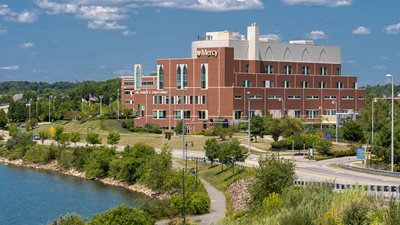 PORTLAND---Northern Light Mercy Hospital has announced the completion of the One Mercy Capital Campaign to support its recent consolidation to an expanded healthcare campus along the Fore River Parkway in Portland.
A $500,000 gift from L.L. Bean was the capstone that helped Mercy Hospital bring the five-year campaign to a close. More than 1,100 individuals, employees, foundations, corporations, and grateful patients joined L.L. Bean to help Mercy complete the largest capital campaign in the hospital's 103-year history.
The successful conclusion of the capital campaign coincides with the final department move from Mercy's State Street hospital. Last week, Mercy's new emergency department opened at the Fore River campus, marking the official closure of the State Street hospital to patients.
"This capital campaign was an outstanding community effort," said Charlie Therrien, president of Mercy Hospital. "We're thankful to L.L. Bean for their remarkable gift, and we're deeply grateful to every single donor who made an investment, big and small, in the compassionate and high-quality care we provide to our patients."
In spring 2020, Mercy broke ground on an $83.8 million consolidation project to enhance patient access to more medical services in one convenient location. Mercy's Fore River Parkway campus expansion includes nearly 90,000 square feet of new construction, featuring an emergency department, additional private patient rooms, and the Lunder Building, which is now home to a new outpatient specialty and surgery center. The project was funded by the One Mercy capital campaign, proceeds from the sale of Mercy's State Street property, and financing.
"Mercy is a vital healthcare resource where many of our employees live and work," said Shawn Gorman, L.L. Bean's Executive Chairman and great-grandson of L.L. Bean. "L.L. Bean is proud to support Mercy's effort to increase access to care for everyone in our community and make the final gift to help complete their campaign."
The One Mercy Capital Campaign was led by attorney Chris Howard of Pierce Atwood and honorary chairs Maddy Corson, former Guy Gannett Communications board chair, and Bishop Robert Deeley. The late Ralph I. Lancaster served as honorary chair until his passing and was instrumental in the campaign's success.