WESTBROOK---Cinemagic, located on 183 County Road in Westbrook, is offering a viewing of Love and Mercy: Faustina on Monday, October 28, at 7 p.m. Tickets are $10.75 and can be purchased by visiting the box office, calling (207) 774-3456, or clicking here. Due to great interest, only limited tickets are still available.
The incredible true story of St. Faustina and the message of Divine Mercy will be shown on October 28 at more than 700 movie theaters across the United States.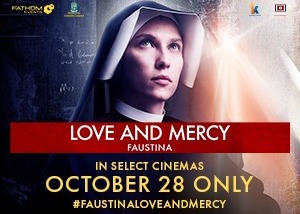 On May 5, 2000, Pope Saint John Paul II decreed that the Second Sunday of Easter, the Octave of Easter, would be known as Divine Mercy Sunday. The feast was established by the pope after he canonized St. Faustina, a humble Polish nun to whom Jesus revealed his message of divine mercy. A member of the Congregation of the Sisters of Our Lady of Mercy, Sister Faustina says the Lord appeared to her several times beginning in February 1931. During her visions, she says the Lord communicated to her the depth of his mercy and his desire that all be merciful to one another.
She shared the messages she received in a diary, writing that the Lord told her, 'I desire to grant unimaginable graces to those souls who trust in my mercy' (Diary No. 687). The diary includes 14 occasions on which Jesus asks that a Feast of Divine Mercy be established. The day Christ chose, according to St. Faustina, is the first Sunday after Easter.
Shot in the U.S., Poland, and Lithuania, the film is a compelling hybrid of dramatization and documentary-style storytelling that will leave viewers in awe as it follows the incredible call of St. Faustina to religious life and the healing effects of her message on countless people around the world.
To view the official trailer for the movie, visit www.loveandmercymovie.com.