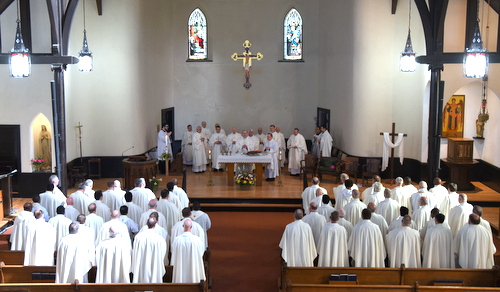 Bishop Robert Deeley joined with priests, deacons, seminarians, religious, and lay faithful on Tuesday, May 16, to celebrate the ministry and gift of 17 priest jubilarians, who, combined, have served the Lord and his people for 865 years.
"In these good men we honor this evening, and all those who celebrate special anniversaries, we remind ourselves of the gift that is the priesthood. It is not just an office or a function in the Church. Humbled as we are by the grace of God which allows us to be priests, we are also very aware of the gift this priesthood is to the Church because we, too, have been the recipients of the gift," the bishop said during a jubilarian Mass celebrated at Holy Redeemer Church in Bar Harbor.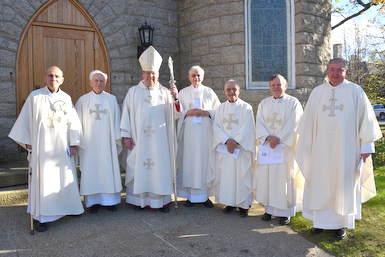 Celebrating 65 years in the priesthood are Monsignor Raymond Begin, Father Armand Neault, and Bishop Paul Baltakis, OFM, who resides at St. Anthony's Monastery in Kennebunk.  Father Rudolph "Rudy" Leveille and Father Joseph McKenna are celebrating 60 years in the priesthood. Father Ernest L'Heureux, Monsignor Richard Sniezyk, and Father John Bacevius, OFM, are celebrating 55 years.  Father Bertrand Poussard, Father Maurice Lebel, Father Peter Kaseta, OFM Cap., and Father Thanh Van Nguyan are celebrating their golden jubilees. Father Thomas Lequin and Father Joseph Koury, who were ordained together at Holy Cross College in Worcester, MA, are celebrating 40 years of priestly ministry, as are Father James Brewer and Msgr. Rene Mathieu, pastor of Good Shepherd Parish in Biddeford. Father John Mazzei, pastor of Christ the King Parish in Skowhegan, is celebrating 25 years.
"The most heartfelt thing I feel is this personal call that I had from Jesus -- that he helped me remain faithful, to persevere during the hard times, and to meet wonderful people all my life. I don't see it as a time to celebrate myself but to celebrate that calling that has changed my life and, hopefully, helped people in their pilgrimage of faith," said Msgr. Mathieu.
"It's hard to account for 40 years, and many, many different places, ministries, people, and most of it, I had not planned.  So, you can fill the blanks. Who planned it? I didn't," Father Koury said, looking towards the sky.  "I have loved what I have been doing."
In his homily during the jubilarian Mass, the bishop said that the actions of the priests are more than just functions; they are the work of the Lord.
"They are beyond the power of any human being.  In Jesus' name. the priest speaks the words that absolve our sins. Those words change our lives. Over the offerings of bread and wine, the priest speaks the words of Jesus at the Last Supper and makes him present in those simple human elements that now become his Body and Blood.  Those words change not just us but the elements of the world. They open the world to God and unite us all to him. The priesthood is sacrament. God entrusts himself to the humanity of those he calls to serve his Church in living out this sacrament."
During the Mass, the bishop also prayed that more young people would hear God's call to the priesthood and religious vocations.
"We rejoice in God's goodness to us as we pray that the hearts of more of our young people will be opened to the call of God to associate themselves with these good men whose service we honor this evening," he said.
Following the Mass, a celebratory dinner was held in honor of the jubilarians.  The Mass and dinner occur during the annual Clergy Institute, which brings together priests and deacons from around the diocese for a time of formation and fraternity.