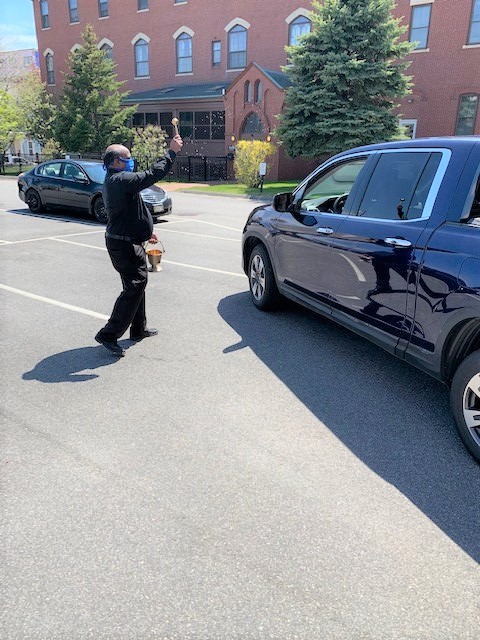 BANGOR/PORTLAND---Parishioners in Bangor and Portland had a chance to receive a blessing and see their clergy face to face on Sunday, May 17 (additional pictures below).
Drive-thru blessings were offered to hundreds of participants at the Cathedral of the Immaculate Conception in Portland, St. Joseph Church in Brewer, St. Matthew Church in Hampden, and St. Mary Church in Bangor, where over 125 cars came through.
Participating clergy included Fr. Gregory Dube, Fr. Kevin Upham and Fr. Dominic Savio, HGN, in Portland; Fr. Frank Murray and Deacon Michael Whalen in Brewer; Fr. Augustine Nellary in Hampden; and Fr. Anthony Kanagaraj Chinnaiyan, HGN, and Deacon Timothy Dougherty in Bangor.
The socially-distant "gatherings" aimed to be a boost to both clergy and parishioners who have not been able to see each other at public Masses since mid-March due to the COVID-19 pandemic.