AUGUSTA---Despite the highest temperatures of the year to date, students, parents, and teachers at St. Michael School hit the roads of Augusta to raise money for a tremendous cause.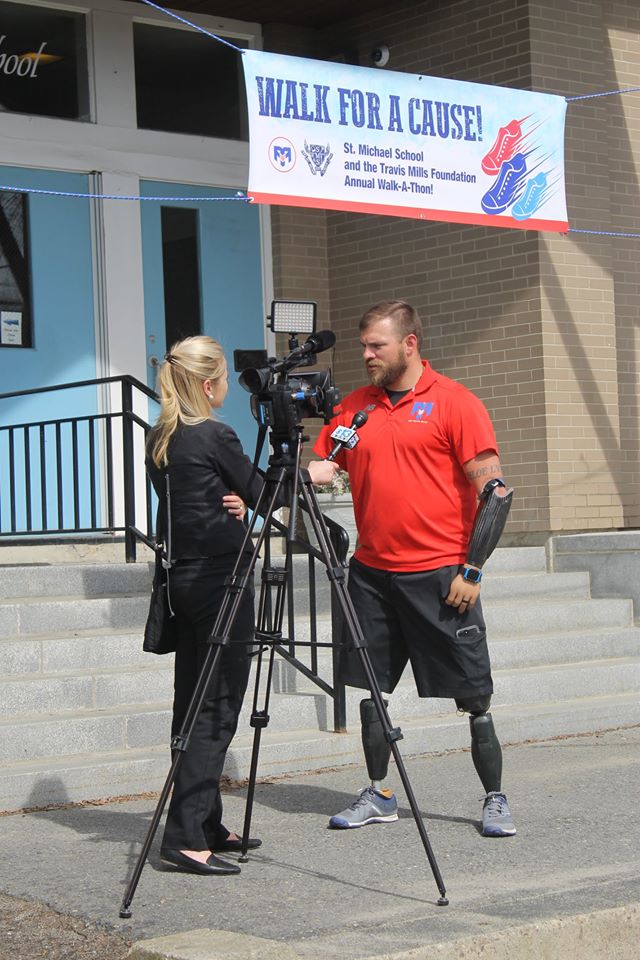 After weeks of gathering pledges, the school community participated in the third annual St. Michael School and Travis Mills Foundation Walk-A-Thon on Wednesday, May 2 (additional pictures below).
Grades 5 through 8 walked ten miles, Grades 3-4 walked eight miles, Grades 1-2 walked six miles, and the younger students walked four miles doing repeated laps around the school block and inside a fenced-in playground.
The proceeds benefitted the Travis Mills Foundation. Mills, who was in attendance at the walk-a-thon, is a retired United States Army Staff Sergeant of the 82nd Airborne. He is one of only five quadruple amputees from the wars in Iraq and Afghanistan, wounded by an improvised explosive device during his third tour in Afghanistan in 2012. During his recovery, Mills discovered a passion for inspiring fellow wounded servicemen and women. He founded the Travis Mills Foundation, a nonprofit organization, formed to benefit and assist wounded and injured veterans and their families.
After the event, students and staff enjoyed a free barbecue lunch prepared by parents and volunteers.