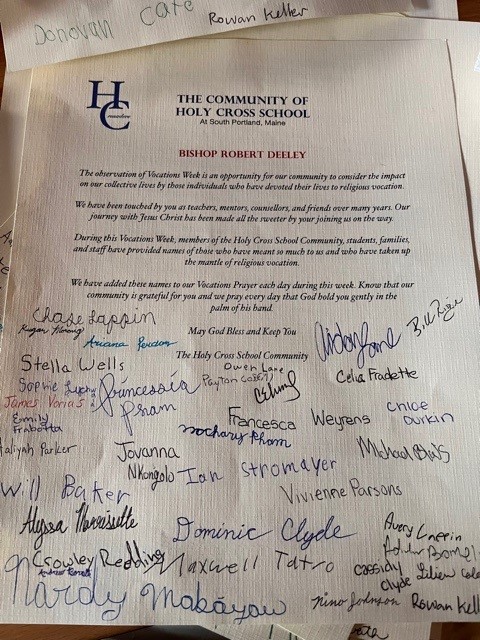 SOUTH PORTLAND---As part of their commemoration of National Vocation Awareness Week, students at Holy Cross School in South Portland offered their thanks, gratitude, and well wishes to those who have dedicated their lives to the Church.
"Parents and students sent the names and addresses of those in religious vocations who have touched their lives. The students then created personal thank you notes and cards," said Bill Ridge, a teacher at Holy Cross. "We also compiled a prayer intention list for inclusion in our daily prayers."
The cards were sent to each person on the list, which included priests, deacons, women religious, and even the parents of a priest.
"Names came from six different states and Canada," said Ridge. "The letters circulated the school this week with students in all grades adding names to each. The students really enjoyed it and were happy that we were recognizing these folks."
National Vocation Awareness Week (November 7-13) serves as a reminder that the encouragement and formation of vocations in the Church is a responsibility of all of us. For more information about National Vocation Awareness Week in Maine, visit www.portlanddiocese.org/vocation-awareness-week.