ROCKLAND---"I'm so glad this is happening," said Mary Simoneau. "It's glorious."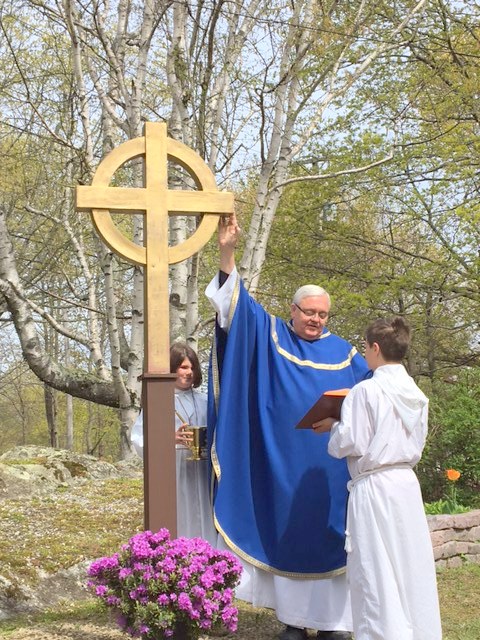 Wiping away a tear as she spoke, Simoneau was among many gathered near the Our Lady of Fatima statues outside St. Bernard Church in Rockland on Saturday, May 13, as the golden cross which once adorned the roof of St. James Church in Thomaston, which Simoneau attended, was rededicated as part of St. Bernard's shrine to Fatima.
The special outdoor Mass and rededication of the cross were part of the celebration of the 100th anniversary of the apparitions of Our Lady of Fatima to three shepherd children named Lucia, Jacinta, and Francisco in Fatima, Portugal, where the Blessed Mother appeared once each month from May 13 until October 13, 1917. The shrine at St. Bernard features large statues of the Blessed Mother, hands folded in prayer, and gently looking down on the three children.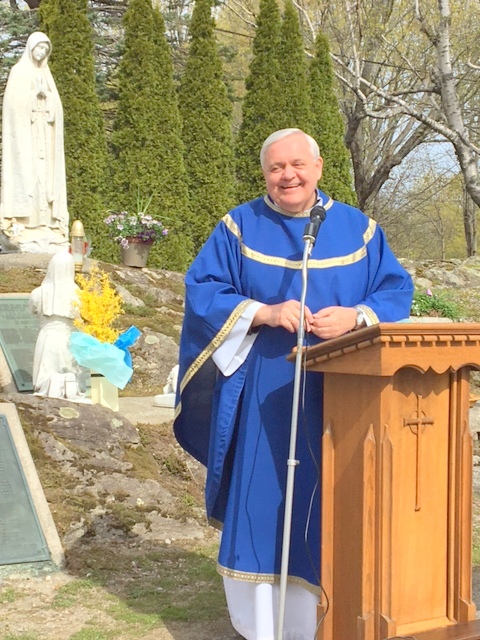 Fr. Robert Vaillancourt, pastor of St. Brendan the Navigator Parish of which St. Bernard is a part, celebrated the Mass on Saturday and was vested in vibrant blue in honor of Mary. During his homily, Fr. Vaillancourt reminded those assembled of the three messages the Blessed Mother told the three children.
"The message of penance implored by Mary is still as strong today as it was 100 years ago. We need to realize the need for penance and sacrifice in our lives. Our Lady asks us to pray the rosary every day for peace and an end to war and conflict," said Fr. Vaillancourt, who asked the faithful to 'be still and listen' in prayer to hear what the Lord asks of us.
Fr. Vaillancourt also explained the need for devotion to the Immaculate Heart of Mary.
"The world needs more and more the heart of a mother, the heart of a mother that can hold us in infinite mercy," he said, noting the appropriateness that the celebration fell on Mother's Day weekend.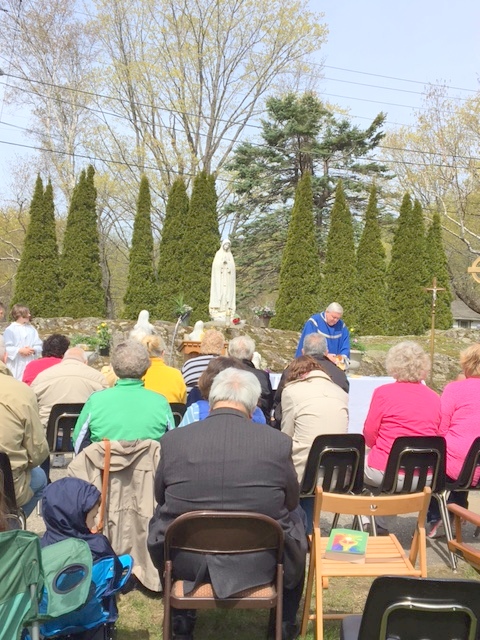 Fr. Vaillancourt also held up a statue of the Angel of God that appeared to the children a year prior to the Blessed Mother's first appearance in 1917.
He asked for the help of newly canonized saints, Francisco and Jacinta, who died as children a year after Mary's first appearance, to watch over, guide and protect all children, especially those "who don't know Jesus and the power of his Church."
At the end of Mass, Fr. Vaillancourt blessed the St. James Cross which will now stand next to the Fatima shrine at St. Bernard.
"Today may be a day of tears," he said, referencing parishioners like Simoneau who had fond memories of their former church in Thomaston. "But it is also one of joy."