FALMOUTH---The Parish of the Holy Eucharist will host two "Aging with Grace" seminars in late October at Holy Martyrs Church on 266 Foreside Road in Falmouth. Both seminars are free, refreshments will be provided, and all are welcome.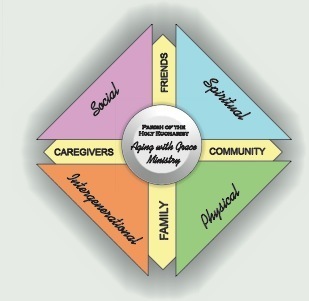 The first, entitled "Mercy: A Restless Humanity Searching for Meaning" is scheduled for Tuesday, October 24, at 7 p.m. The presentation will examine the invitation to conversion to which we are all called and by which we are consoled. On Wednesday, October 25, at 7 p.m., the seminar will focus on the theme "Where is there a God like you?" and will feature a discussion on our concept of God and how it impacts the way Catholics proclaim God to others.
Leading the seminars will be Sister Maureen Sullivan, OP, a nationally known speaker and author who offers presentations around the country on contemporary theological issues. She earned her Ph.D. in theology from Fordham University in New York and served as academic dean for freshmen at the school. For nearly 30 years, she has been a professor of theology at Saint Anselm College in New Hampshire. Sister Maureen is also a national religion consultant for William H. Sadlier Publishing and has written two books on the Second Vatican Council: 101 Questions and Answers on Vatican II and The Road to Vatican II: Key Changes in Theology.
To register for the seminars or for more information, contact Susan McGaulley at (207) 523-1161 or smcgaulley@ccmaine.org.
The seminars are co-sponsored by the parish and the Catholic Foundation of Maine.