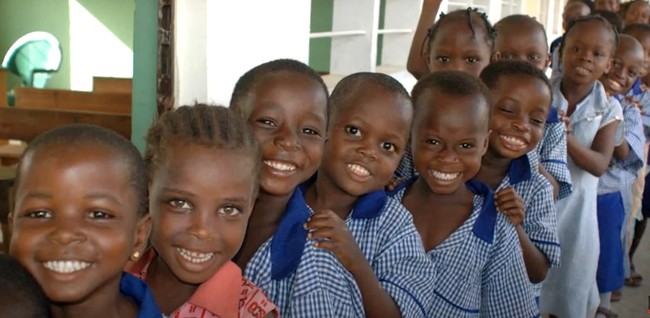 Scheduled to Visit:
Our Lady of Perpetual Help Parish, Windham; St. Anne Parish, Gorham; and St. Anthony of Padua Parish, Westbrook
The Franciscan Friars of the Immaculate have been serving in Africa since 1991, specifically in Benin, Cameroon, and Nigeria. Friar Henri Marie François says, "Our work in Africa is simple: save lives and save souls."
The Franciscan Friars do that by relying on the mediation of the Blessed Virgin Mary. They strive to bring Mary Immaculate to all souls, making her known and loved by every heart, so she then will bring all souls to her Son.
"To her, we are totally consecrated, Walking in the footsteps of St. Francis and St. Maximilian Kolbe, we 'build up the body of Christ, which is the Church (Eph 4:12),'" Friar Henri Marie François says.
The friars build up the body of Christ through corporal works of mercy, such as educating the poor and providing clean water through a well drilling program called a Well for Life.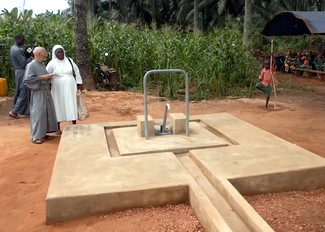 "These spigots are set out in a public area so everybody can come for free water," says Friar Henri Marie François. "While many organizations are working to bring clean water to Africa, many still lack clean water, leading to many diseases. Consider how much we have heard about washing our hand during the recent pandemic. In many places, there is no water."
The Franciscan Friars of the Immaculate also celebrate Mass, offer the sacrament of reconciliation, and provide spiritual direction. In Douala, Cameroon, where they have served since 2008, about 5,000 faithful attend Sunday Masses, with three priests each celebrating four to five Masses on the Lord's Day.
The friars also have prayer groups, retreats, and lead rosary prayers. They have several shrines, which usually draw many pilgrims, and they operate the St. Maximilian Kolbe House of Charity for 60 to 100 boys to stay in while they go to school. They also have four schools in Nigeria serving 400 children.
To help support their mission work, the friars were entrusted with a poultry farm, which they hope will raise income, provide food for people, and give work to young people.
"While this is moving forward, it is struggling under the effects of the pandemic, and we especially need help with the initial investment of equipment and animals, "explains Friar Henri Marie François.
To reach the people, the friars use all forms of media, including radio, the Internet, television, and periodicals.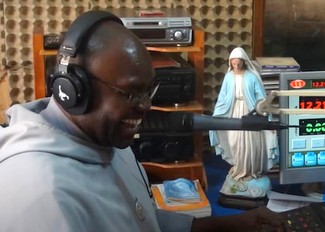 "In Benin, the radio is the most important mass media. This is 'the' Catholic radio station of Benin and broadcasts 24 hours a day through a network of eight stations reaching 8 million people. Its programming is meant for everyone in Benin. While respecting the cultures of each, we bring to all the eternal and universal message of the Gospel through the mediation of the Blessed Virgin Mary and, in this way, build up the civilization of love," says Friar Henri Marie François.
He says keeping the radio stations operating is one of the friars' most pressing needs. It costs $2,600 a month for electricity, which the friars are not capable of paying, meaning they face the possible loss of their entire network of stations. The friars would also like to invest in solar power and generators, both to defray future expenses and to ensure a more reliable power supply, since there are frequent outages.
Friar Henri Marie François says the friars could also use help securing additional means of transportation. In Benin, they currently only have two working vehicles.
"This restricts our ability to evangelize, to pray with the people, to take the radio out of the studio and onto the streets, and to do our charity work. For example, many of the boys at our schools have to walk several miles, and we would give them transportation, but we can only do this when the bus is working. The roads are very bad, and any vehicles have to be 4 x 4 trucks or SUVs in order to survive them," he says.
Friar Francois Henri Marie, who is currently a seminarian studying in Rome, says, through Our Lady's intercession, much work has already been done in their African missions, but there is more work to do. He asks you to consider, "What touches your heart? How can you make an impact? Whether through prayer or a donation, we appreciate your charity and sacrifice. God Bless you."
To support the many works of the Franciscan Friars of the Immaculate, visit St. Anne Parish's online giving page.
Learn more here about the work of the Franciscan Friars of the Immaculate or watch the video below from Friar Henri Marie François.