ROCKLAND---Fr. Bob Vaillancourt, pastor of St. Brendan of the Navigator Parish, will lead a special Rosary of the Seven Sorrows at the Fatima Shrine near the rectory of St. Bernard Church, located on 150 Broadway in Rockland, on Tuesday, September 15, at 6:30 p.m. All are welcome to attend.
September 15 is the Feast of Our Lady of Sorrows, the title given to our Blessed Mother that focuses on her intense suffering and grief during the passion and death of our Lord. Traditionally, this suffering was not limited to the passion and death event; rather, it comprised the Seven Dolors or Seven Sorrows of Mary.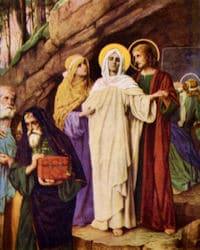 The Seven Sorrows are:
The Prophecy of Simeon (Luke 2:22-35)
The Flight into Egypt (Matthew 2:13-21)
The Loss of Jesus in the Temple (Luke 2:41-50)
Encountering Jesus on the Way of the Cross (John 19:1; Luke 23:26-32)
Jesus Dies on the Cross (Mark 15:22; John 19:18, 25-27; Mark 15:34; Luke 23:46)
Jesus is Taken Down from the Cross (John 19:31-34; Lam 1:12)
Jesus is Laid in the Tomb (Matthew 27:59; John 19:38-42; Mark 15:46; Luke 27:55-56)
This Feast of Our Lady of Sorrows grew in popularity in the 12th century, although under various titles. By the fourteenth and fifteenth centuries, the feast and devotion were widespread throughout the Church. In honoring our Blessed Mother, our Lady of Sorrows, we honor her as the faithful disciple and exemplar of faith.
For more information, contact the parish at (207) 236-4785.