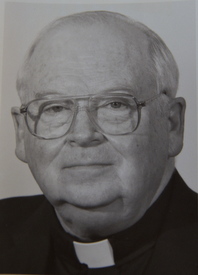 Please pray for the soul of Fr. Stephen Mulkern, a priest of the Diocese of Portland, who died on February 11, 2021, at age 96. At the time of his passing, Father Mulkern was the senior priest of the diocese.
A native of Portland, he was ordained 71 years ago on June 11, 1949. Through his many years of priestly ministry, he served at parishes around the state including Sacred Heart in Portland, St. Mary in Bangor, St. Joseph in Gardiner, St. Mary of the Assumption in Augusta, St. Dominic in Portland, St. Francis Xavier in Winthrop, Holy Cross in South Portland, Sacred Heart in Lubec, St. Thomas Aquinas in Dover-Foxcroft, St. Martha in Kennebunk, and St. Patrick in Newcastle, his final pastoral assignment before retiring from active ministry in 1994.
Father Mulkern also served at St. Joseph Convent in Portland, and from 1957-1962, he served as assistant director of Diocesan Radio and TV Activities.
His funeral will be celebrated on Tuesday, February 23, at 10 a.m. in the Cathedral chapel. The reception of the body will be on Monday, February 22 in the chapel, from 3 p.m. to 6 p.