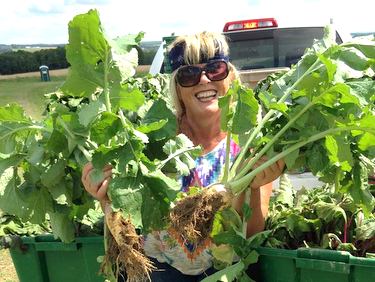 "This program has grown leaps and bounds."
Dixie Shaw, director of hunger and relief services for Catholic Charities, is looking forward to another bountiful year for the Farm for ME program, and there is a good reason why. Last year, nearly 34,000 pounds of beets, rutabagas, and squash were harvested, a 270% increase from the year before.
"It's absolutely amazing what we did this past year," Dixie says.
Farm for ME was launched in 2013 to add fresh vegetables to the mix of food distributed by Catholic Charities' Caribou Food Bank to 24 pantries across northern Maine. Catholic Charities plants crops on donated land with volunteer help.
"We need to make sure that people in Aroostook County have enough to eat because not everyone can grow a garden, not everyone is young enough or healthy enough to do it," says Dixie.
Dixie credits some of last year's success to moving their operation from Presque Isle to North Caribou. Guerrette Farms is letting Catholic Charities use up to 25 acres of their land free of charge and is also adding expertise and irrigation. Catholic Charites planted on six acres, double from previous years.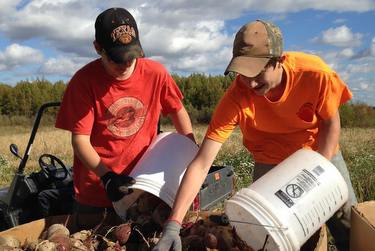 As word of the Farm for ME project has spread, more farmers have stepped forward to help. The result was 70,000 pounds of donated produce last year, including two tractor-trailers full of broccoli. Farm for ME's "glean team" also collected more than 3,800 pounds of vegetables left on other farmers' fields.
The harvest has been so plentiful that Farm for ME is now also serving people across Maine. It partners with the Good Shepherd Food Bank in Auburn through its Mainers Feeding Mainers program. Using several foundation grants, Good Shepherd buys produce wholesale from local farmers for statewide distribution. By taking advantage of the program, Farm for ME can reinvest in its operation or use the proceeds to purchase other food from Good Shepherd. Farm for ME also donates produce to Good Shepherd.
"It's a great partnership we have, and it's all for the good of the people of Maine," says Dixie.
Another benefit of Farm for ME has been the ability to work with Northern Girl, a processing company based in Van Buren, which slices, bags, and flash freezes the vegetables so they can be saved for the winter months when fresh produce is scarcer and more expensive.
Dixie's goal is to offer a vegetable medley, so this year, carrots will be planted for the first time.
"So, there will be a package of potatoes, carrots, and rutabagas that are sliced and diced, so that people have the ability to just snip the top off the package and dump it in a pot."
Dixie says many of those served by both Farm for ME and the Caribou Food Bank are senior citizens, who have come to realize that their Social Security checks aren't enough to pay all their bills.
"They're on limited incomes, and there is not a lot of money for anything else, and the one place people can cut back is food. You can't cut back on your heat. You can't cut back on your lights. You can't cut back on your medication," she says.
Many seniors also have an unexpected, additional financial burden because they have become the primary caregivers for grandchildren, whose parents are struggling with substance abuse, a significant problem in Aroostook County, as it is elsewhere in Maine.
"What we're seeing at the food pantry is a lot of grandparents and even great-grandparents coming in with young children," she says.
The Catholic Charities Food Bank served 23,000 people last year. That is about 30 percent of the population in Aroostook County.
"We are 100 percent committed to feeding folks," says Dixie. "That's what we do."
Farm for ME and the Catholic Charities Food Bank are supported through proceeds from Catholic Charities' northern Maine thrift stores, from direct donations, and from your contributions to the annual Catholic Appeal.