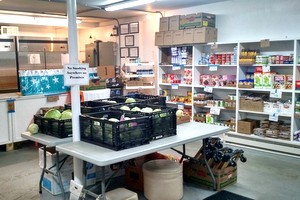 Located at the Sisters' convent in Sabattus, Loaves & Fishes has been providing food and clothing to those in need since 1997. The food pantry serves residents of the community who are in need regardless of religious affiliation.
Loaves and Fishes also runs a garage sale from Tuesday-Saturday, 9 a.m. - 1 p.m., at 759 Middle Road in Sabattus. Donations are accepted and all proceeds go back to the community.
Loaves & Fishes is made up of a volunteer board of directors, which is comprised of community members, active and retired business professionals, and recipients of Loaves & Fishes' assistance. All facilities and supplies are donated by the Dominican Sisters.
If you would like to learn more about the sisters or their ministries, you may visit their website, email Sister Jacqueline Provencher at japro43@gmail.com or Loaves and Fishes at loavesandfishessabattus@yahoo.com