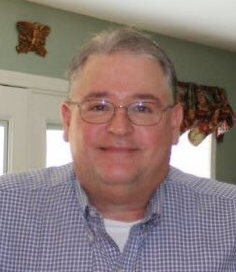 PORTLAND---Bishop Robert Deeley is pleased to announce that Scott Graff, CPA, has been appointed as the Diocese of Portland's chief financial officer, otherwise known as the diocesan finance officer, effective immediately. The appointment involved consultation between the bishop and the Diocese of Portland's Finance Council and College of Consultors.
Since June 1, Graff has served as the diocese's associate financial officer to ensure an effective transition. David Twomey, the current chief financial officer, is retiring this year after 25 years in the position.
"We are grateful for David's generous and dedicated service, and I am pleased that Scott has placed his considerable professional ability at the service of the diocese," said Bishop Deeley. "The diocese is fortunate to have found someone in Scott who possesses extensive experience in asset management and strategic planning. Like David, I am certain that Scott will preserve, protect, and administer the temporal goods of the diocese with transparency and integrity."
"I feel my knowledge and skills in the area of finance are my gifts and working for the Catholic Church as the Diocese of Portland's next CFO is a call to use my talents to accomplish God's will," said Graff.
Prior to arriving at the diocese, Graff served as chief financial officer and chief operating officer at Crotched Mountain, a non-profit organization in Greenfield, New Hampshire, that helps children, students, and adults with disabilities achieve maximum independence in their lives.
In addition, Graff was chief financial officer at Jarvis Cutting Tools in Rochester, New Hampshire, for eight years; chief financial officer and treasurer at Newspapers of New England in Concord, New Hampshire (2004-2008); senior vice president of finance and administration of Concord Litho in Concord, New Hampshire (2000-2004); acting chief financial officer for Printing Arts America in Westport, Connecticut (1998-2000); and chief financial officer of S & S Graphics in Laurel, Maryland (1997-2000). He also worked for the National Wildlife Federation in Vienna, Virginia, as a senior director of business planning (1995-1997) and director of budget and forecasting (1987-1995).
Graff earned a bachelor's degree in accounting from Marquette University in Milwaukee, Wisconsin, and became a certified public accountant in 1994.
The chief financial officer of the Diocese of Portland serves as a key advisor to the bishop, finance council, and others on major strategic, operational, and financial issues, and will direct the Diocese of Portland's Offices of Finance, Human Resources, Risk Management, Property Management, Construction Management, Information Technology, Housing, Cemeteries, and Safe Environment. The position, under Canon Law of the Catholic Church, is appointed by the bishop for a five-year term which can be renewed.