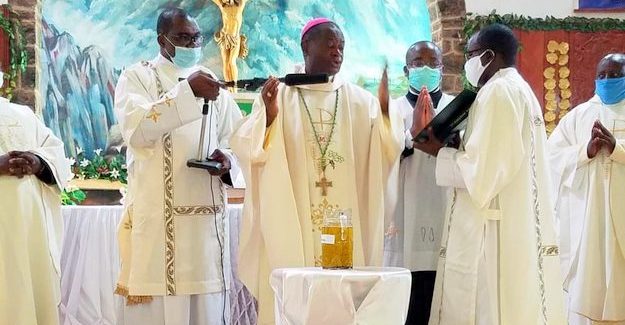 Scheduled to visit:
Our Lady of the Lakes Parish, Oquossoc
The Diocese of Kumbo in Cameroon was erected by Pope Saint John Paul II in 1982 with territory taken from the Diocese of Bamenda. However, Catholicism was first brought to the area in 1912 by the Sacred Heart Fathers, missionaries from Germany.
The diocese has a Catholic population of more than 125,000, approximately 20% of the population. There are 11 ethnic groups in the diocese, each with its own language and dialects. Our Lady of the Immaculate Conception is the patroness of the diocese.
The Diocese of Kumbo has been the scene of civil unrest since 2017, fighting that began when government forces fired on anglophones protesting what they saw as marginalization by the French-speaking majority. The continuing violence has resulted in more than 3,000 deaths, the burning of hundreds of homes, and human rights violations. Some, including priests and Catholic college students, have been abducted. Schools and the minor seminary have been forced to close. With roads blocked by fighters, people in need of medical care are not able to reach hospitals. Others don't have the money to pay for medical care with the area's devastated economy.
Despite the hardships, the Bishop of Kumbo has urged members of his flock not to lose faith.
"Because of the crisis that has continued to worsen by the day, with no hope for school for our kids, with a lot of uncertainty and insecurity for all -- kidnappings, torture, and periods of shutdown -- most of our people in the Diocese of Kumbo have sought refuge elsewhere out of the troubled zone. We pray God be with them and keep them safe," said Bishop George Nkuo. "For us all, especially those on the ground, we must continue to hold on to the Truth that is Jesus Christ, even at the risk of our lives. He is the only way out, and the Truth that will liberate us."
Adding to the difficulties has been the coronavirus pandemic, which forced churches to shut down until just recently.
The Diocese of Kumbo is doing its best to care for those who are suffering and who have been displaced. In a recent celebration of the chrism Mass (pictured above), the bishop urged his priests to be ministers of hope. You can help them as they strive to do so, through much needed prayers and financial support.
If you would like to assist the Diocese of Kumbo, visit the Our Lady of the Lakes Parish WeShare giving page. Learn more about the Diocese of Kumbo.