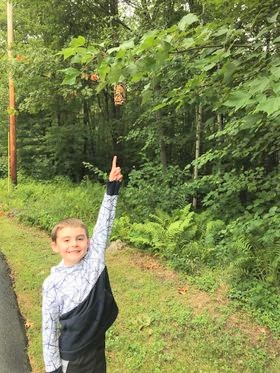 LIMERICK---Despite the ongoing pandemic, Jessica Rice, the lifelong faith formation coordinator at St. Matthew Parish in Limerick, was still determined to provide a Vacation Bible School for area children during the first week of September.
"It was really great. The children were enthusiastic and even the parents said they enjoyed it!" said Jessica.
The event, entitled "Be an Everyday Saint," aimed to educate the young people on Christ's definition of holiness to love God and neighbor.
Unable to gather together this year, organizers presented the weeklong program online. Each day featured a different saint, prayers, and corresponding challenge and craft activities all offered via videos produced by St. Matthew staff.
For instance, when learning about St. Hildegard of Bingen, a medieval composer, the children assembled homemade harmonicas. On St. Francis of Assisi's day, the kids made bird feeders to celebrate his love for all of God's creatures.
"I really enjoyed all of the videos and pictures that the families sent," said Jessica.
All of the feedback received from parents showed they were overjoyed with the program.
"Thank you so much for arranging these assignments," said one parent. "I know it must have taken a lot of time and preparation. We are having a blast. I'm glad we were able to participate."
"Thank you so much for putting this all together," wrote another. "They had fun and so did I!"
To check out many of the videos and pictures from the week, visit the St. Matthew Church's Lifelong Faith Formation Facebook page.