PORTLAND---Part of the mission of Maine Catholic schools is to accentuate the importance of service with the hope of building a lifelong commitment in each student to give back to those in need.
That lesson was on full display at many schools across Maine during Maine Catholic Schools Week (January 26-February 1) as students designed and completed service projects to help local organizations.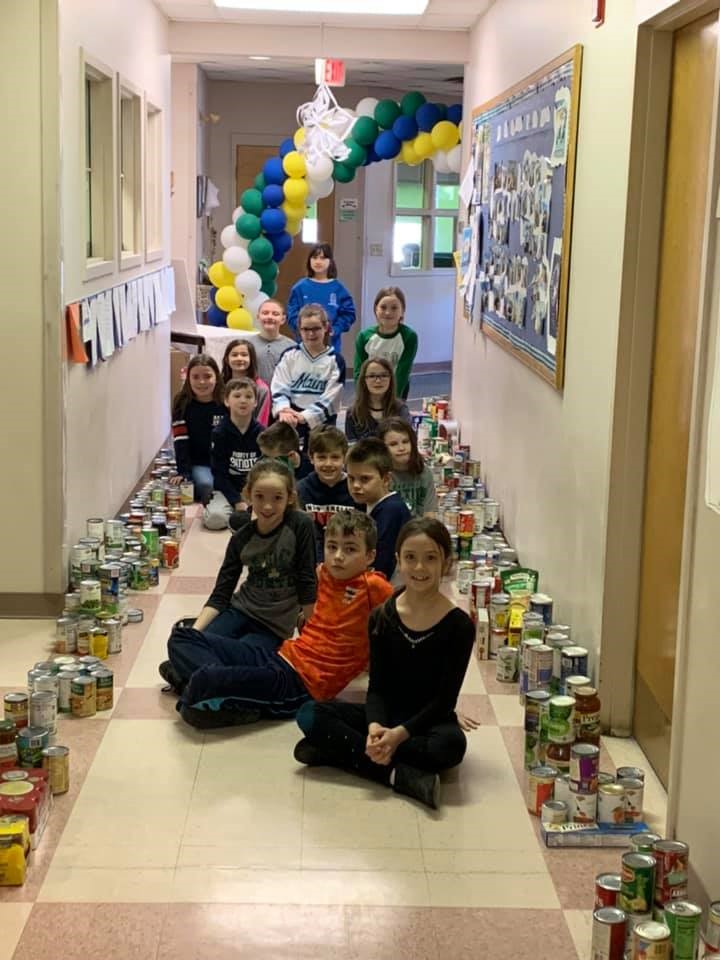 All Saints Catholic School in Bangor collected 1,461 cans of food for the Bangor Ecumenical Food Cupboard. The organization has served citizens in need since 1975, distributing food on Mondays, Wednesdays, and Fridays from its home at the Hammond Street Congregational Church.
Holy Cross School in South Portland held a penny challenge that raised over $1,800 for the Make-A-Wish Foundation, which grants the wishes of children diagnosed with a critical illness. In the United States and its territories, on average, a wish is granted every 34 minutes.
St. Brigid School in Portland hosted a penny competition that raised nearly $1,100 to pay for winter boots for refugees served by Catholic Charities Maine's Refugee and Immigration Services, a program that helps refugees and immigrants become independent, productive members of our communities.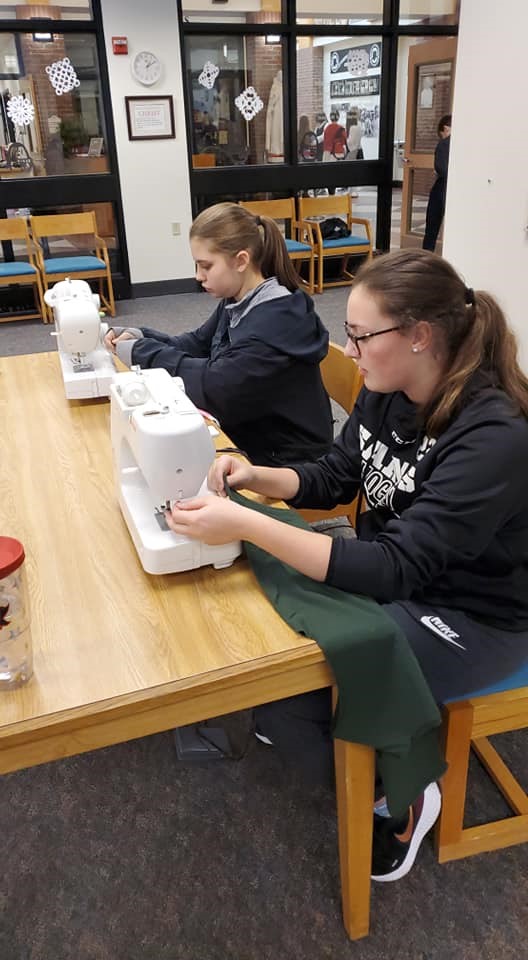 Saint Dominic Academy in Auburn and Lewiston collected well over $1,000 in donations to purchase supplies for multiple service projects, including the construction of 12 shelving units and the assembly of toiletry bags for Trinity Jubilee Center in Lewiston, which addresses unmet needs of underserved people in Maine's Lewiston/Auburn area; the assembly of over 50 toiletry bags for residents at St. Martin de Porres and St. Catherine of Siena Residences, which serve homeless men and women in Lewiston; the sewing together of tote bags made from old shirts to be used for carrying produce this summer at the St. Mary's Nutritional Center in Lewiston; the creation of small stained-glass windows from glass beads to hang in windows at St. Mary's d'Youville Pavilion in Lewiston; the baking of over 20 dozen cookies for local law enforcement, fire, and rescue personnel in the area; and the creation of 10 fleece blankets for a local animal shelter.
St. James School in Biddeford collected over 1,000 books for the St. Louis Child Development Center, also in Biddeford, which offers quality care to infants, toddlers, pre-school, and school-age children, regardless of income. St. James students also filled tables with donations of soap, shampoo, laundry detergent, diapers, kitchen supplies, sheets, and towels for recent refugees being served by Catholic Charities Maine's Refugee and Immigration Services.
St. John's Catholic School in Brunswick raised over $300 for the Mid Coast Hunger Prevention Program (MCHPP) in Brunswick, which has also received 2,332 pounds of food gathered and donated by the students during the last school year. The MCHPP provides food for hundreds of local families through a food bank, food pantry, and soup kitchen.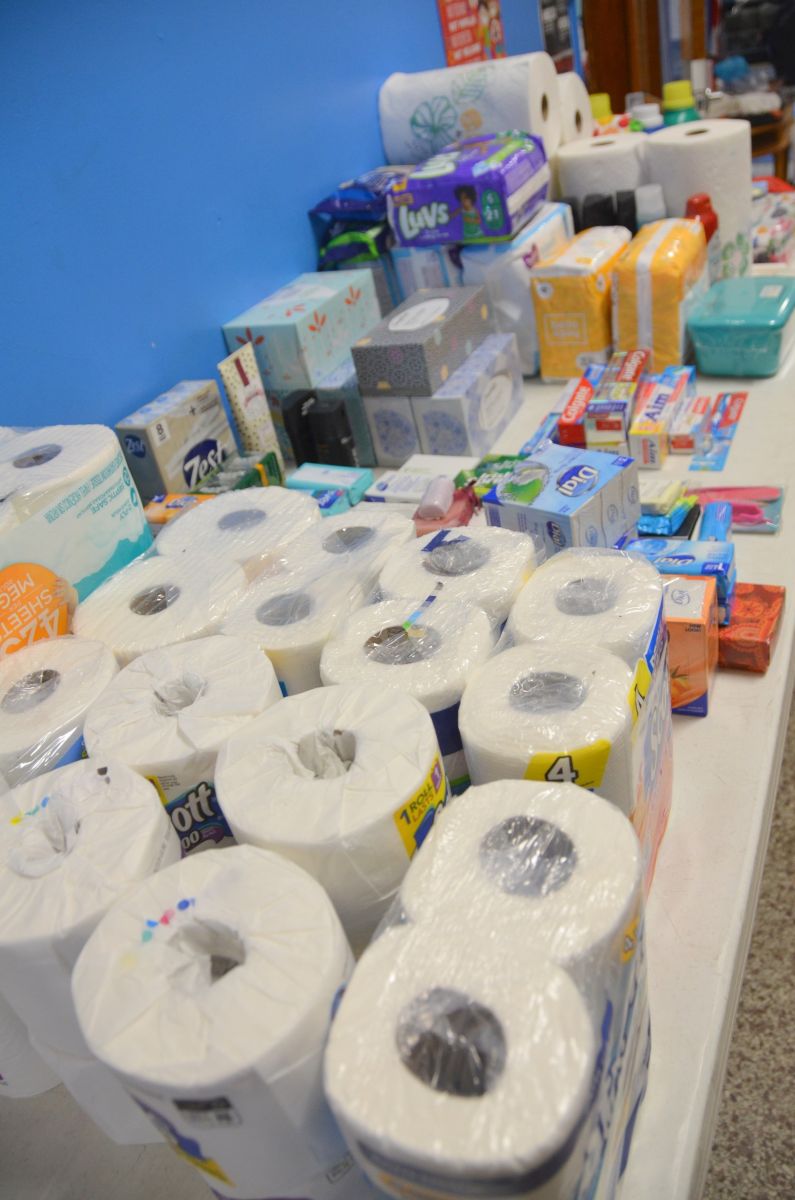 St. Michael School in Augusta filled over 30 milk jugs (excess of 100 pounds) with aluminum can tabs to be processed with the proceeds benefitting the Ronald McDonald Houses located in Bangor and Portland. Ronald McDonald House Charities of Maine provide housing for families who have a child being treated at a local hospital. The school also donated a massive collection of needed items for the Ronald McDonald Houses, including glass cleaner, snacks, wipes, laundry and dishwashing detergent, shampoo, conditioner, shaving cream, furniture cleaner, trash bags, paper towels and tissues.
St. Thomas School in Sanford completed a schoolwide collection of food donations for the Sanford Backpack Program, which fills backpacks full of items for students in need who attend area schools, and also collected change for Camp Waban to support its work. Located in Sanford, Camp Waban offers programs that allow people of all abilities to boat, swim, hike, and enjoy other outdoor activities
Through dress down days and the "Concert for a Cause," Cheverus High School in Portland raised over $4,400 for the Semper Fi Fund, which supports combat wounded, ill, and injured.
Students at Mount Merici Academy in Waterville collected over ten large boxes of items for the Mid-Maine Homeless Shelter as part of the "Together, We Can" Homeless Shelter Drive. Students in each grade, from pre-K through grade eight, were given different items to donate, including paper towels, toilet paper, toothbrushes, toothpaste, body wash, shampoo, and conditioner. The shelter provides case managers for residents to create an action plan for obtaining stable housing and preventing future homelessness.
Students also wrote letters of gratitude to many individuals and groups, including active military, veterans, teachers, staff, clergy, women religious, parents/guardians, first responders, volunteers, seminarians, and made Valentine's cards for residents at local nursing homes and veterans' homes.
If you would like to learn about the many ways Maine Catholic schools are making a difference and bearing witness to the love of Christ, visit www.mainecatholicschools.com.