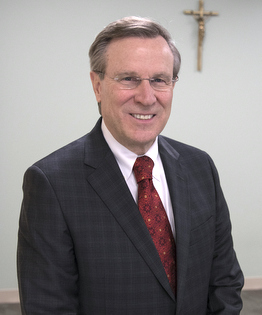 On April 26, Covenant Health President/CEO David Lincoln, FACHE retired after 35 years of service to the health-care system in the duel capacity of president/CEO of Covenant Health, a civil entity, and Covenant Health Systems, the network's ministerial public juridic person (PJP). With Lincoln's departure, the Covenant board assigned his duties to two experienced executives. Stephen J. Grubbs has assumed the duties of president/CEO of Covenant Health, the civil corporation. Gerard J. Foley, Esq., FACHE has assumed leadership responsibilities as president/CEO of Covenant Health Systems, the health-care network's ministerial public juridic person or PJP.
What makes this transition notable is Covenant's strong commitment to both healthcare and to Catholic ministry. Covenant Health includes 10 post-acute care organizations and three hospitals in New England and Pennsylvania. St. André Health Care in Biddeford, St. Mary's Health System in Lewiston and St. Joseph Healthcare in Bangor are Covenant Health members.
What differentiates the system further is Covenant Health Systems' (CHS') status as a public juridic person of pontifical right (PJP). PJP is a canon law term for a group that operates in the name of the Catholic Church. This unique status became official in 1996 after the founders of the health-care system, the Sisters of Charity of Montreal, or "Grey Nuns", transitioned to a lay model of sponsorship. Of course, the primary goals were to maintain the healthcare systems' Catholic identity and remain devoted to its mission.
"In keeping with the charism of St. Marguerite d'Youville, the Grey Nuns entrusted us to carry on their lifelong work of compassionate and high-quality care consistent with Catholic teachings to those we serve," said Foley. "Covenant Health's PJP entity, which is Covenant Health Systems, reports directly to the Vatican. As faithful laity, we're empowered to continue the legacy of Grey Nuns and other orders that started our healthcare facilities."
Foley currently serves as senior vice president with oversight for human resources and president, post-acute care, Covenant Health. He adds this new role to his responsibilities. Foley has enjoyed a lifelong Catholic experience, including 16 years of Catholic school. In addition, he holds a leadership role with the Northeastern USA Lieutenancy of the Equestrian Order of the Holy Sepulchre of Jerusalem. The order focuses on strengthening the practice of Christian life and supporting Christians living in the Holy Land. Foley also has an extensive health-care management resume.
When the organization earned its PJP status, Sister June Ketterer, SGM and Covenant's founder, was very pleased. She felt confident the Catholic identity of Covenant's ministries would be maintained – and it has been.
Under Foley's leadership, Covenant's commitment to sponsorship and Catholic identity will remain strong.